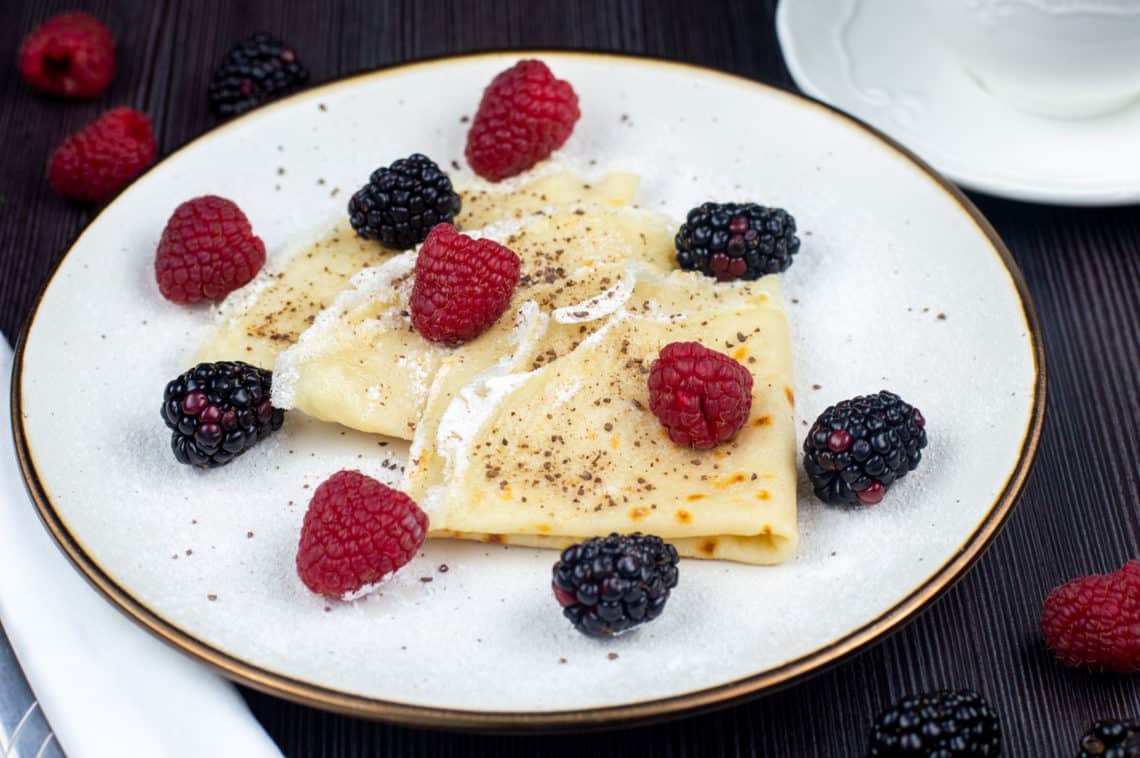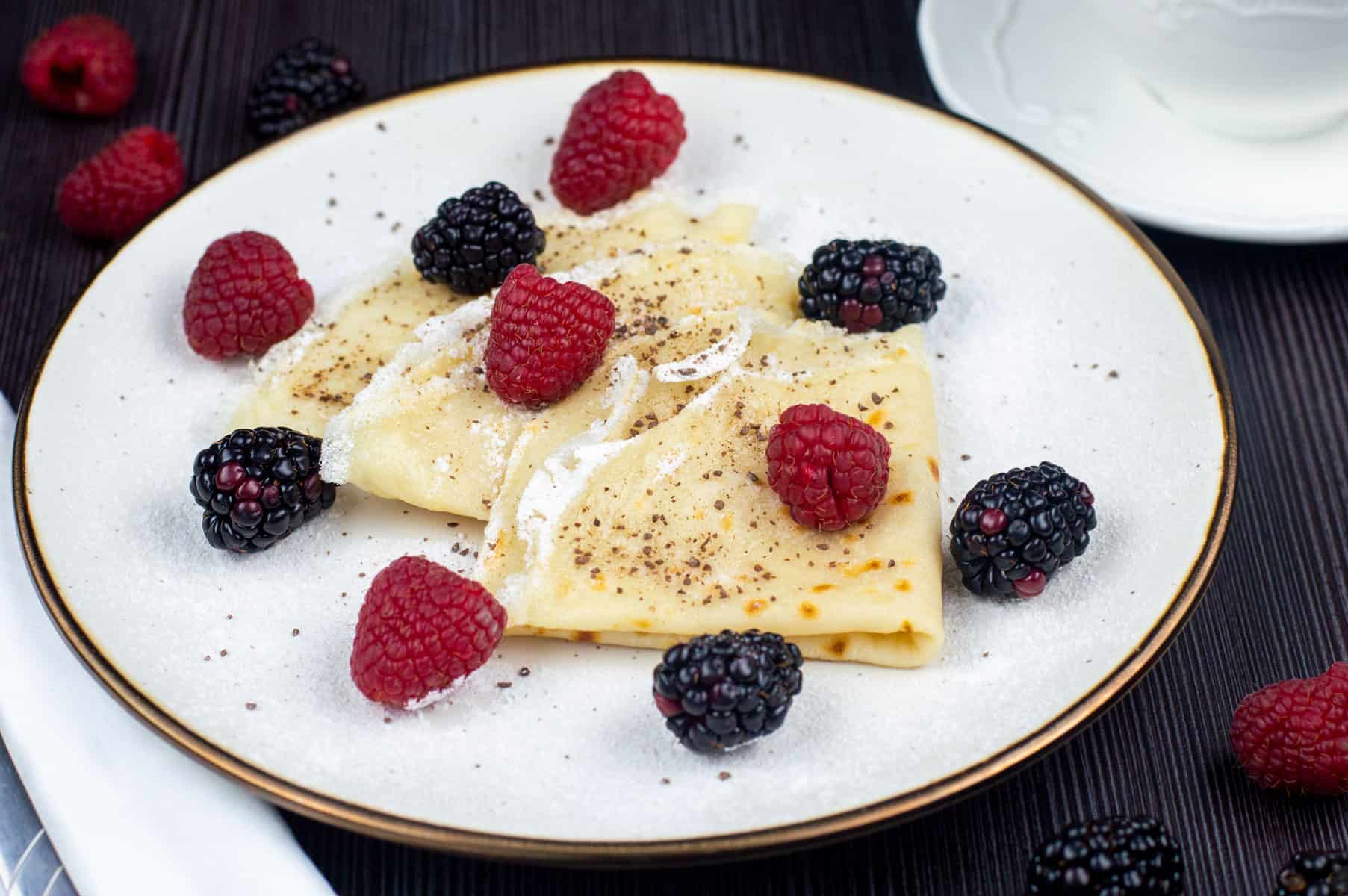 Who knew you could make vegan crepes taste so good? This recipe uses 4 ingredients and takes 30 minutes. I have tried and tested this recipe 4 times now, each time adjusting and perfecting the ingredient ratio.
As with all simple ingredients, it's important to use a good method & technique to turn them into something delicious. Below I have written everything you need to know to make this batch of delicious vegan crepes.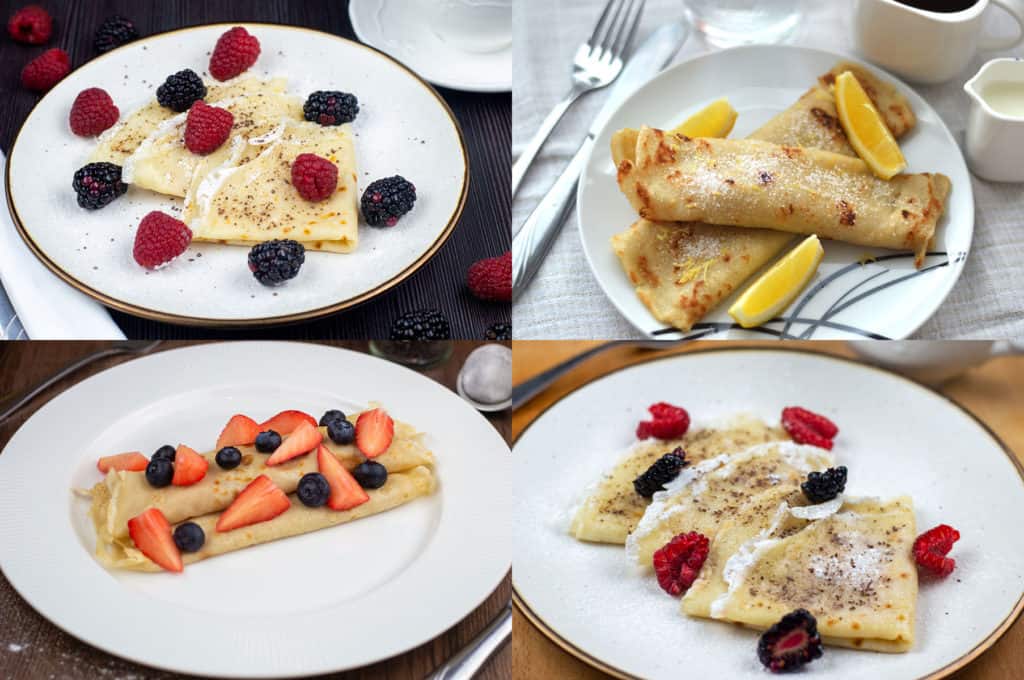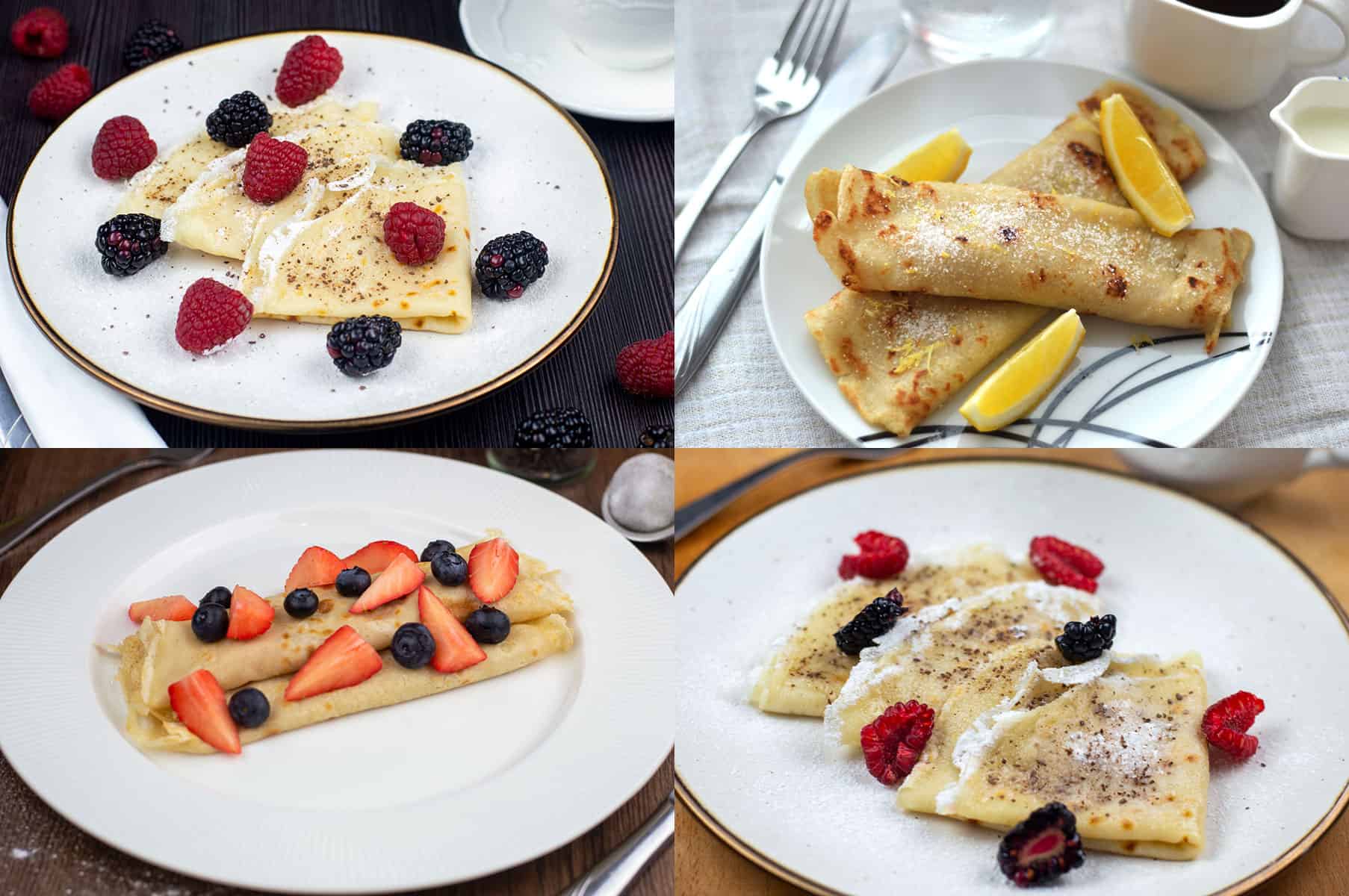 Vegan Crepe Filling Ideas
Dessert Crepes
Banana & Nutella
Lemon & Sugar
Maple or Golden syrup
Fresh Berries & Chocolate
Stewed Pear & Candied Hazelnuts
Salted Caramel & Crushed Daim
Crêpes Suzette (Orange Grand Marnie sauce)
Savoury Crepes
Wild Mushroom, Spinach & Chives
Tomato, Vegan Mozzarella & Basil
Sauté Onions, Peppers & Mushrooms
Avocado & Salsa
Quinoa & Mixed Grilled Vegetables
Crepe Questions & Tips
Prepare your topping first
This is an important step we call Mise en Place, it basically means to have everything prepared and organised. This way when you have finished cooking your perfectly cooked vegan crepes, they won't be going cold whilst you wash berries, or look for the Nutella.
Why has my Crepe stuck to the pan?
There are a three main reasons this could be. The first reason is simply that you need to add a little more oil to your pan before cooking, this will help the crepes from sticking to the pan.
Next it may be that the crepes have not been cooking long enough. Once the crepe starts to cook it will naturally start to unstick from the pan.
Lastly it may be because your pan hasn't been seasoned (certain pans need seasoning before being used) or it may be in bad condition.
What should I do if I am cooking lots of crepes?
The best way to save time is cooking with 2 to 3 pans over different burners. If you haven't made crepes before start with 1 pan and work yourself up when you feel comfortable.
If you want to have a lot of crepes hot at the same time
Cook and stack them neatly in an ovenproof dish with a clean tea towel on them (or tin foil), this will stop them from getting dry. Once cooked and stacked, remove the tea towel, cover the dish with tin foil and heat them in the oven at 150c for a few minutes, until hot.
If you are using a electric whisk
You are going to incorporate a lot of air into your batter. You will see this by the bubbles rising to the top of the batter. For crepes this isn't a good thing. If you have bubbles in the batter you will get small holes in your crepes. The best thing to do is, to let the batter sit for 30 minutes before you start cooking the crepes.
These Vegan Crepes are Suitable For…
Vegan (Vegetarian & Dairy Free)
More Recipes You May Like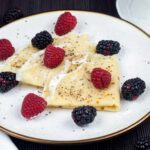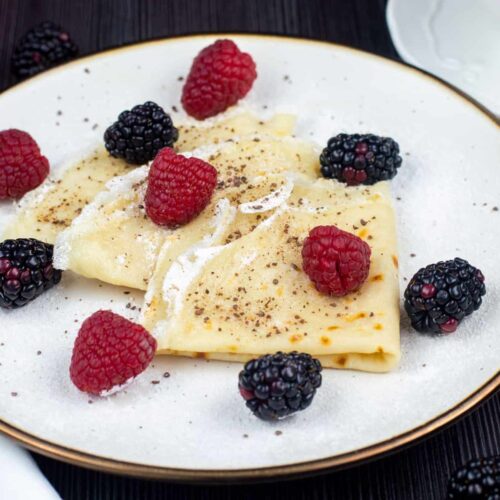 Print Recipe
Vegan Crepes
Who knew you could make vegan crepes taste so good? This recipe uses 4 ingredients and takes just 30 minutes. Perfect for delicious vegan breakfasts, brunches and desserts!
Ingredients
Olive oil

200

g

Flour

500

ml

Almond milk

Sweetened

1

Pinch

Sea salt
Instructions
Sift the flour into a large mixing bowl, make a well in the center and gradually whisk in the milk until the mixture is fully incorporated and smooth.

Lightly oil a pan and heat it over a medium heat until hot. With one hand lift the pan from the flame and with the other hand pour in a ladle of batter. At the same time give the pan a rolling motion, rapidly distributing the batter evenly across the pan. Return the pan to the heat and leave to cook for 60-90 seconds.

Delicately lift the edge of the crepe with a spatula to check (after a few times you will have a feeling and everything will go automatically). Gently slide the spatula underneath the crepe and flip. You can also toss it if you prefer (it's fun but requires practice). Continue to cook for about 30 seconds then remove from the pan and repeat (if your crepe sticks to the pan you either need to add a little more oil before cooking or let it cook for a longer).

The crepes can be served immediately with your choice of toppings.
Notes
Crepes can be rested in the fridge for 30 minutes til 1 day. Just lightly whisk the crepes batter before use (as the flour tends to sink to the bottom after resting)
The pan should sizzle at contact with the batter, if it doesn't turn up the heat slightly.