These are the most easy Vegan Crepes I have ever made. They only use 2 ingredients and take less then 5 minutes to prep! They are perfect for a low calorie vegan breakfast or dessert, people who don't have much time to cook, or just someone who wants to try a classic dish, made vegan.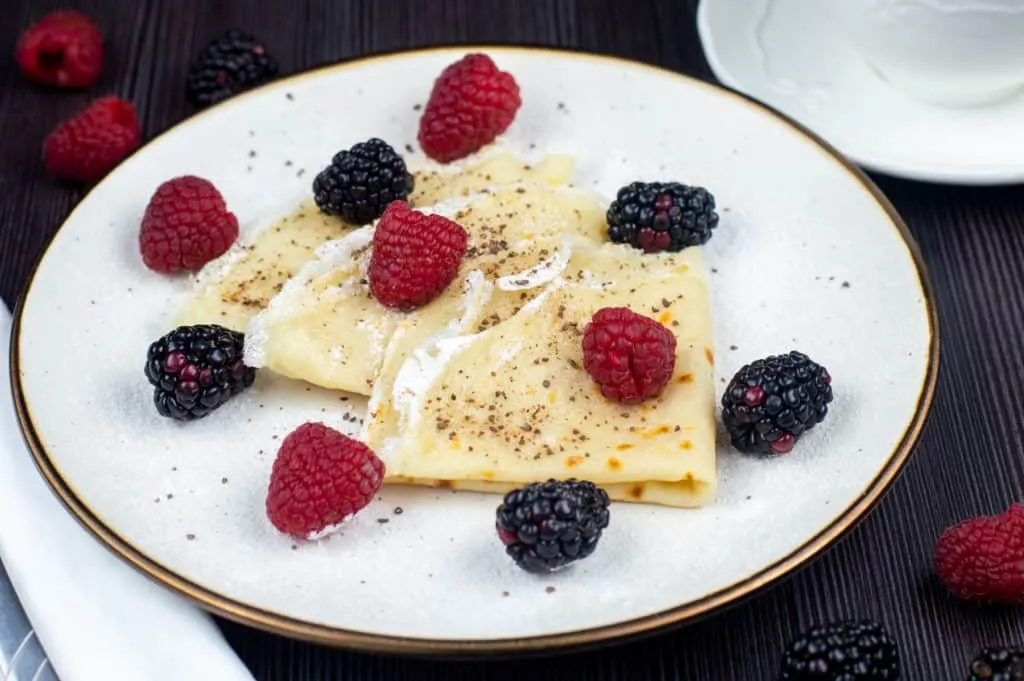 Because this recipe is so simple, it's important to make sure the ingredients are measured precisely. After trying and testing these vegan crepes 4 times, I finally got a ratio I am happy to share with you. Now you have my foolproof recipe, make sure to read on to learn all my tips and tricks.
If you are looking for a Traditional Crepe recipe, try these rich & tasty French Crêpes.
What Type Of Pan Should I Use?
It's important to use the right pan for this recipe, especially because these vegan crepes are so low in fat. When crepes don't have a form of 'fat' like oil or butter added to them in either the batter or in the pan, they will stick. So make sure to use a good quality non stick pan. If you are looking for a good quality non stick pan try this Non-Stick Crepe Pan.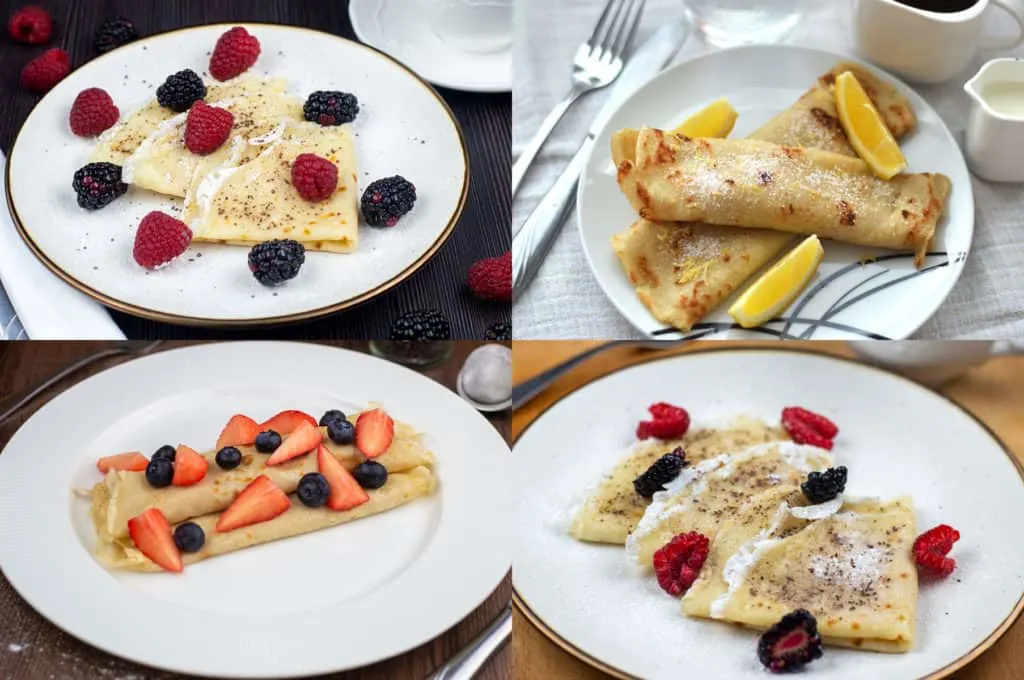 Vegan Crepe Filling Ideas
Crepes without a delicious filling or topping are pretty boring right? Even when cooked to perfection. Heres a handful of tasty vegan fillings ideas to try.
Sweet Crepes
Banana & Nutella
Lemon & Sugar
Maple or Golden syrup
Fresh Berries & Chocolate
Stewed Pear & Candied Hazelnuts
Salted Caramel & Crushed Daim
Crêpes Suzette (Orange Grand Marnie sauce)
Savoury Crepes
Wild Mushroom, Spinach & Chives
Tomato, Vegan Mozzarella & Basil
Sauté Onions, Peppers & Mushrooms
Avocado & Salsa
Quinoa & Mixed Grilled Vegetables
Number 1 Tip
Prepare your topping first
These vegan crepes are so thin that they cool quickly. If you prepare your toppings before hand this gives you amble of time to eat them fresh and hot! In France we call this 'Mise en Place', which means to be prepared and organised.
FAQ's
Whats the best way to cook lots of crepes?
If you are looking to save time you should use 2 or 3 pans over different burners, this will drastically increase your crepe making speed! If you haven't made crepes before start with 1 pan and work yourself up when you feel comfortable.
The best way to keep crepes warm
Once you have finished cooking a crepe, place it neatly in an oven proof dish with tin foil covering the top. You can either keep this dish in a preheated oven at 100c, or cook all the crepes then reheat them in at 150c for 2-3 minutes.
Can I use a electric whisk?
Yes electric whisks are fine to use. One problem though is that it will incorporate a lot of air into your batter. So make sure to rest it for 15-20 minutes in the fridge before using it, to avoid air holes in your crepes.
More Vegan Recipes You May Like…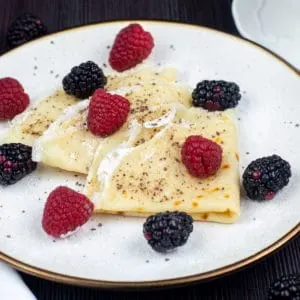 Vegan Crepes
These are the most easy Vegan Crepes I have ever made. They only use 2 ingredients and take less then 5 minutes to prep!
Ingredients
200

g

Plain Flour

500

ml

Almond milk

Sweetened

1

Pinch

Sea salt
Instructions
Sift the flour into a large mixing bowl, make a well in the center and gradually whisk in the milk until the mixture is fully incorporated and smooth.

Heat a non stick pan over medium heat until hot. With one hand lift the pan from the flame and with the other hand pour in a ladle of batter. At the same time give the pan a rolling motion, rapidly distributing the batter evenly across the pan. Return the pan to the heat and leave to cook for 60-90 seconds.

Delicately lift the edge of the crepe with a spatula to check (after a few times you will have a feeling and everything will go automatically). Gently slide the spatula underneath the crepe and flip. You can also toss it if you prefer (it's fun but requires practice).

Continue to cook for about 30 seconds then remove from the pan and repeat (if your crepe sticks to the pan you either need to add a little more oil before cooking or let it cook for a longer).

Served immediately with your choice of toppings.
Notes
The pan should sizzle at contact with the batter, if it doesn't turn up the heat slightly.
Nutrition
Calories:
67
kcal
Carbohydrates:
13
g
Protein:
2
g
Fat:
1
g
Saturated Fat:
1
g
Sodium:
58
mg
Potassium:
18
mg
Fiber:
1
g
Sugar:
1
g
Calcium:
53
mg
Iron:
1
mg