This Vegan Keto Smoothie is perfect for your vegan keto meal plan. It takes just 2 minutes to make, contains only 4 grams of net carbs, and is super tasty and healthy!
This high-protein smoothie is ideal for a super quick breakfast, snack, or even an after-workout protein shake. It uses long-lasting ingredients that keep for months which is why it's my go-to vegan keto shake.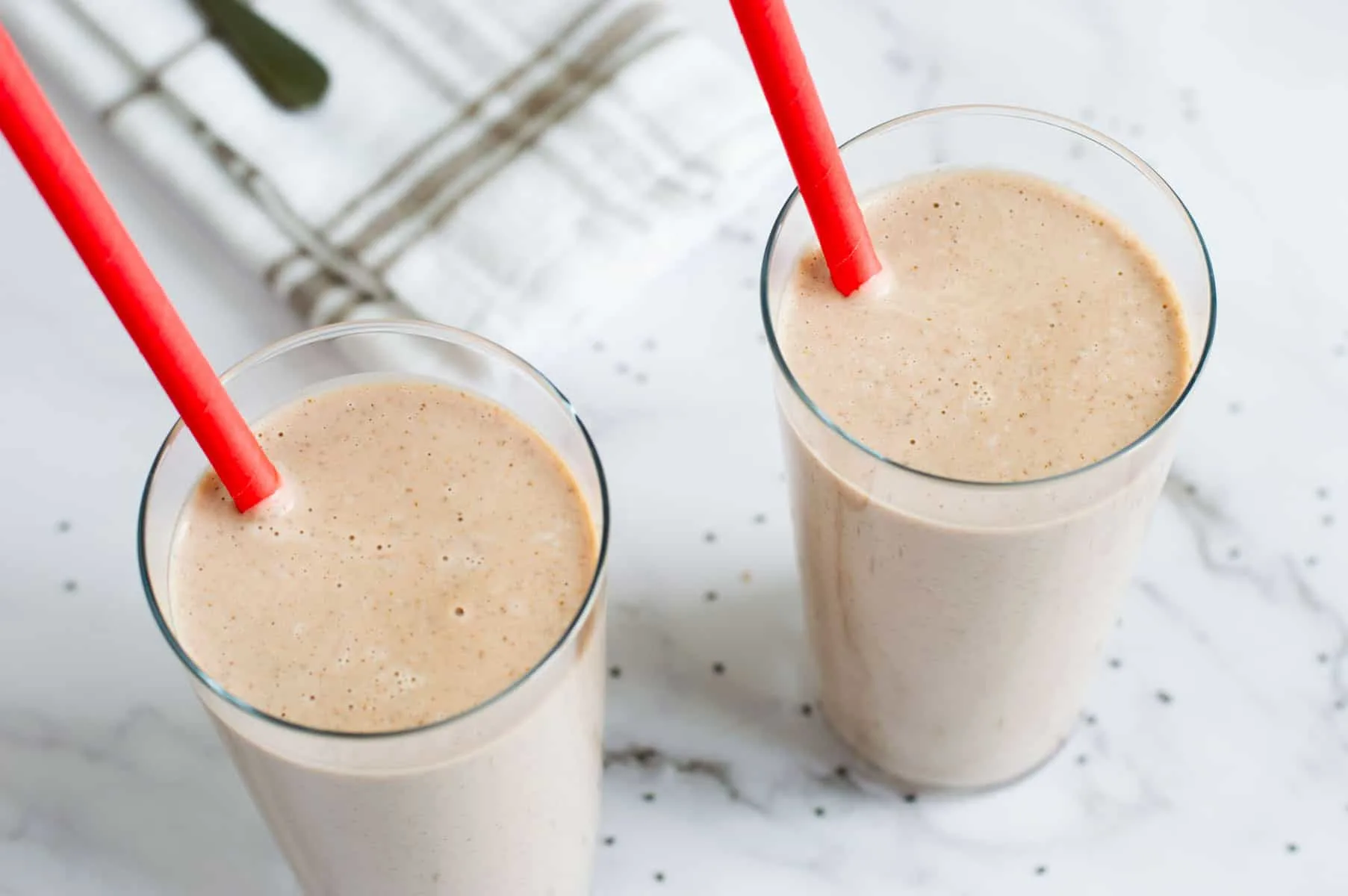 Nutrition & Health Benefits
This shake is packed with healthy nutrition giving it a wide range of benefits. It's low in sugar which helps stabilize blood sugar levels, high in protein for muscle repair, and high in healthy fats and iron.
Low Carbs & High Fibre – The majority of the carbohydrates in this smoothie are actually fibre. This is great for people following a keto diet because this is a nutrition that is often lacking. Fibre is classed as a net carb because it isn't digested, so don't worry about adding fibre to your daily carbs.
High Protein – It can be hard to get enough protein in a vegan diet especially when it's tied into a keto diet! If you are a regular exerciser like myself, it's especially important to eat a high protein diet. This smoothie is high protein and great after a light workout. If you are planning on doing a high-intensity workout simply add another half a scoop of vegan protein powder into this shake.
Healthy Fats – It's easy to mistake fats for being bad, but there is actually a range of different types of fats. Some are bad but most are actually good for you. The two fats to avoid are trans fat and saturated fat, which are both very low in this smoothie. Other fats like polyunsaturated fat and monounsaturated fat are essential for a healthy body.
Good Source of Iron – Iron is another nutrition that lacks in a vegan diet because a lot of peoples iron comes from animal products. In the United States, approximately 10 million people are iron deficient which can lead to extreme fatigue. This smoothie gives you a good source of iron to help you maintain optimal levels.
Vegan Protein Powder
This smoothie uses a vegan protein powder that is keto-friendly and gives the overall smoothie a health kick! I recommend using the best sugar-free, high protein, high iron and organic protein powder you can get your hands on. That will help give this vegan keto smoothie that additional nutrition kick that will help improve your health!
For people using a different type of protein powder simply add 15 grams of its nutrition to this label below.
Without Protein Powder Nutrition Label – 1 Serving

Professional Tips & Tricks
Chill the Soy Milk – No one likes a warm smoothie, or at least I don't! I recommend using chilled soy milk, and even adding 1 – 2 ice cubes if you like your smoothie extra cold.
Layer your Ingredients – This is surprisingly important. If you layer your ingredients in the right order you avoid parts of the protein powder, peanut butter or chia seeds from sticking to the bottom.
Start the Blender on Slow – By starting the blender on slow and turning it up gradually you can avoid a lot of unnecessary splashback on the side of the blender.
Do not Store – The majority of protein powders don't store well for long once mixed with liquid. I suggest making this smoothie as soon as you plan on drinking it or a maximum of 3 to 4 hours in the fridge.
Step by Step Recipe
1) Gather and measure all of the ingredients. Pour the soy milk into a blender.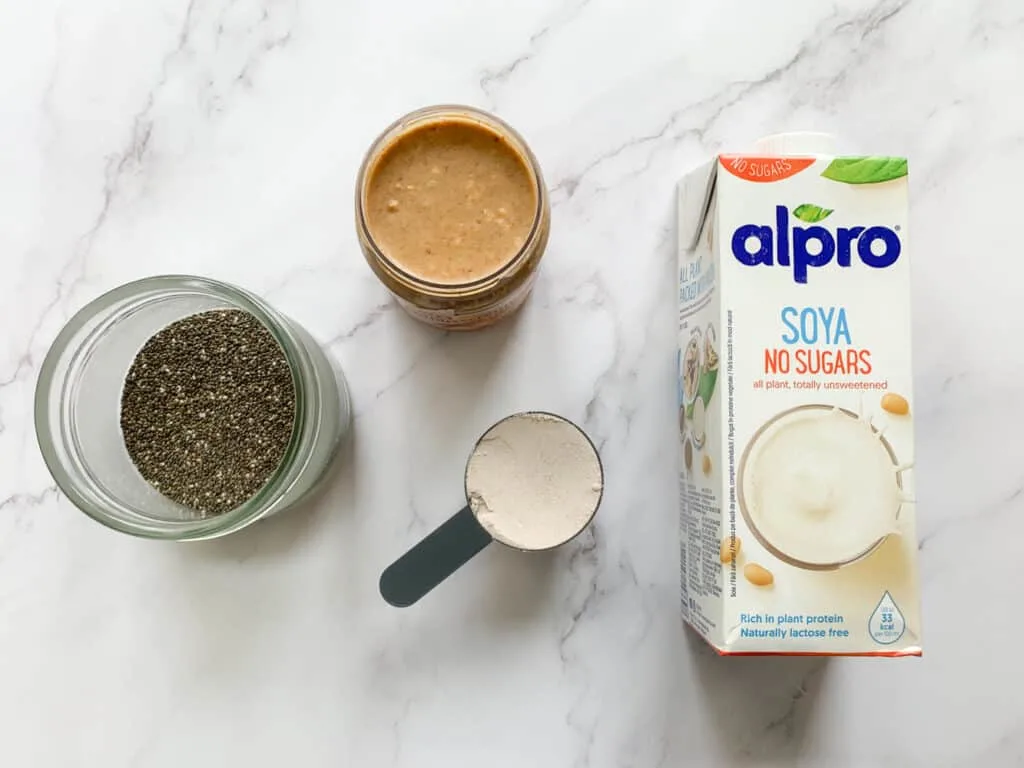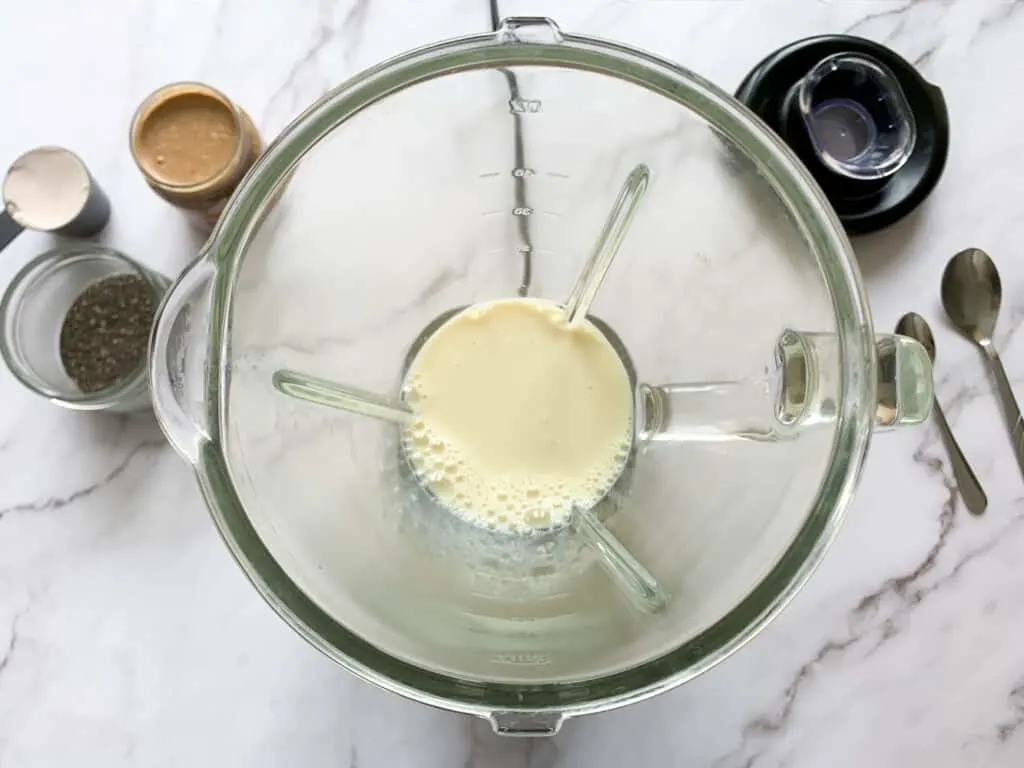 2) Add peanut butter, chia seeds and vegan protein powder to the blender. Blend for 30 to 45 seconds until smooth.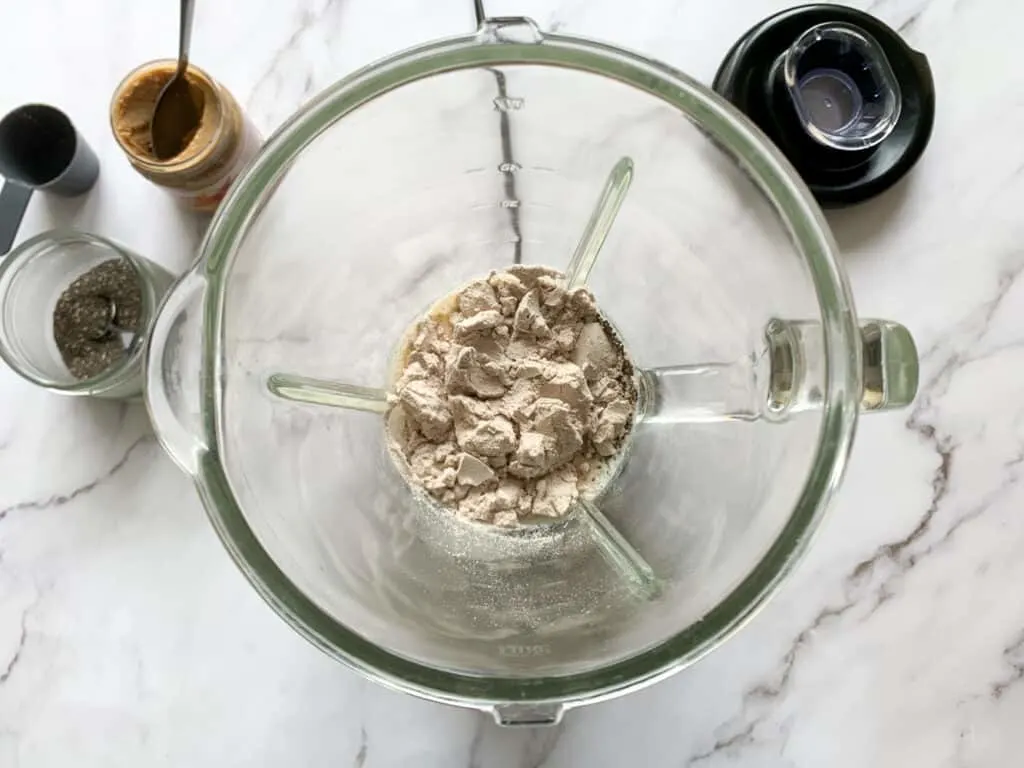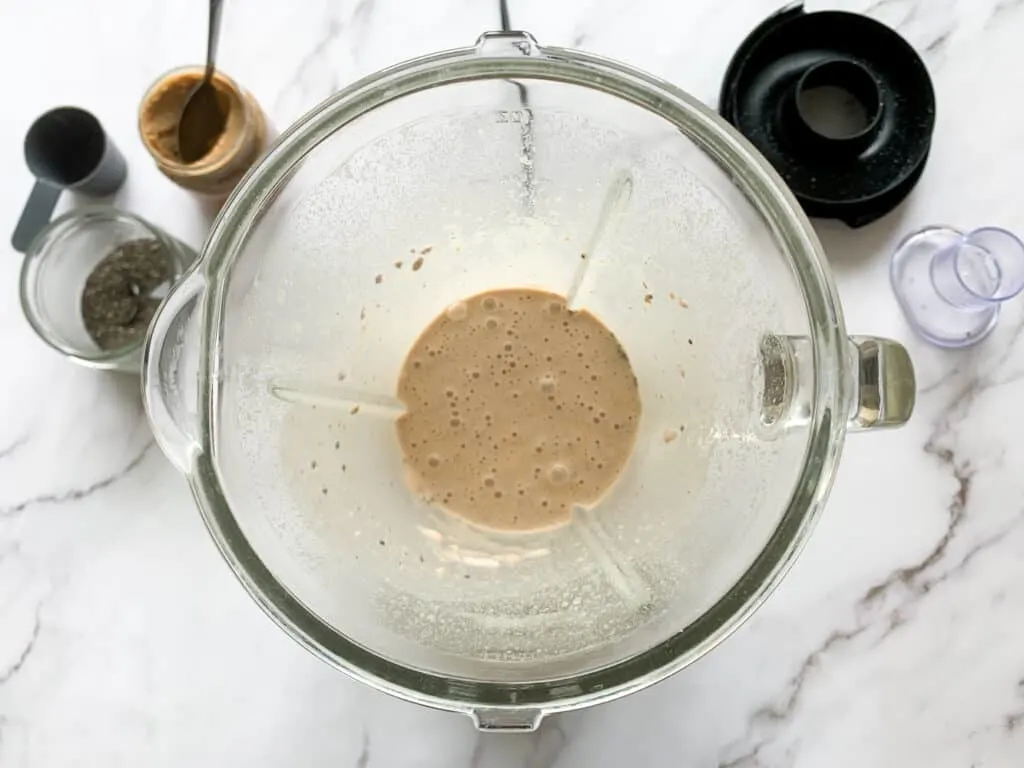 3) Serve in two chill glasses with a thick straw.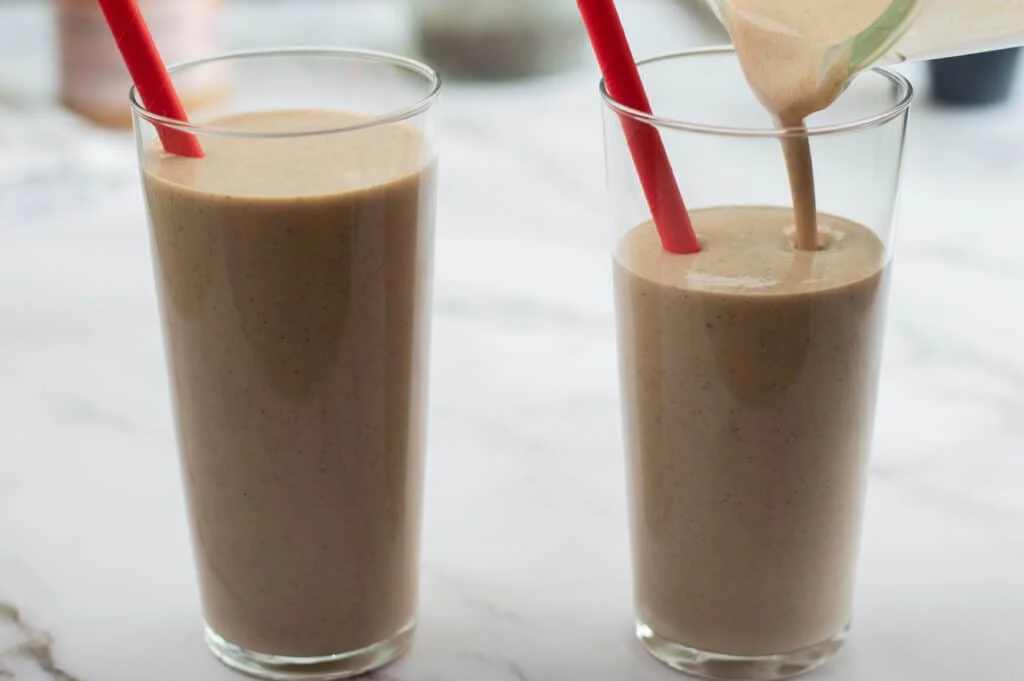 FAQ's
Is it possible to do a vegan keto diet?
Yes, it is possible! That doesn't mean it's not hard. Luckily nowadays there are loads of products in the market that fit into both of these diets. You just need to be extra careful that you are providing your body with well-balanced nutrition.
Are smoothies good on keto?
Smoothies are a great way to add fibre to your keto diet. Just make sure they are either low or no sugar, and high in healthy fats and protein.
More Vegan Keto Recipes You May Like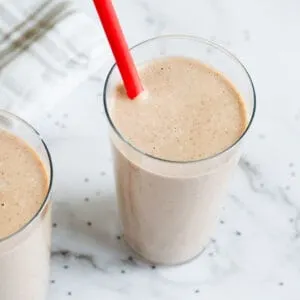 Vegan Keto Smoothie
This Vegan Keto Smoothie is perfect for your vegan keto meal plan. It takes just 2 minutes to make, contains only 4 grams of net carbs, and is super tasty and healthy!
Ingredients
300

ml

Soy Milk

sugar free and chilled

30

g

Vegan Protein Powder

chocolate

1

tbsp

Peanut Butter

1

tbsp

Chia Seeds
Instructions
Pour all of the ingredients into a blender, starting with the soya milk.

Blend for 30 to 45 seconds until smooth and serve.
Nutrition
Calories:
176
kcal
Carbohydrates:
9
g
Protein:
15
g
Fat:
10
g
Saturated Fat:
2
g
Polyunsaturated Fat:
3
g
Monounsaturated Fat:
2
g
Sodium:
218
mg
Potassium:
121
mg
Fiber:
5
g
Sugar:
1
g
Vitamin A:
3
IU
Vitamin C:
1
mg
Calcium:
244
mg
Iron:
3
mg