Ever wondered what Crepes taste like in France? Why not take a shortcut and enjoy some in the comfort of your home. These traditional French Crepes are just like you would expect from a Parisian bistro, they are rich, smooth & delicious. Way better then your standard crepe recipe!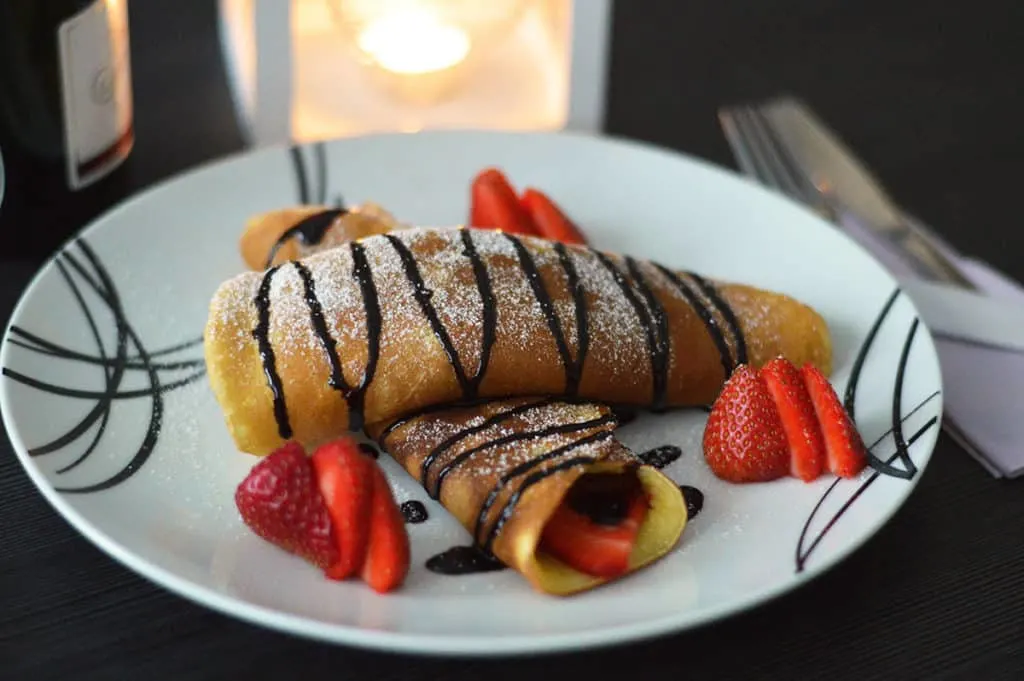 Where Do Crepes Originate From?
Crepes originated from Brittany in the Northwest of France back in the 13th Century. They were so popular that their consumption spread nationwide, leading to the day of 'Le Jour des Crepes' which means 'The day of the Crepes'. This holiday is also known as 'Shove Tuesday' and is celebrated in February, the day before Ash Wednesday.
French Tradition
There is an old french tradition that if you catch a crepe in the frying pan after tossing it, whilst holding a coin in your other hand, you will become rich later that year.
Different Types of Crepes Batter
There are a bunch of different types of crepe batters in France you probably haven't even thought of! Here are my three favourites.
Beer Crepes
Used for savoury recipes
90 g Plain Flour
3 Eggs
250 ml Beer
40 g Butter melted
1 pinch Sea Salt
Buckwheat Crepes
Used for either sweet or savoury recipes
90 g Plain Flour
3 Eggs
250 ml Milk
40 g Butter melted
1 pinch Sea Salt
Vegan Crepes
Used for either sweet or savoury recipes
Olive oil
200 g Flour
500 ml Almond milk Sweetened
1 Pinch Sea salt
Crepe Filling Ideas
You may just love the classics like Nutella and Maple Syrup, thats fine! But if you are looking for something new, give one these tasty crepe filling ideas a try.
Sweet Crepes
Banana & Nutella
Lemon & Sugar
Maple or Golden syrup
Fresh Berries & Chocolate Sauce
Stewed Pear & Candied Hazelnuts
Salted Caramel & Crushed Daim
Crepes a la Normande (Stewed apples in butter & sugar)
Crêpes Suzette (Orange Grand Marnie sauce)
Savoury Crepes
Ham & Cheese
Ricotta, Spinach & Bacon
Spinach, Artichoke & Brie
Squash & Goats Cheese
Smoked Salmon & Ricotta
Crepe Pans
Cast Iron Pans
They are the go to crepes pans for many chefs. These pans produce great results and can last 100 years if they are taken care of properly. They need seasoning with oil before being used. This will create a non stick layer on the pan. They also need to be completely dry before storage otherwise they with rust.
Here is my recommended Cast Iron Crepe Pan.
How To Season A Cast Iron Pan
Firstly wash the cast iron pan with hot soapy water. Dry thoroughly. Apply a small amount of oil on the pan and wipe everywhere with a dry cloth (including the handle and bottom of the pan). Place the pan upside down on a shelve in the oven and bake at 240c for 45 minutes (1 hour for thick cast iron pans). Leave too cool in the oven.
Now the great thing is that once you have season your pan, you do not need to wash this pan between uses. Simply wipe with a dry cloth and store.
I have linked to a Tasty video on how to season a cast iron pan here
Non Stick Crepe Pans
The great thing about non stick pans is that they already come with a non stick layer. They also don't require as much time keeping them in good condition. The downside is that they can be easily damaged by metal utensils and tough scrubbers. They also won't last as long as your iron cast pan.
My recommended non stick crepe pan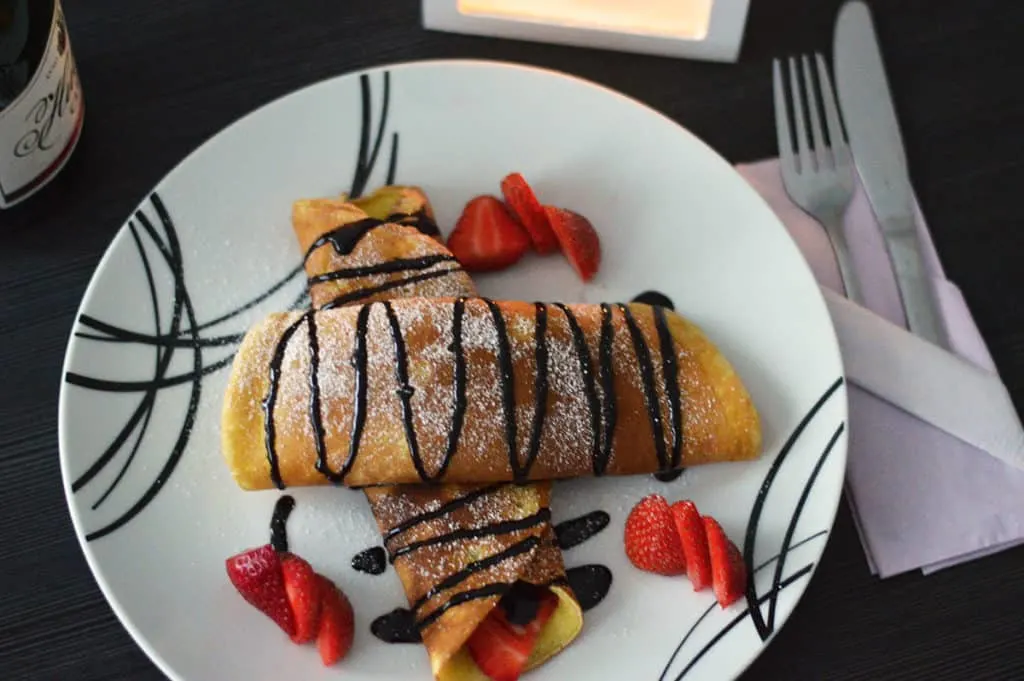 Tips & Tricks
Prepare your topping first
This is an important step we call Mise en Place, it basically means to have everything prepared and organised. This way when you have finished cooking your perfectly cooked French crepes, they won't be going cold whilst you look for your toppings.
Want to have a lot of crepes hot at once?
Cook and stack them neatly in an ovenproof dish with tin foil on them. This will stop them from getting dry. Once cooked and stacked, wrap the tin foil tightly around the ovenproof dish and heat them in a preheated oven at 150c for a 2-3 minutes.
How to cook lots of crepes at once
If you are cooking crepes for more than one person or even making a crepe cake, you may want increase your crepe production speed. The best way to do this is to use 2 to 3 pans on different burners, at once. Firstly preheat the pans, then pour batter into one crepe pan, wait 5-10 seconds then pour the batter into the next pan. This 5-10 second gap gives you time to flip your crepes without the others overcooking.
Can I use an electric whisk when making crepe batter?
Yes you can but you should rest the batter after. Heres why, when you heavily whisk a batter you incorporate more air into the batter. You will notice the bubbles rising to the top. This isn't really a good thing because it will cause little holes in your crepes whilst cooking. The best thing to do after using an electric whisk is to cling film the batter and let it rest in the fridge for at least 30 minutes before cooking.
More Recipes You May Like…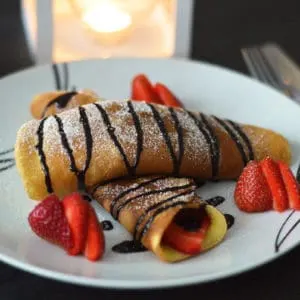 French Crepes
These French Crepes are perfect for any occasion. Delicious breakfasts, quick & easy brunches or mouth watering desserts
Ingredients
90

g

Plain Flour

3

Eggs

250

ml

Milk

40

g

Butter

melted

1

pinch

Sea Salt
Optional for French Dessert Crepes
12.5

ml

Cognac or Grand Marnier

30

g

Sugar
Instructions
Crepe Batter
Sift the dry ingredients into a large mixing bowl, make a well in the center and break the eggs into the middle. With a whisk stir whilst keeping to the center until all of the flour has gradually absorbed into the eggs. Slowly add approximately two thirds of the milk whilst stirring constantly. Stir in the alcohol & melted butter. Then thin the batter with milk until it has a fresh cream texture.
Cooking the Crepes
Lightly butter a pan (it only needs to be buttered once) and heat it over a medium-low heat until hot. With one hand lift the pan from the flame and with the other hand pour in a ladle of batter. At the same time give the pan a rolling motion, rapidly distributing the batter evenly across the pan. Return the pan to the heat and leave to cook for 30-45 seconds.

Delicately lift the edge of the crepe with a spatula to check (after a few times you will have a feeling and everything will go automatically). Gently slide spatula underneath the crepe and flip. You can also toss it if you prefer (it's fun but requires practice). Continue to cook for about 15 seconds then remove from the pan and repeat (With the ladle give the batter a quick stir between each crepe).

The crepes can be served immediately with your choice of toppings.
Notes
The pan should sizzle at contact with the batter, if it doesn't turn up the heat slightly.
Nutrition
Calories:
172
kcal
Carbohydrates:
17
g
Protein:
6
g
Fat:
9
g
Saturated Fat:
5
g
Polyunsaturated Fat:
1
g
Monounsaturated Fat:
3
g
Trans Fat:
0.2
g
Cholesterol:
101
mg
Sodium:
97
mg
Potassium:
113
mg
Fiber:
0.4
g
Sugar:
6
g
Vitamin A:
355
IU
Calcium:
69
mg
Iron:
1
mg