This pumpkin soup is simple yet delicious. We use the pumpkin flesh, seeds and oil to give you a wave of different pumpkin flavours.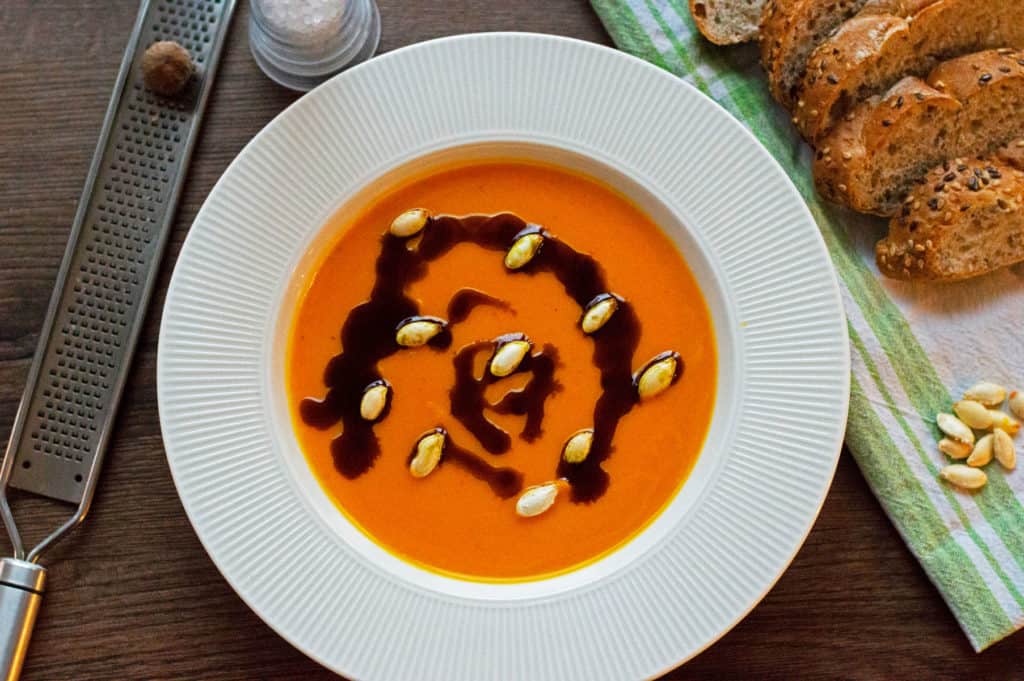 The Ingredients
Pumpkin
Pumpkin is a cultivar of winter squash, like other squash they originated in NorthEastern Mexico and the Southern part of the United States.
They are a warm weather crop that normally take 95-120 days to mature. Pumpkin seeds do not germinate in cold soil, meaning they are normally planted in late spring/summer making them ready to harvest in Autumn/Fall.
Pumpkin Oil
Pumpkin oil is made from the seeds of the Styrian pumpkin, native to Austria but also available in the US. These pumpkin seeds are perfect for oil because the seeds lack hard stringy casing's like other pumpkins.
The nutty flavour from the oil comes from the roasting process of the seeds. Like coffee the process is delicate and with a few degrees or minutes more the flavour can be completely different. It works well with many recipes like pumpkin risotto, salads and soups.
You can find pumpkin oil in certain speciality food stores or online. I have left a link for a pumpkin oil I recommend here.
What To Look For When Buying
When buying pumpkin look for well attached, dry stems as this is a sign of a fully matured pumpkin. Next check if there are any for bruises or soft spots, this can be a sign that rot has set inside the pumpkin. If the stem and skin look unblemished, you are good to go.
Calories
This soup contains approximately 120 calories per portion (with about a quarter of that coming from the dash of pumpkin oil)
Health Benefits Of Pumpkin
Pumpkin contains a high amount of antioxidants, such as alpha-carotene, beta-carotene and beta-cryptoxanthin. These antioxidants can help neutralize excessive free radicals which are linked too many chronic diseases.
Its packed with vitamin A providing around 170% of the recommended daily amount in just 100 grams.
Additionally it has a high water content (94%) that contributes to its low calories, providing just 26 calories per 100 grams.
More Soup Recipes You May Like…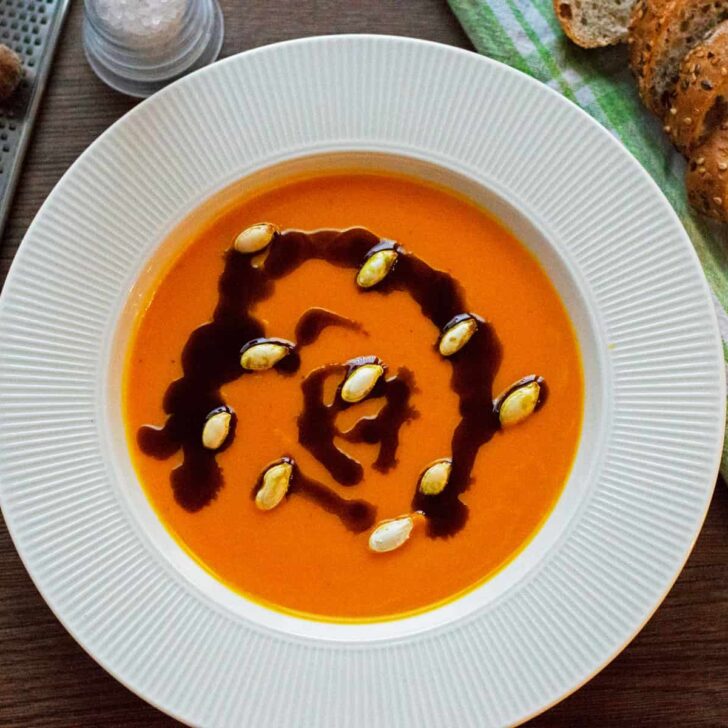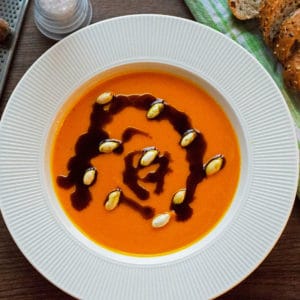 Pumpkin Soup
This pumpkin soup is simple yet delicious. We use the pumpkin flesh, seeds and oil to give you a wave of different pumpkin flavours.
Ingredients
1

kg

Pumpkin

unpeeled weight

500

ml

Vegetable stock

Freshly grated nutmeg

Sea salt

Freshly cracked black pepper
Instructions
Preheat the oven to 200'c.

Cut the pumpkin in half, from top to bottom, remove seeds and fibrous strands (stringy bits). The seeds can be kept and toasted if desired (recipe below).

Place the pumpkin onto a baking tray lined with baking paper. Season with salt and freshly cracked pepper, then rub olive oil onto the pumpkin and bake for 35-45 minutes until tender.

Meanwhile in a large pot bring the stock to boiling point and turn off the heat and put a lid on the pot.

Back to the pumpkin, add the tender cooked pumpkin to a food processor and blend with a ladle of stock, adding a little at a time until the mixture is smooth and all the stock is incorporated. Season with freshly ground nutmeg.

Add the soup back into the large pot and simmer on a medium-low heat for 10-15 minutes or until you have your desired consistency. Season to taste with salt, freshly cracked black pepper and nutmeg.

Serve fresh from the pot with toasted pumpkin seeds and a drizzle of pumpkin oil.
TOASTED PUMPKIN SEEDS (OPTIONAL)
Bring a small pot of water to the boil, then generously salt. Meanwhile clean the seeds in a colander (removing any stubborn fibrous stands). Cook the seeds for 6-7 minutes until they have turned translucent. Drain and then add to a medium mixing bowl.

Pat dry with kitchen roll then drizzle with olive oil and season with salt. Toss together until evenly coated.

Add the seeds to a baking tray lined with baking paper and bake at 200c for 8-15 minutes (depending on the size of the seeds), until the seeds are slightly golden brown.
Nutrition
Calories:
71
kcal
Carbohydrates:
18
g
Protein:
3
g
Fat:
1
g
Saturated Fat:
1
g
Sodium:
503
mg
Potassium:
850
mg
Fiber:
1
g
Sugar:
8
g
Vitamin A:
21549
IU
Vitamin C:
23
mg
Calcium:
53
mg
Iron:
2
mg