Traditional flavoured Hungarian goulash is very hard to come by when following a vegan or vegetarian diet or lifestyle. But I'm happy to say it's not impossible! With a few minor tweaks, you're able to get that lavish goulash flavour.
I've travelled to Hungary and lived in central Europe for over four years! I've worked with Michelin experienced Hungarian chefs at my chef job at a 5* hotel over there. It's fair to say I know a lot about goulash.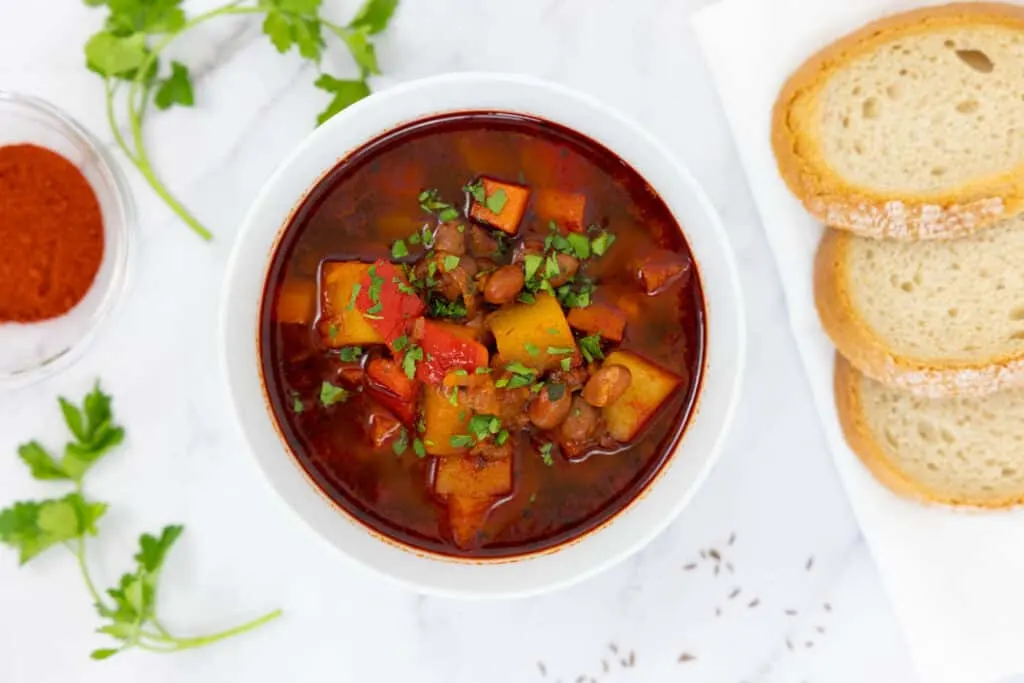 There are many variations of goulash in Hungary and a huge amount in its neighbouring countries, going into the double digits. But we're going to make the most authentic version.
The plus side of this vegan goulash is that we can make it available to more people, so it's a safe bet for visitors. It's also healthier, contains way less saturated fat and calories, and has more vitamins and fibre!
About Hungarian Goulash
Hungarian goulash is a really traditional recipe, dating back to the 9th century, which was then mainly a stock made out of leftover bones, meat and root vegetables cooked up in huge pots for the working class.
Over time the goulash recipe developed after more ingredients became available. In the post-16th century, additions started to include paprika, Hungarian peppers and potatoes, which is the version you find all over Hungary.
A couple of modern variations include tomatoes, which helps balance the richness from the stock, and caraway seeds.
How Did I Make Hungarian Goulash Vegan?
Even though the meat has been in the recipe initially, It's still possible to offer the delicious flavours of goulash while being vegan. We are aiming for a rich stock and lavish, slightly sweet paprika flavour.
With that in mind, I added more starch via the potatoes to replace the gelatin, keeping the stock from being too watery. Then replaced the meat with beans to add substance. Overall the goulash is arguable as tasty as the non-vegan version.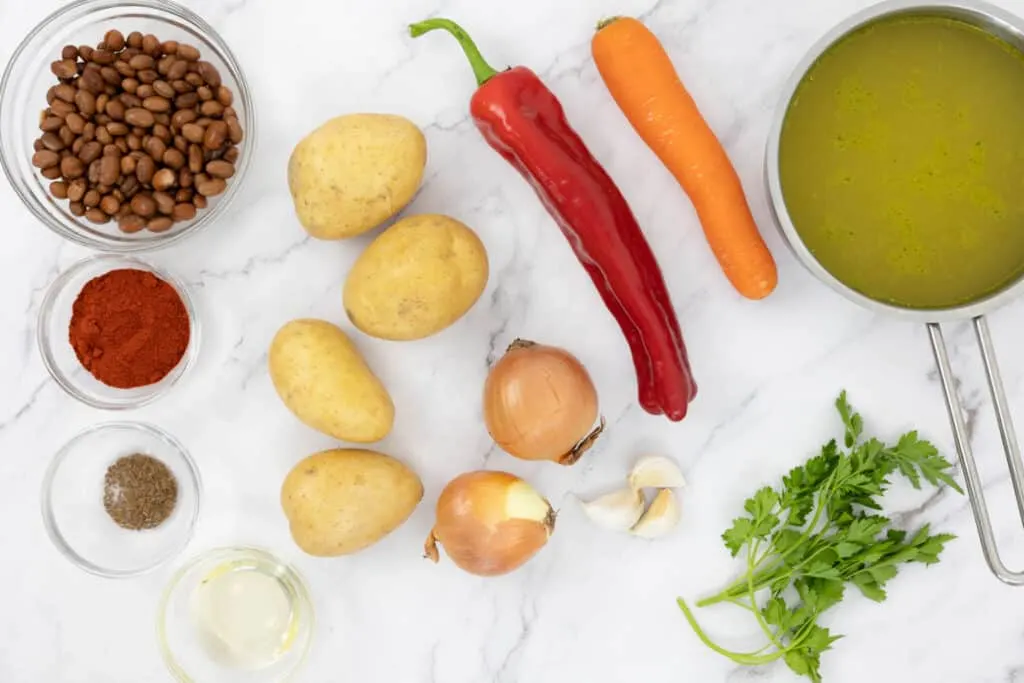 Ingredient Information
From the time of making this recipe, I'm 45 minutes from the Hungarian border, making getting these ingredients accessible. I know these ingredients aren't accessible for everyone, so I'll name the best substitutes for the less common ingredients.
Hungarian Paprika
The paprika you use will drastically change the flavour of your goulash. It's the star flavour of goulash! I recommend using the highest-quality Hungarian paprika you can find. If you can't get any, you can fall back on sweet paprika or a mix of sweet and spicy paprika. I don't recommend using smoked paprika for this recipe.
Hungarian Pepper
They are flavourful, slightly spicy peppers and the best alternative are other lesser hot red peppers. Red banana peppers and red bell peppers are suitable replacements.
Vegetable Stock
Make sure to use high-quality vegetable stock. Vegetable stock and paprika are the two components that have the most significant impact on the recipe's flavour.
Borlotti Beans
Borlotti beans sometimes are labelled as cranberry beans. If they aren't available, you'll want to replace them with another light flavoured, creamy bean like pinto beans or cannellini beans.
Caraway Seeds
There isn't a superb substitute for caraway seeds. Sometimes people confuse them with cumin seeds, but they are different. If caraway seeds aren't available, it's best to miss them out on the recipe.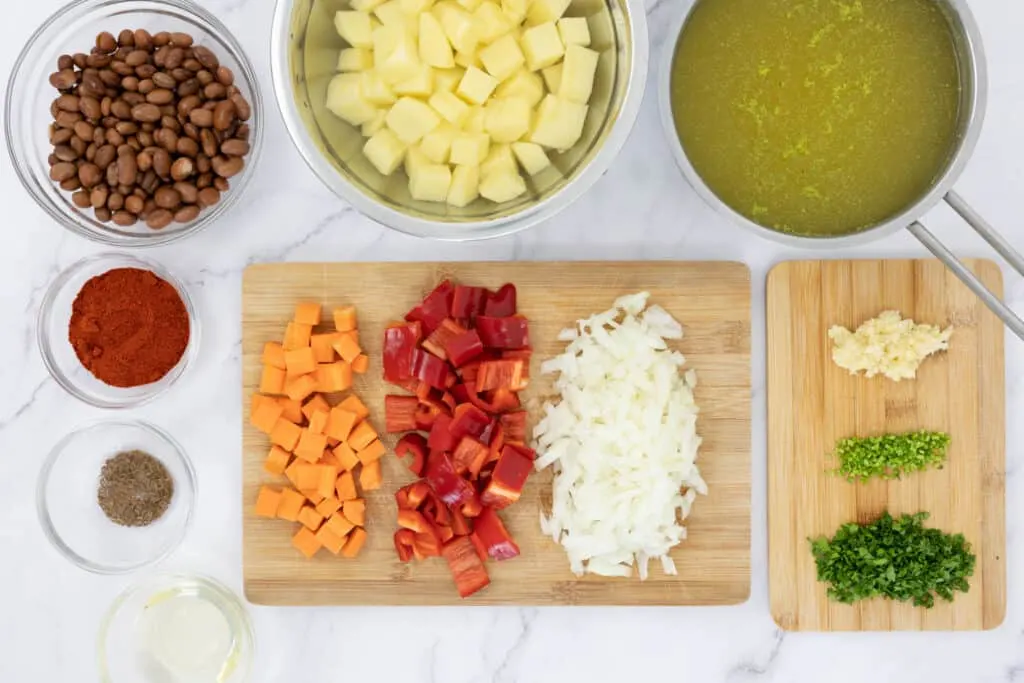 Step by Step Recipe
1) Add onions to a large pot and brown over medium-high heat for 6-8 minutes.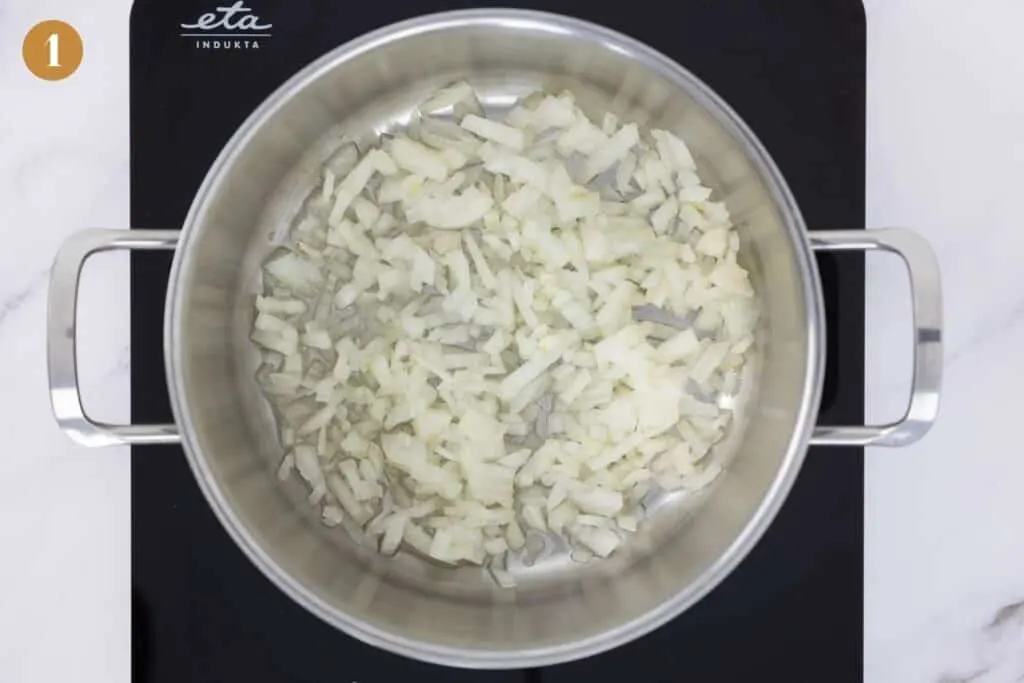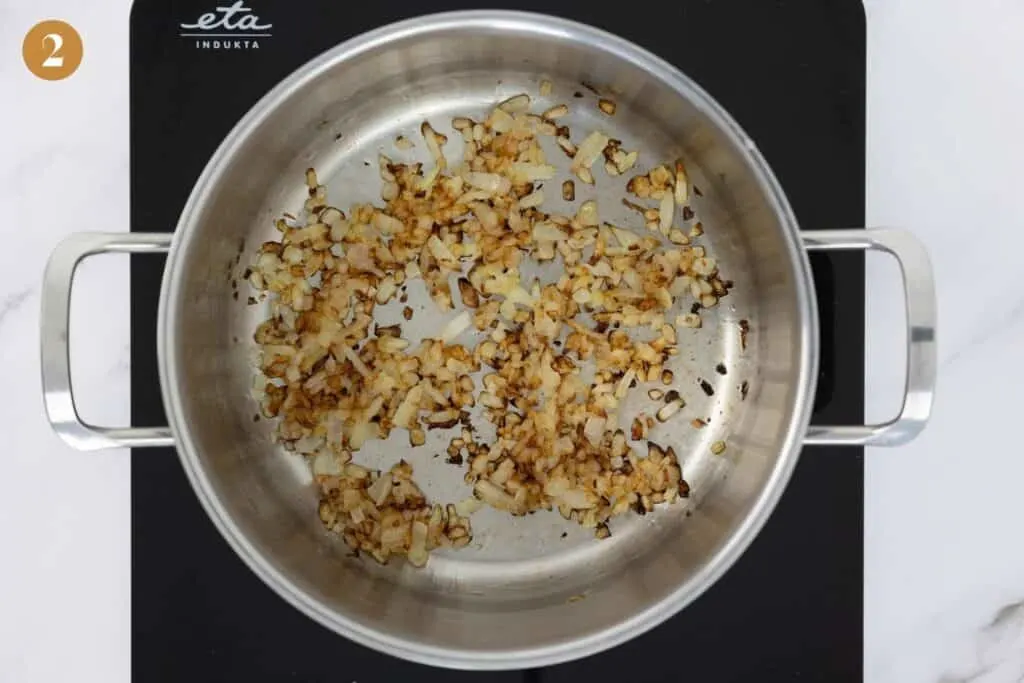 2) Turn the heat to medium and add Hungarian pepper and garlic, then sauté for 2 minutes until the garlic has softened.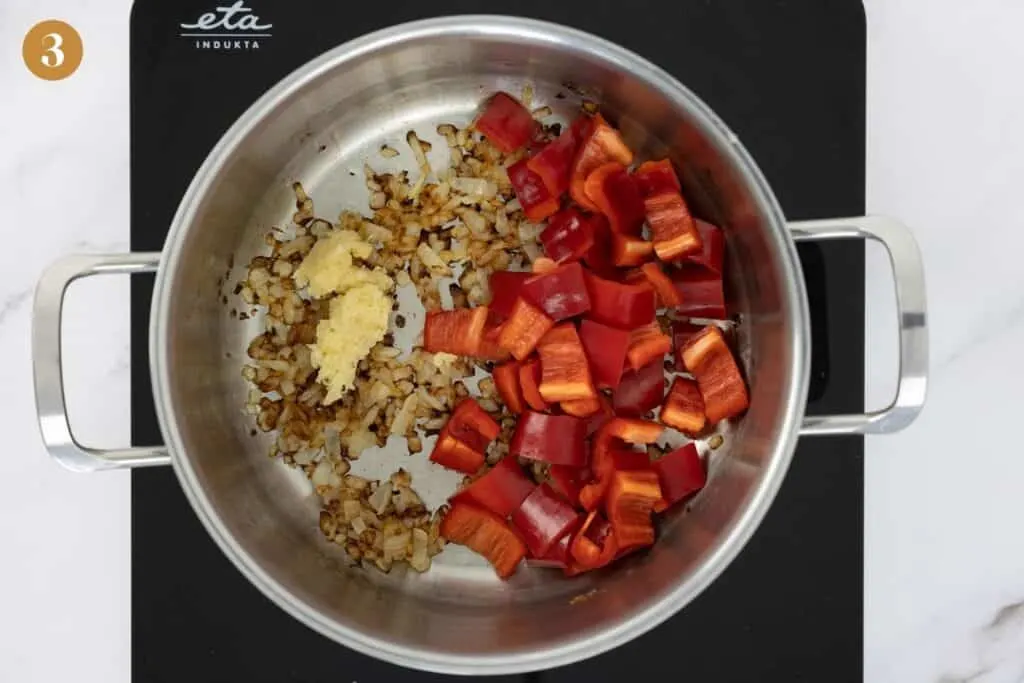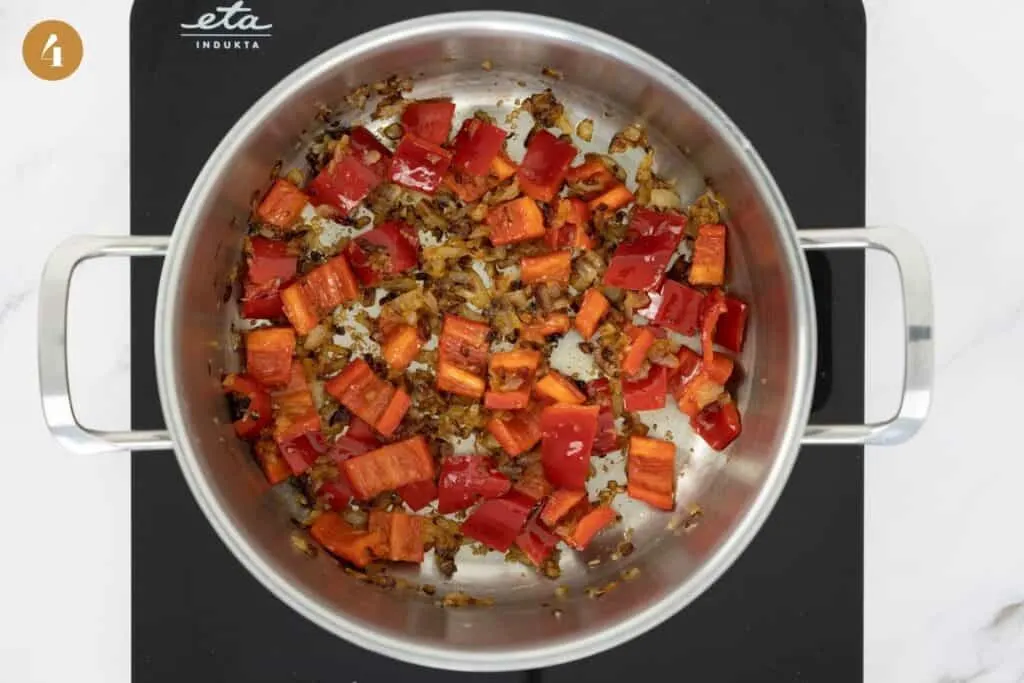 3) Turn off the heat and add mix through Hungarian paprika and cumin seeds, allowing the residual heat to toast the paprika for 30 seconds.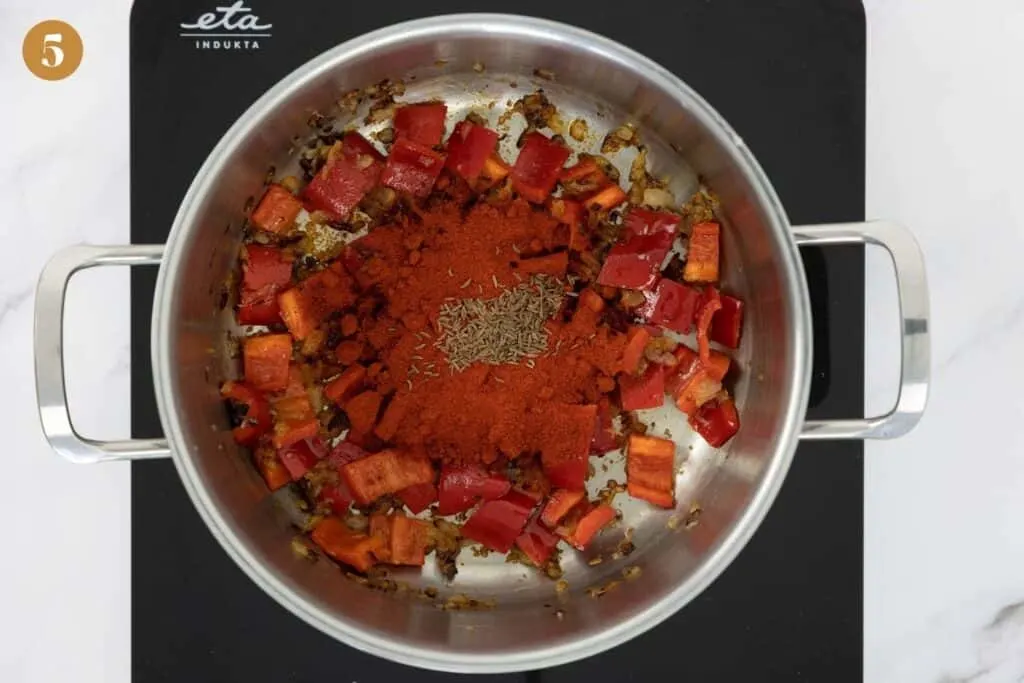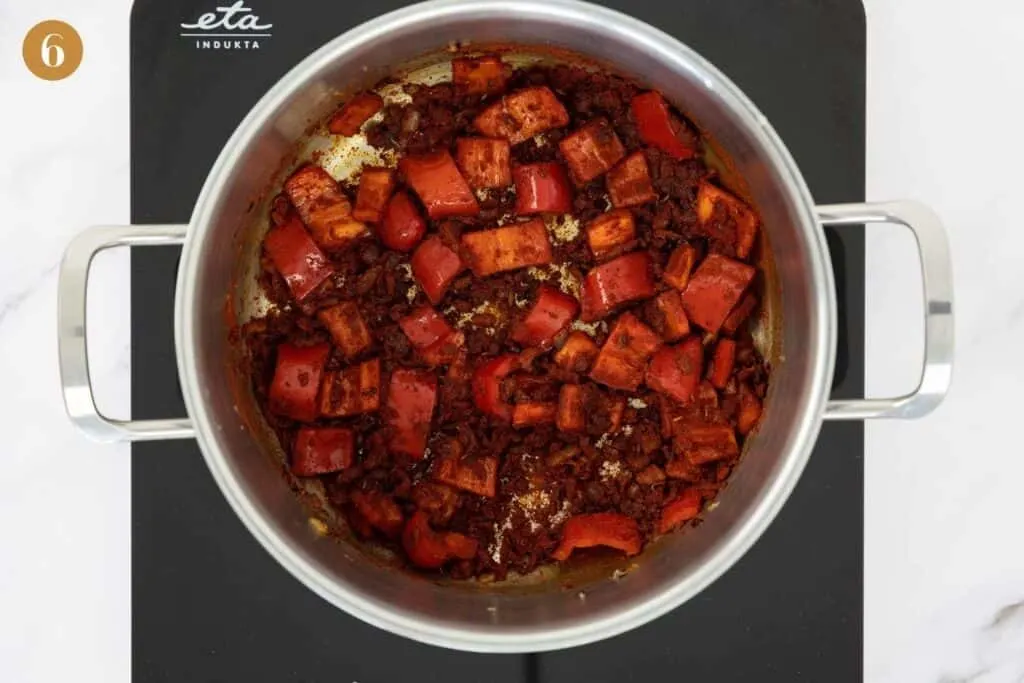 4) Add vegetable stock and deglaze the pan, scraping the bottom of the pan with a wooden or plastic utensil. Then add potatoes, carrots, borlotti beans, parsley stalks, salt, and pepper, and bring to a boil. Next, turn down the heat to a light simmer for 30 minutes or until the potatoes are cooked.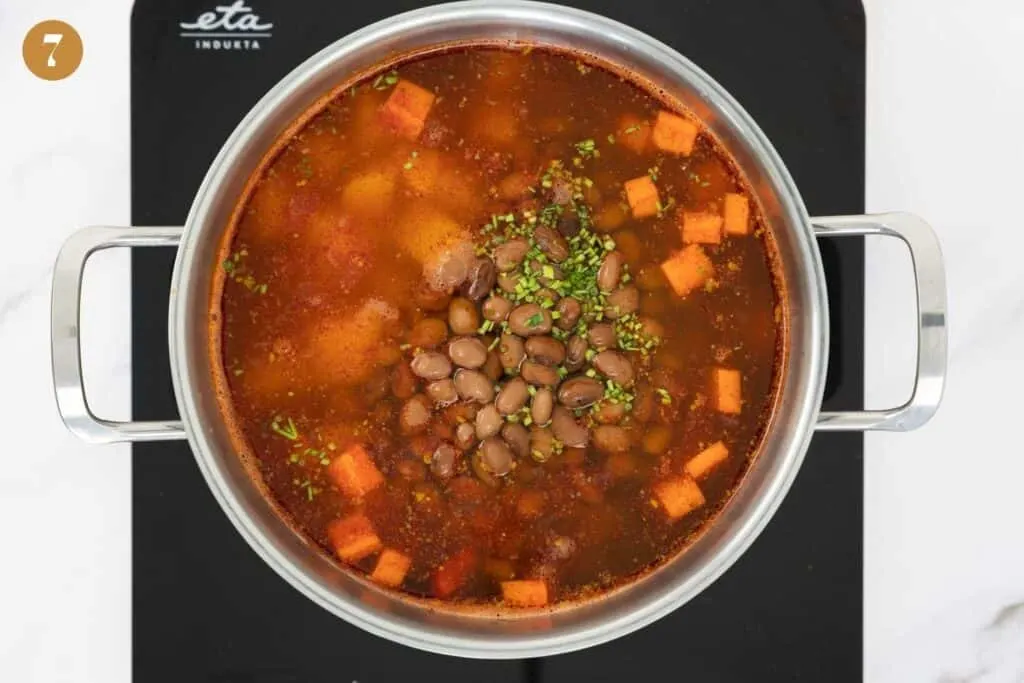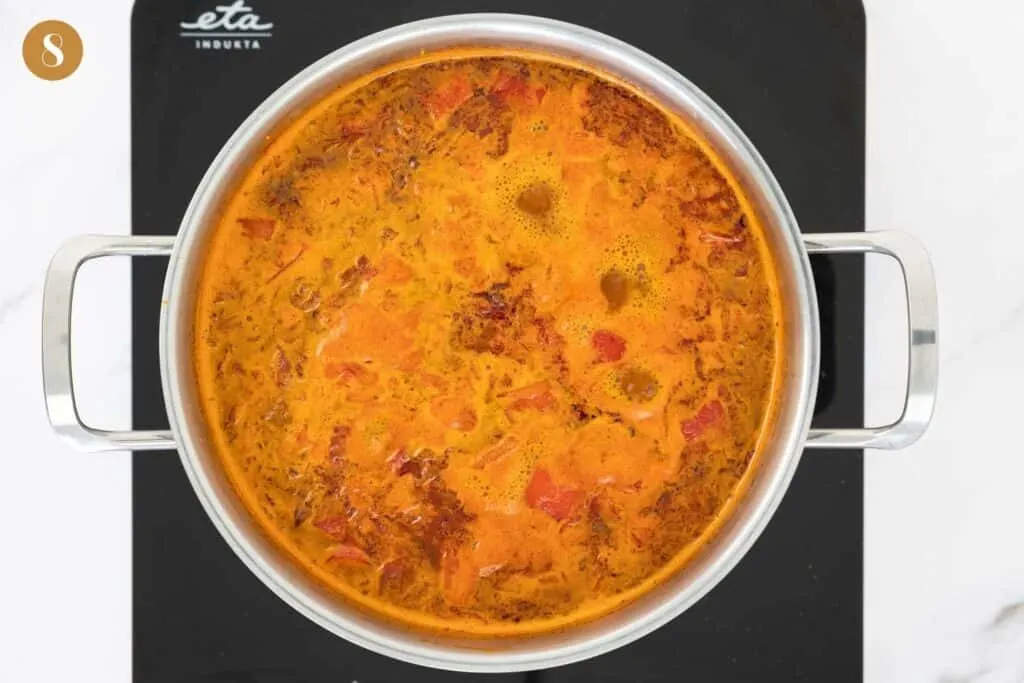 5) Mix through 2/3d's of the parsley, and serve with a sprinkle of the remaining parsley.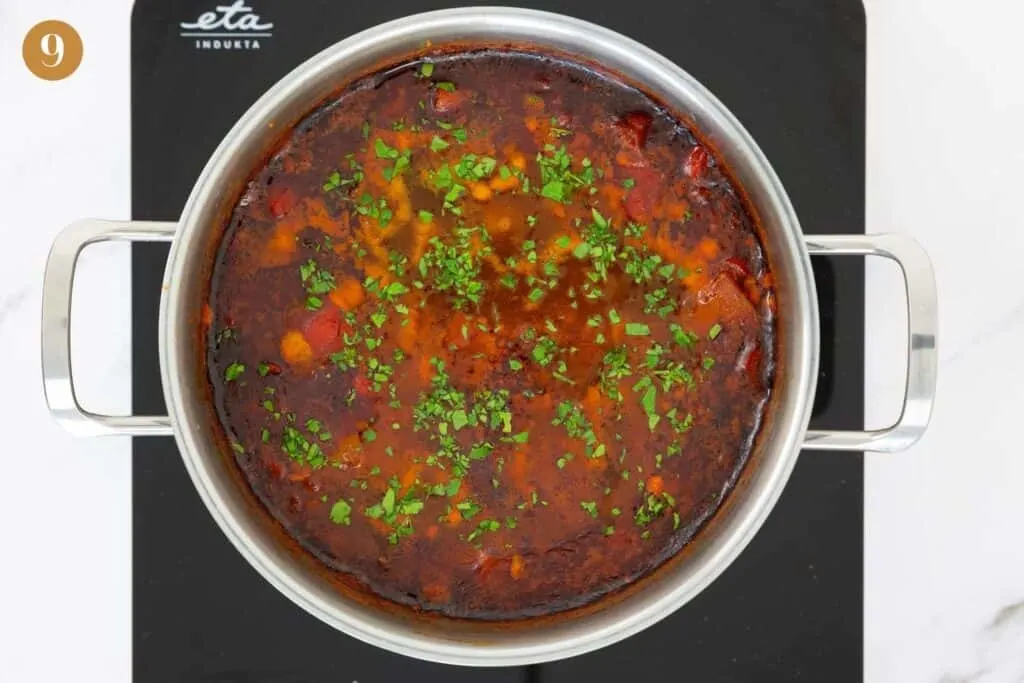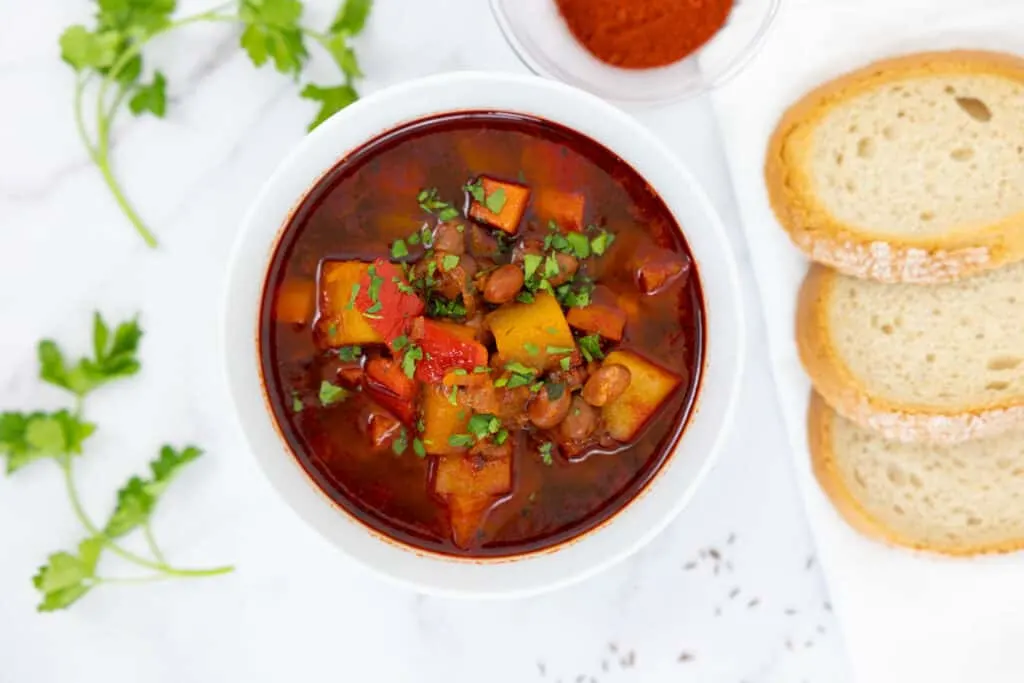 Expert Tips and Tricks
A lot of the flavour from vegan goulash comes from the cooking method. Things like browning the onions add bitterness to later help add balance to the sweetness of the Hungarian paprika. Follow these tips to make your vegan goulash the best version possible.
Brown the Onions
Make sure to brown the onions nicely! If you soften them slowly, you're going to add more sweetness to the dish, which will lead you to an overly sweet goulash.
You want to cook them over medium-high heat and keep scraping the bottom of the pot now and then once cooking. If the onions stick way too much to the pot, you can add a little more oil.
Toast the Hungarian Paprika
Toasting the paprika helps intensify its flavours, and it helps bring out a lot of aromas. Make sure to turn off the heat, or else you may burn the paprika giving you a more bitter taste.
Don't Skim the Goulash
It's a super common thing to skim stocks, but you shouldn't in this case. A lot of the flavour and paprika will rise to the top. That is an excellent sign of a well-flavoured goulash. Simply mix it back in before serving.
FAQ's
Can I make this recipe in a slow cooker?
It's easy to cook this recipe in the slow cooker. You can do it all from the pot if you have a saute function. If you don't, cook the onions, garlic, and Hungarian pepper, toast the paprika, and then transfer to your slow cooker with the rest of the ingredients. You can then set the slow cooker to 2 hours on high or 4 hours on low.
Do I need to use that much paprika?
I know 3 1/2 tablespoons of paprika may seem like a lot, but it isn't in Hungary. There is a common saying for first-time cooks of Hungarian cuisine, add the amount of paprika you think you need, then double it.
What should I serve with Vegan Goulash?
My go-to with this vegan goulash is a delicious fresh bread that works well to being dipped in the goulash!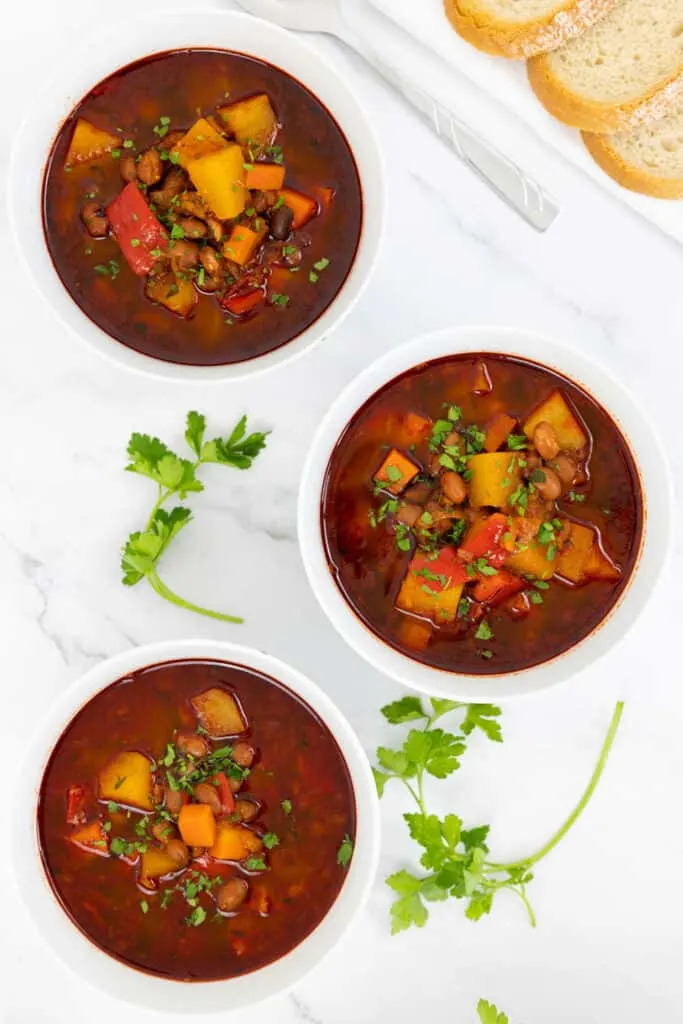 More Vegan Recipes You May Like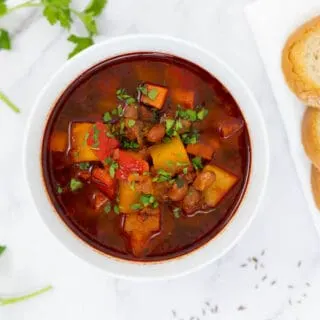 Vegan Hungarian Goulash
This vegan Hungarian goulash uses delicious traditional flavours while being a quicker and healthier version than conventional goulash! It's made in under 1 hour and is packed with vitamins and minerals.
Ingredients
Vegetable Oil

2

Onion

diced

1

Hungarian Pepper

deseeded and cut into chunks

3

cloves

Garlic

minced

1

Carrot

cubed

3½

tbsp

Hungarian Paprika

1

L

Vegetable Stock

4

Potatoes

400

g

Tinned Borlotti Beans

drained and rinsed

1

bunch

Flat Parsley

leafs and stalks finely sliced

Sea Salt & Pepper

1/2

tsp

Caraway Seeds

optional
Instructions
In a large pot over medium-high heat, brown the onions for 6-8 minutes. Turn the heat down to medium, add the Hungarian pepper and garlic, and then sauté for 2 minutes.

Turn off the heat, add Hungarian paprika and caraway seeds, mix thoroughly, and let the residual heat toast the paprika for 30 seconds. Add the vegetable stock and deglaze the pan, scraping any bits from the bottom.

Add potatoes, carrots, borlotti beans, parsley stalks, salt, and pepper, then bring to the boil. Turn down the heat and lightly simmer for 30 minutes until the potatoes are cooked.

Mix through ⅔'s of the parsley, and serve with a sprinkle of the remaining parsley.
Nutrition
Calories:
333
kcal
Carbohydrates:
62
g
Protein:
11
g
Fat:
5
g
Saturated Fat:
1
g
Polyunsaturated Fat:
1
g
Monounsaturated Fat:
1
g
Sodium:
680
mg
Potassium:
1556
mg
Fiber:
13
g
Sugar:
10
g
Vitamin A:
8587
IU
Vitamin C:
142
mg
Calcium:
139
mg
Iron:
5
mg