Pumpkin risotto is one of my favourite recipes when it comes to Autumn time. It's creamy, hearty and packed with flavour.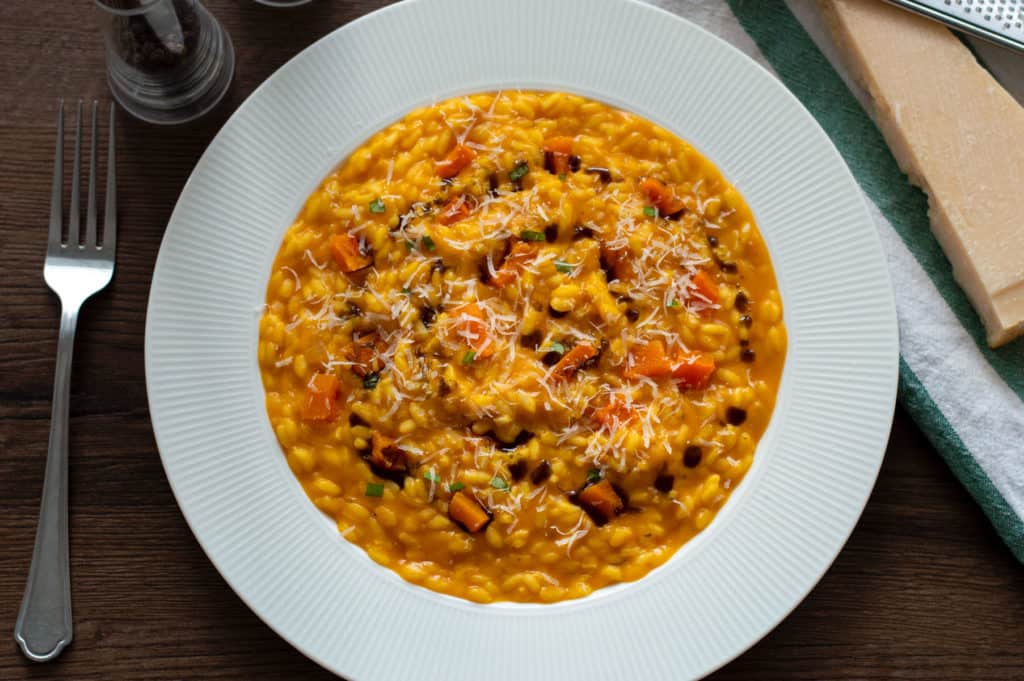 The Ingredients
Risotto Rice
In this recipe we will be using Carnaroli rice which is the 'caviar' of risotto rices. Its high proportion of amylopectin (a type of sticky starch) makes it the perfect choice, resulting in the creamiest risottos. Carnaroli rice is also quite forgiving if being over cooked due to its firm texture. This makes it an excellent choice for beginners.
Pumpkin
Pumpkin is a cultivar of winter squash, like other squash they originated in NorthEastern Mexico and the Southern part of the United States.
They are a warm weather crop that normally take 95-120 days to mature. Pumpkin seeds do not germinate in cold soil, meaning they are normally planted in late spring/summer making them ready to harvest in Autumn/Fall.
Pumpkin Oil
Pumpkin oil is made from the seeds of the Styrian pumpkin, native to Austria but also available in the US. These pumpkin seeds are perfect for oil because the seeds lack hard stringy casing's like other pumpkins.
The nutty flavour from the oil comes from the roasting process of the seeds. Like coffee the process is delicate and with a few degrees or minutes more the flavour can be completely different.
You can find pumpkin oil in certain speciality food stores or online. I have left a link for a pumpkin oil I recommend here.
What To Look For When Buying Pumpkin
When buying pumpkin look for well attached, dry stems as this is a sign of a fully matured pumpkin. Next check if there are any for bruises or soft spots, this can be a sign that rot has set inside the pumpkin. If the stem and skin look unblemished, you are good to go.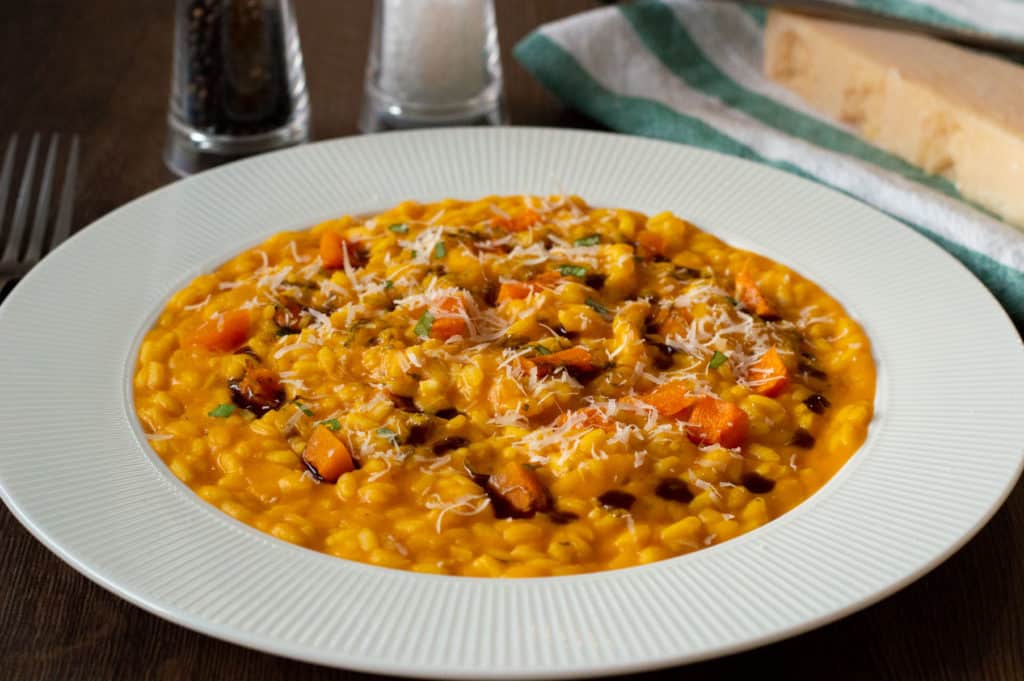 Health Benefits Of Pumpkin
Pumpkin contains a high amount of antioxidants, such as alpha-carotene, beta-carotene and beta-cryptoxanthin. These antioxidants can help neutralize excessive free radicals which are linked too many chronic diseases.
Its packed with vitamin A providing around 170% of the recommended daily amount in just 100 grams.
Additionally it has a high water content (94%) that contributes to its low calories, providing just 26 calories per 100 grams.
The Best Way To Reheat Risotto
When reheating already finished risotto, you want to avoid the microwave. Once the risotto has been cooked the rice continues to release its starch. The starch from the rice dries up the moisture around it, leaving you with a dry risotto.
Reheat the risotto in a sauté pan over a medium heat with a ladle of stock or water. Whilst making sure to stir slowly and regularly. Once the risotto starts to heat up, the starch will infuse with the stock. You will be left with a much nicer and creamier risotto then if it was reheated in the microwave.
More Recipes You May Like…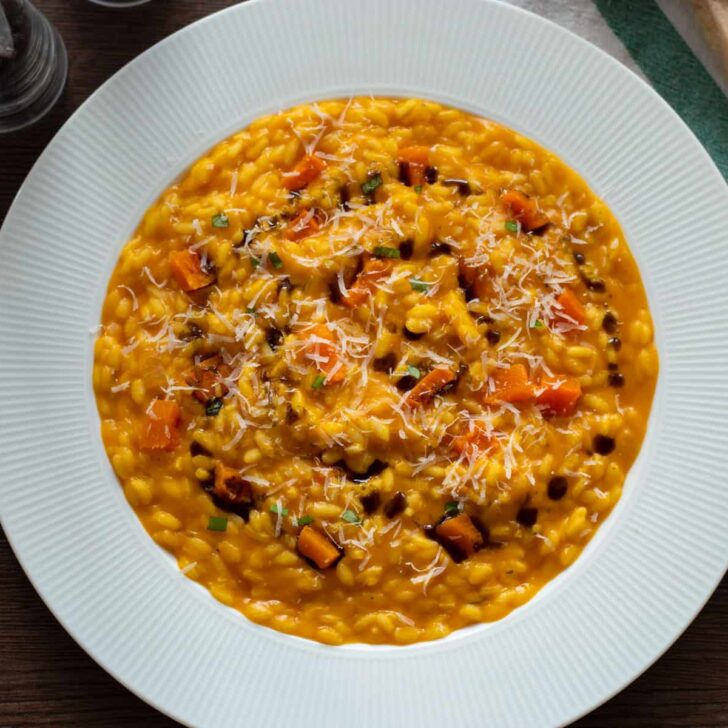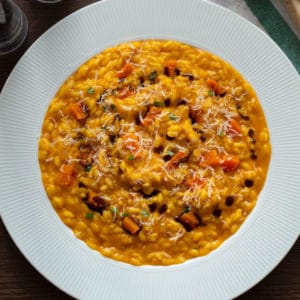 Pumpkin Risotto
Pumpkin risotto is one of my favourite recipes when it comes to Autumn time. It's creamy, hearty and packed with flavour.
Ingredients
500

g

Carnaroli rice

2

Shallots

finely diced

3

Garlic cloves

crushed

1

kg

Pumpkin

before preparation weight, peeled and diced into 1 inch cubes

175

ml

White wine

1.75

litres

Vegetable stock

chicken stock can be used

80

g

Unsalted butter

cubed

80

g

Parmesan

finely grated

Freshly grated nutmeg

Sea salt

Freshly cracked black pepper
Instructions
Preheat the oven to 200'c.
Pumpkin Preparation
Toss the pumpkin with olive oil in a large bowl. Arrange the coated pumpkin on a baking tray, season with salt and then roast for 20-25 minutes, until al dente. Take out a quarter of the pumpkin, set aside and then continue to cook the rest of the pumpkin for 10 more minutes.

In a medium pot bring the stock to boiling point and turn off the heat and put a lid on the pot.

Back to the pumpkin, add the tender cooked pumpkin to a food processor and blend with a ladle of stock, adding a little at a time until the mixture is smooth.
Risotto Preparation
In a large sauté pan over a medium heat, add half of the butter and sauté the shallots for 5 minutes, until softened. Add the garlic and sauté for an additional minute. Add the risotto rice and sauté for 2 minutes stirring constantly. Then add the white wine cook for a further 2 minutes until the wine has evaporated.

With a ladle add enough stock to cover the rice and turn down the heat to a simmer. Stir constantly and keep adding ladles of stock just enough to cover the rice, until the rice is soft and has a slight bite this should take about 15 minutes.

Stir in the pumpkin puree and add the diced pumpkin and cook for 2 minutes stirring slowly.

Turn off the heat and add the rest of the butter, parmesan and season with freshly grated nutmeg. Stir well until the mixture is fully incorporated.

Serve fresh from the pan with an extra sprinkle of parmesan and a drizzle of pumpkin oil.
Notes
For non vegetarians you can swap to chicken stock it will add a nice depth of flavour. Additonally you can try a ratio 1:1 vegetable stock & chicken stock.
Nutrition
Calories:
783
kcal
Carbohydrates:
120
g
Protein:
19
g
Fat:
22
g
Saturated Fat:
14
g
Trans Fat:
1
g
Cholesterol:
57
mg
Sodium:
331
mg
Potassium:
1065
mg
Fiber:
5
g
Sugar:
9
g
Vitamin A:
21940
IU
Vitamin C:
24
mg
Calcium:
307
mg
Iron:
5
mg