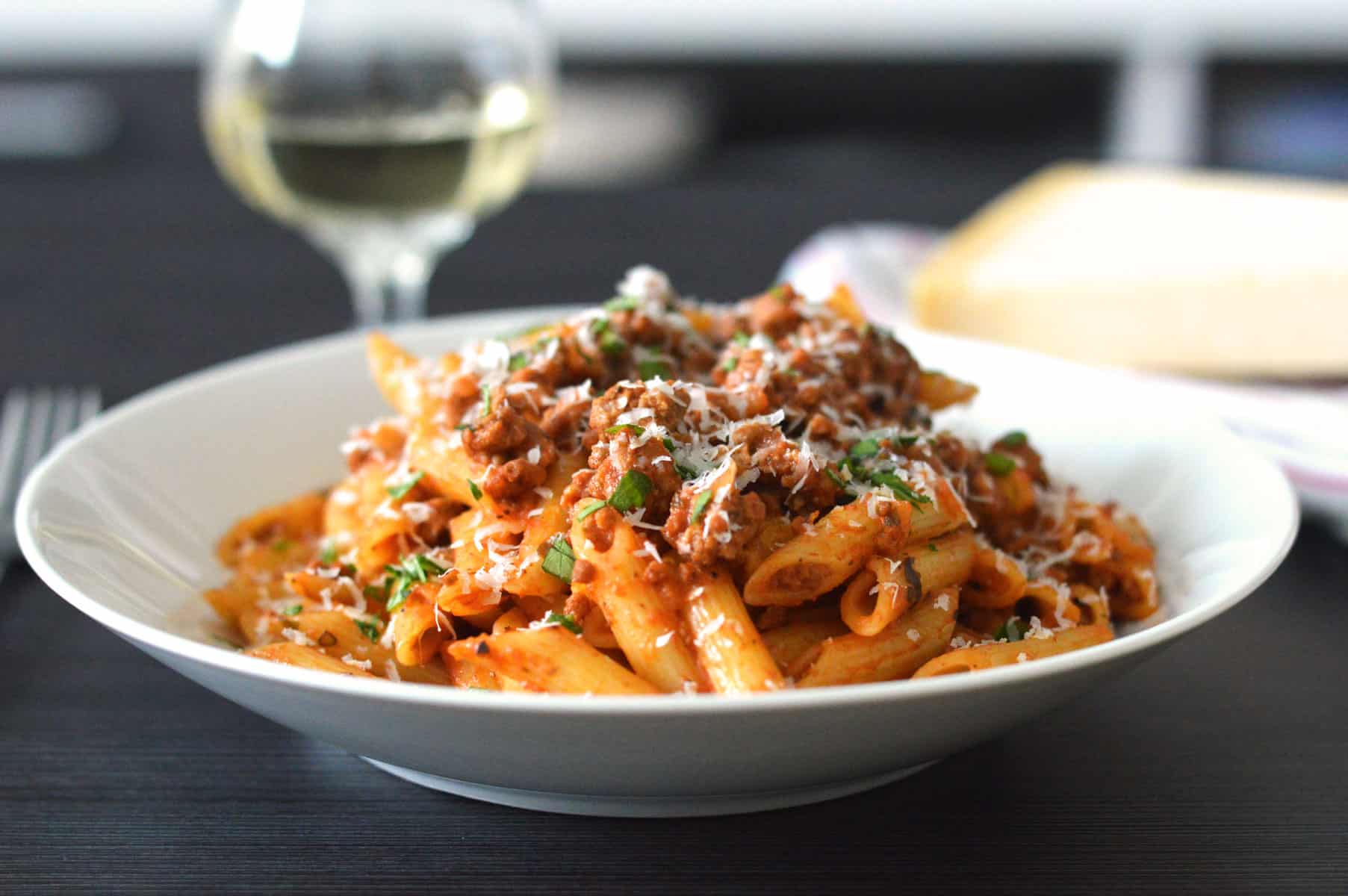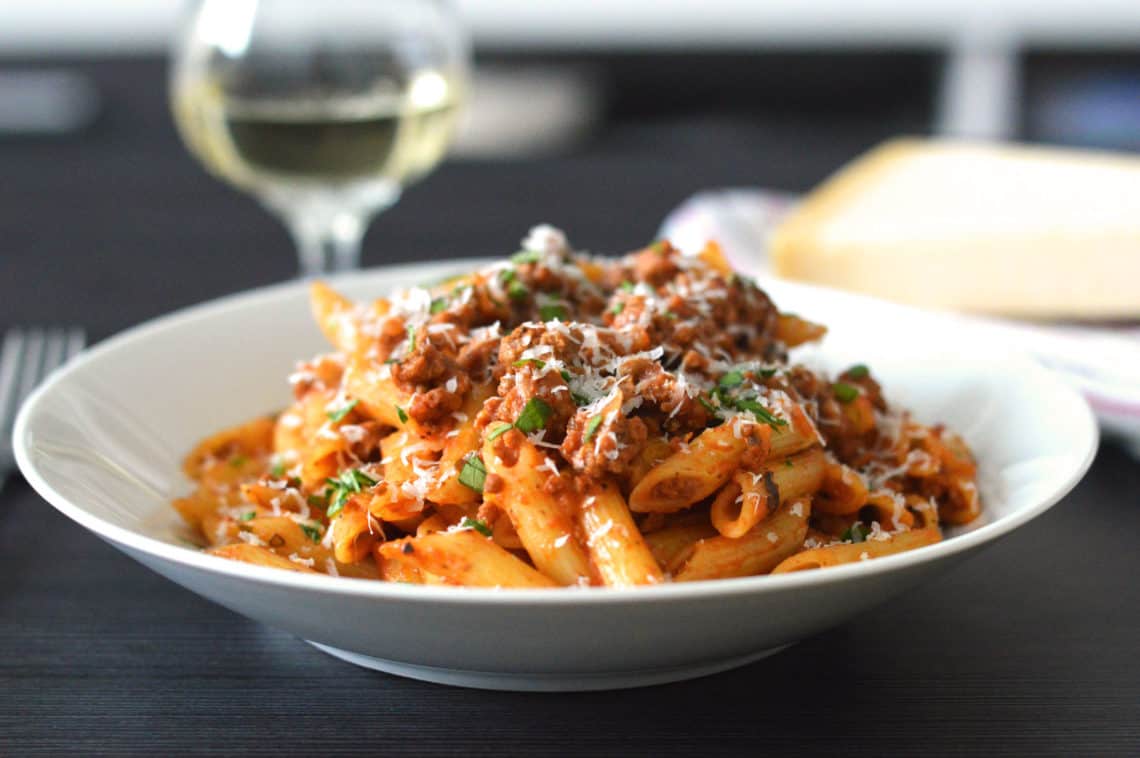 This Italian sausage pasta shows that less can be more; it's packed full of flavour and easy to make!
I created this recipe years ago at a bistro I worked. I was inspired by an old Italian housemate of mine who was also a chef. He made a ragu using the inside of the sausage and discarded the casing.
It adds a ton of flavour to the ragu because the mincemeat is rich and marinated in spices. That makes it a perfect pair for dry wines and romantic/family dinners.
What is Italian Sausage?
In Italy, they have many, many different types of sausages. You can find over 100 variations of sausages in Italy from spicy spreadable pastes (Nudja), cured sausages (Salami's), ground cured (Mortadella).

But the one we are looking for is a raw & spiced sausage. You tend to find these in supermarkets in Western Europe and Northern American named Italian Sausage. One of their main ingredients is fennel, and they tend to come in mild and hot.
If you can't find Italian sausage
If you can't find Italian sausages in your supermarket or butcher, don't worry! I have made this recipe multiple times with good quality, regular, raw plain sausages.
Take the casing of the sausages. Add the sausage meat to a mixing bowl and discard the cases. Then mix in this Italian sausage spice mix.
Italian Sausage Spice Mix
1 Bunch Fresh Parsley
2 tsp Paprika
1 tsp Cayenne Pepper (optional)
1/3 tsp Crushed or Ground Fennel Seeds
2 Crushed Garlic Gloves
1 tsp Mild Chilli Flakes
Recipes You May Like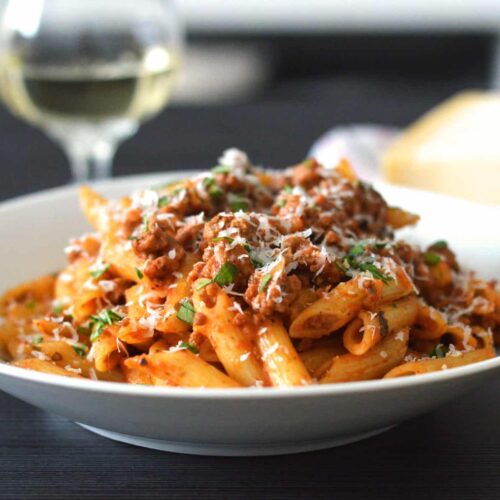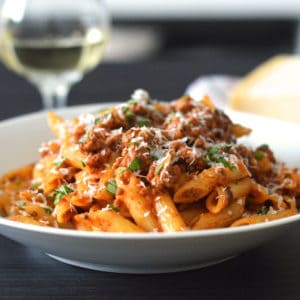 Italian Sausage Pasta
This Italian sausage pasta shows that less can be more, its packed full of flavour and easy to make! This recipe pairs well with dry wines. A perfect meal for a family dinner or a romantic dinner.
Ingredients
500

g

Penne

50

ml

Extra virgin olive oil

1

Onion

2

Garlic cloves

400

g

Italian sausages

125

ml

Dry white wine

or red wine

500

ml

Whole milk

500

g

Passata

1

bunch

Flat parsley

finely sliced (Stalks removed and finely sliced)

Parmesan
Instructions
Firstly we take off the casing off the sausages, we do this by cutting the sausages lengthways just enough to pierce the casing and then push the mince out into a mixing bowl (you can then dispose of the sausage casings) . Once you have prepared all the sausage mince into a mixing bowl, you can add your seasoning (See ingredient notes).

Now we start cooking, in a large sauté pan add olive oil and over a medium heat sauté the onions for 5-6 minutes until soften. Add the garlic and sauté for an additional minute.

Turn up the heat and quickly add the sausage mince and season with salt and pepper. Now break up the mince using a wooden spoon and keep stirring to let any meat liquid evaporate. Once the mince has browned turn down the heat to medium.

Next add the wine and with a wooden spoon deglaze the pan (scrape any brown bits stuck to the bottom of the pan). Once the wine has evaporated add the milk and simmer for 10—15 minutes (this is to help tenderise the meat).

Now add passata, mixing slowly until the the sauce is brought to a simmer. Once simmering add the finely sliced parsley stalks and chilli flakes then turn down the heat and simmer for at least 1 hour adding water if needed. Check and stir once every 15-30 minutes.

When the ragu is nearly finished, add the parsley leaves, mix and then taste and season with salt and pepper if needed. Next cook the pasta in a pot of generously salted boiling water until al dente. Drain the pasta and stir into the ragu.

Serve fresh from the pan with a sprinkle of parsley and freshly grated parmesan.
Notes
If you cannot find Italian sausages it is best to use plain good quality sausages and make your own spice mix. Add 1 bunch of sliced fresh parsley, 2tsp paprika, 1tsp cayenne pepper, 1/3 tsp crushed fennel seeds/ground fennel seeds, 2 crushed garlic cloves and 1 tsp mild chilli flakes (optional)

If you are a chilli lover add a pinch of hot chillies into the sauce whilst you are simmering it. It works really nicely 
Nutrition
Calories:
1088
kcal
Carbohydrates:
116
g
Protein:
37
g
Fat:
50
g
Saturated Fat:
16
g
Cholesterol:
89
mg
Sodium:
838
mg
Potassium:
1393
mg
Fiber:
7
g
Sugar:
17
g
Vitamin A:
2041
IU
Vitamin C:
37
mg
Calcium:
240
mg
Iron:
6
mg