Tasty, Traditional Apple Crumble that's really easy to make and uses only 5 ingredients. This dessert pairs perfectly with vanilla custard, ice cream and heavy cream.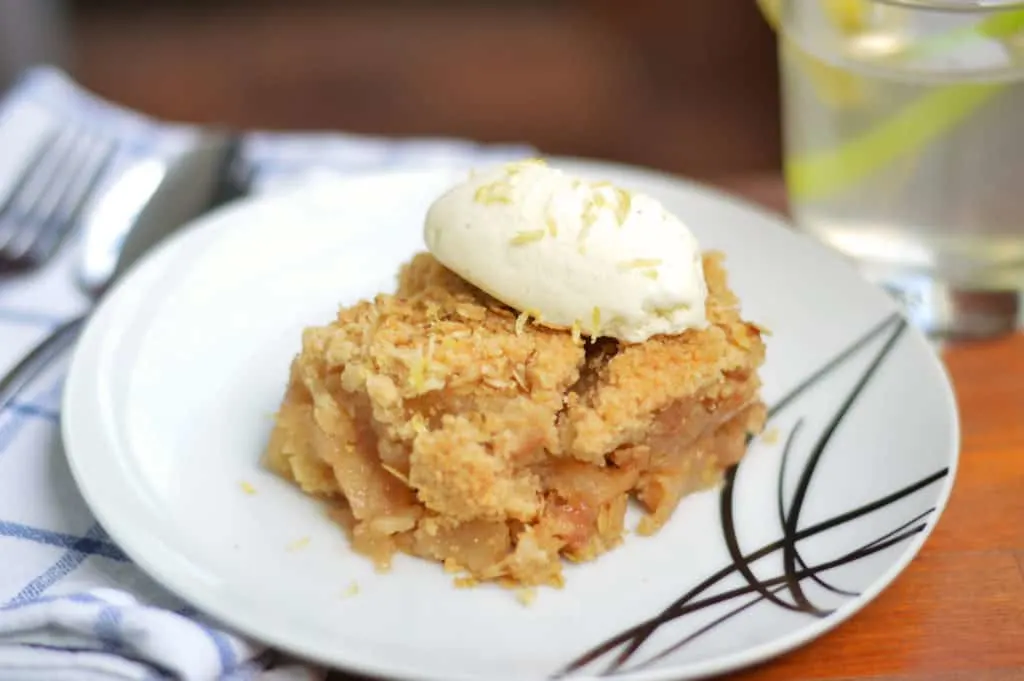 Wheres is does it come from?
Apple Crumble comes from the United Kingdom, it became popular as an economical alternative for pies during the wartime. This was because of the shortage of pastry ingredients during rationing. To further reduce the rationed flour, fat & sugar you would add bread crumbs or oatmeal to the mixture. Due to this crumbles don't have a base like pies, with the name crumble coming from the crumbly mixture on top.
What type of Apples should I use?
The best type of apples to use are the slightly acidic (less sweet) ones, that hold well whilst cooking. They add a nice tarty contrast that is balanced out with the brown sugar. The best types of apples to use are Bramley Apples & Granny Smith. A general rule of thumb is to use green apples over red apples.
Storage Tips
Apple crumble should be kept in the fridge. It will normally last 4-5 days if stored in an airtight container. Make sure to refrigerate the crumble straight after cooling.
Apple Crumble will go bad much faster when left at room temperature, this is why it's best to refrigerate it. At room temperature, it should last for around 24 hours.
Can I make it ahead of time?
Yes, it's a perfect make ahead of time dessert. Simply prepare the apple crumble as usual and instead of baking it, wrap it tightly in cling film and place it in the fridge. It will stay good quality for around 24 hours, so it's great to make the day before a celebration.
FAQ's
Can I freeze apple crumble
Even know most desserts freeze really well, I wouldn't recommend freezing apple crumble. This is because the apples will start getting watery during the thawing process and the crumble won't have its crumbly texture.
Whats the best way to reheat apple crumble?
You can reheat apple crumble in either the microwave or oven. If you are reheating a whole batch, add to a preheated oven at 150c (300f) for 15-20 minutes, until hot. If you want to reheat one portion, add a portion of the crumble to a microwave-safe bowl and microwave for 60 to 90 seconds, until hot.
Can I add more oats to this recipe?
If you would like to add more oats to this recipe you can replace 1/2 or 1/4 of the plain flour from the crumble section with a 1:1 ratio of rolled oats. This makes the mixture 105 grams plain flour, 105 grams oats, 100 grams brown sugar & 130 grams of butter.
Can I make apple crumble dairy free / vegan?
Luckily now days making food dairy-free and vegan is much easier. This recipe is super easy to make vegan, simply swapped out the butter with vegan butter. The results will be very similar and still delicious!
More Recipes You May Like…
If you're looking to add a continental twist to your apple crumble, why not try making it with a French Shortbread Crust? This crispy, buttery crust adds an indulgent and unique touch that's sure to impress. Two other delicious alternatives are this peach pie and praline croissant bread pudding!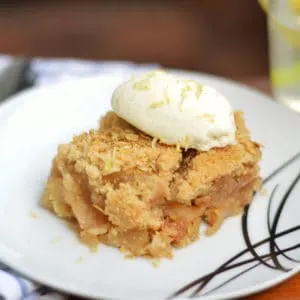 Apple Crumble
This apple crumble recipe is a simple and tasty British dessert. It just takes 1 hour to make and only uses 5 ingredients.
Ingredients
Filling
1

kg

Bramley apple

(5 medium apples, peeled, cored and sliced to 1 cm thick)

50

g

Brown sugar

½

Lemon

juiced

1

tsp

Cinnamon

optional
Crumble
210

g

Plain flour

100

g

Brown sugar

130

g

Butter

cold & cubed
Topping
20

g

Rolled oats

optional

25

g

Brown sugar

Custard, Icecream or Heavy Cream

recommened
Instructions
Preheat the oven to 180c.
Filling
In an ovenproof dish add the apples, sugar, cinnamon and lemon juice then mix well together.
Crumble
In a large mixing bowl add your flour and butter, rub together with your fingertips until the mixture looks like moist breadcrumbs. Shake the bowl, if any large clumps come to the surface, rub them together. Then stir in the sugar.

Pour half your crumble mixture over the apples and press down the mixture onto the apples until its quite compact. Then loosely lay the rest of the crumble mixture over the top.
Topping
Evenly sprinkle over the oats and sugar. Then bake at 180'c for 45 minutes or until the top is golden and the apples as soft. Leave to rest for 5 minutes before serving.
Notes
I used a 32cm x 22cm x 5cm (Length x width x depth) ovenproof dish for this recipe
Nutrition
Calories:
372
kcal
Carbohydrates:
61
g
Protein:
4
g
Fat:
14
g
Saturated Fat:
8
g
Trans Fat:
1
g
Cholesterol:
35
mg
Sodium:
124
mg
Potassium:
214
mg
Fiber:
4
g
Sugar:
34
g
Vitamin A:
476
IU
Vitamin C:
9
mg
Calcium:
39
mg
Iron:
2
mg
More Recipes You May Like