This seared tuna with quinoa and stir-fried vegetables is the perfect healthy treat. Its packed with stir-fried vegetables, whole grain carbohydrates, whole proteins and vitamins. It's the perfect healthy 'treat' meal.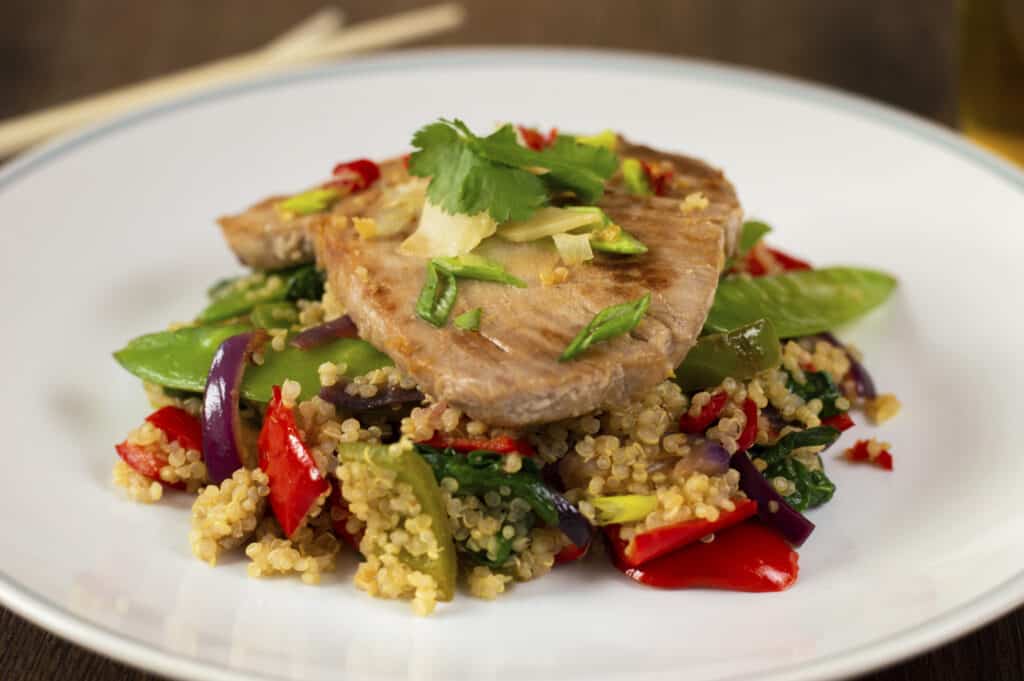 Tuna Steak Temperatures
To get the most out of a tuna steak you need to be careful with the temperatures. This includes making sure the fish is kept cool before cooking and the final core temperature.
What to look for when buying Tuna Steak
When buying tuna steak's you want to shop at a reputable, knowledgeable, good quality fish supplier. The fish should smell fresh and mild, not fishy. The flesh should also be pinkish and not grey.
Make sure to buy your fish last from the supermarket. This way it will stay cooler for longer. Refrigerate as soon as you get home.
Tip: Bring an ice cooler in the car.
Tuna Steak Cooking Temperatures
Now you have bought your fresh tuna steaks, its time for cooking. My favourite way to cook tuna steak is rare to medium rare. Anything above medium you will start to lose its luxurious texture and dry out.
The cooking time varies by the thickness of each tuna steak and how hot your pan is. For beginners the best way to know when your tuna steak is cooked is by using a probe. You want to use a fast, reliable probe like this AMAGARM probe. This is because tuna steaks overcook very quickly.
Rare – 38c to 43c | 100f to 110f
Medium Rare – 43c to 49c |110f to 120f (recommended)
Medium – 49c to 54c |120f to 130f
Medium Well – 54c to 60c | 130f to 140f
Well done – 63c+ | 145+ (not recommended)
How To Cook Quinoa
Cooking quinoa is easy and perfect for batch cooking. I normally cook a few portions at a time to eat over the next few days. For people who would rather cook their quinoa then buy pre cooked, here's a quick recipe for you.
Serves 2 | 22 Minutes | 250-300g cooked weight.
Ingredients
100 g Quiona
200 ml Water
1 pinch Sea Salt
Instructions
Thoroughly rinse the quinoa in a fine sieve under cold water for 30 seconds.
Add the quinoa, water and sea salt to a pot. Quickly bring to a boil then turn down to a light simmer. Cook for 15 minutes until the quinoa has absorbed all the water.
Turn off the heat and place a lid on the pot. Leave to steam for 5 minutes.
Take of the lid and fluff the quinoa with a fork. Taste for seasoning then serve.
For the full post with tips, check out How To Cook Quinoa.
This Recipe Is Suitable For
Dairy Free
Gluten Free
Nut Free
Recipes You May Like
This seared tuna with quinoa stir fry works incredibly well with this miso eggplant recipe! You can also try some of my other Asian main courses: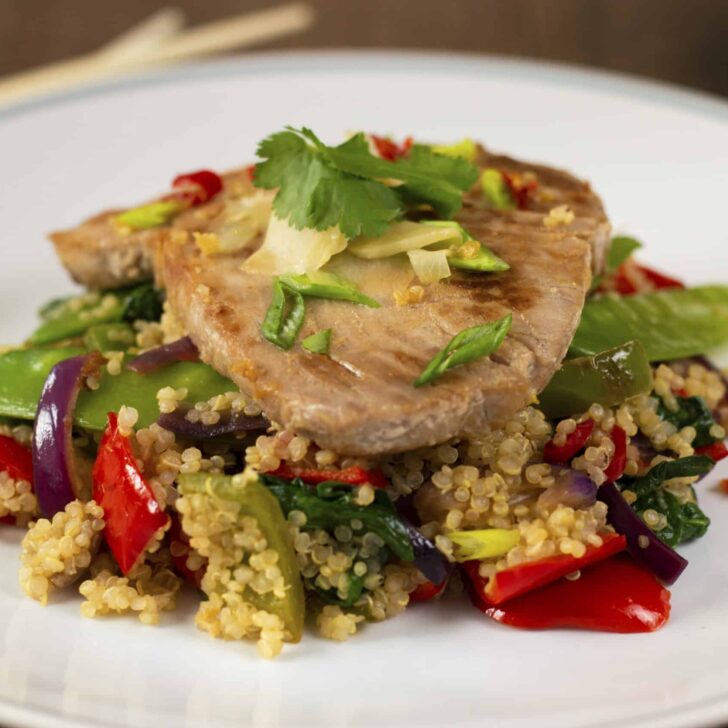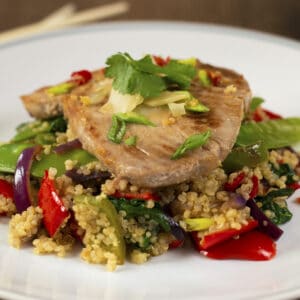 Seared Tuna with Quinoa & Stir-Fried Vegetables
This seared tuna with quinoa and stir-fried vegetables is the perfect healthy treat. Its packed with stir-fried vegetables, whole grain carbohydrates, whole proteins and vitamins. It's the perfect healthy 'treat' meal.
Equipment
2 Mixing bowls

Medium Sauté Pan
Ingredients
Vegetable Oil

300

g

Quinoa

Precooked

2

Garlic cloves

minced

1

tsp

Ginger

minced

½

Red onion

sliced

1

Mixed Pepper

roughly sliced

100

g

Snap Peas

1-2

brined

Chillies

sliced or chilli flakes

80

g

Spinach
Tuna Marinade
2

Tuna Steaks

120g each

10

ml

Soya sauce

light
Stir Fry Sauce
50

ml

Soya sauce

light

1

Lime

freshly squeezed

1

tsp

Sesame Oil
Garnish
Coriander

Spring Onions

sliced

Pickled Ginger
Instructions
Tuna Streak Marinade
In a mixing bowl or ziplock plastic bag add the tuna streaks and 10ml of soya sauce. Wrap and leave to marinade in the fridge for atleast 30 minutes.
Stir Fry Sauce
In a mixing bowl, whisk together the soya sauce, lime juice and sesame oil. Place to the side
Stir Fry
Heat a large wok over medium high heat. Add vegetable oil, ginger and garlic and stir fry for 30 seconds, until frequent. Add red onion, pepper and snap peas then stir fry for 3-4 minutes (adding a tbp of water if the wok gets to hot). Once the vegetables are al dente add the spinach, chilli and stir fry sauce, mixing constantly until the spinach wilts.

Turn down the heat to medium low and add the quiona. Slowly heat up, mixing requarlly whilst you cook the tuna steaks.
Tuna Steaks
Add a medium sauté pan over high heat. Lightly session the tuna streaks with sea salt and vegetable oil.

Once the pan is hot add a dash of vegetable oil and the tuna steaks. For rare to medium rare, sear the tuna steaks on each side for 1-2 minutes (depending how thick the tuna streaks are). The core temperture should be between 49c to 57c.
Garnish
Add the quiona stir fry, tuna steaks and garnish with corriander, spring onions and pickled ginger.
Nutrition
Calories:
513
kcal
Carbohydrates:
56
g
Protein:
44
g
Fat:
12
g
Saturated Fat:
2
g
Cholesterol:
46
mg
Sodium:
1759
mg
Potassium:
781
mg
Fiber:
9
g
Sugar:
7
g
Vitamin A:
7056
IU
Vitamin C:
1125
mg
Calcium:
100
mg
Iron:
4
mg