Salmon en Croute is the perfect dinner for any special occasion. It is a little more expensive and difficult to make than your average dinner (costing £25pp at my last restaurant) but this recipe is made to be a treat. Don't worry it won't cost you £25 per person!. These ingredients cost me around €3.75 per person (thats in euros because I am aboard right now) however the price will be similar in pounds.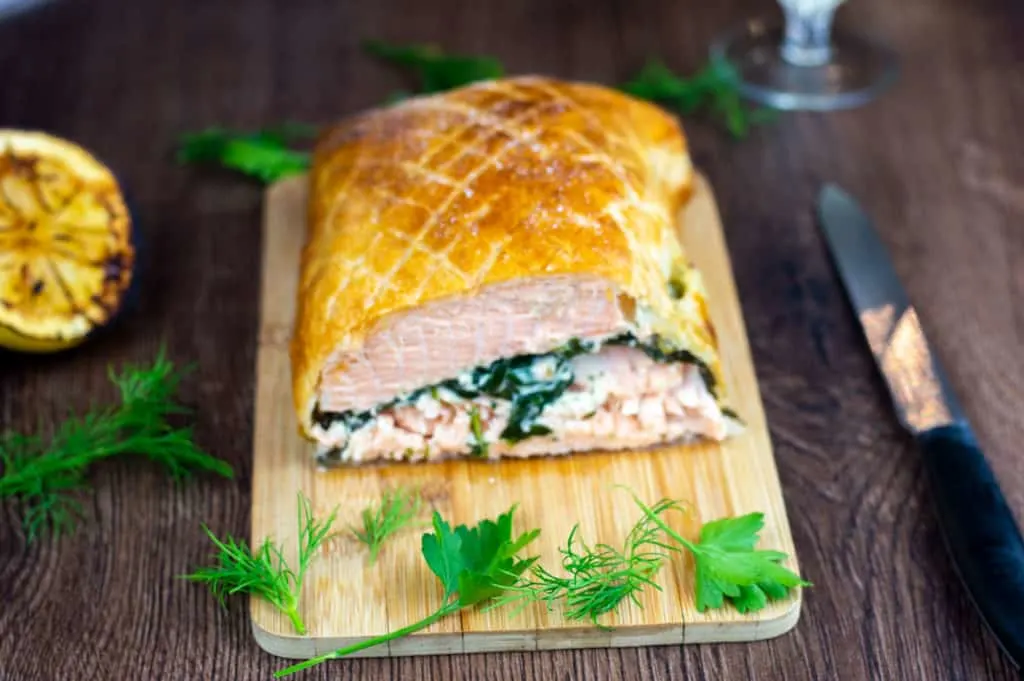 Salmon en croute has been a luxury recipe for around 100 years now, just like beef wellington. You can still find salmon en croute in many 5* hotels, bistros and fine dining establishments. It is thought that this recipe came from chef August Escoffier, after trying coulibiac in Russian.
Fun Fact
In medieval time salmon use to be in such an abundance and so cheap that farmers use to feed them to their pigs.
Salmon Health Benefits
Omega-3 Fatty Acids: Salmon is one of the richest foods in omega-3 fatty acids. Omega-3's provide many health benefits including the maintenance and development of brain functions, maintaining vision, heart health, joints and healthy cholesterol levels. For more information on omega 3's click here.
Protein: It's packed with protein containing around 20g of protein per 100g. In this recipe, the salmon alone will provide you with 40-45grams of protein per serving.
Vitamins B: Salmon is a great source of vitamins B, containing 51% of vitamin B12 and 50% of vitamin B3 per 100 grams. Each type of vitamins B works together to maintain the optimal function of your brain nervous system.
Potassium: It's a good source of potassium containing 12% of your daily recommended potassium intake per 100g of salmon (around 25% per serving).
What to Look for When Buying Salmon
Find the freshest salmon possible. As salmon gets older the flavour will deteriorate and the risk of food poisoning will increase. This is a general rule when buying any type of fish.
The best place to buy salmon is at a fish market or from a fish monger. The fish there tends to be prepared in the morning and sold that day (you can also talk to your fish monger for more information).
Things to look for when buying Whole Salmon & Salmon Fillets
Smell
The salmon should smell like the ocean, fishy odour only appears when the salmon is getting old.
Appearance
Clear bright eyes (not cloudy or sunken).
Shiny and undamaged skin with bright natural colours
Touch
Nice and firm skin to the touch, the skin should spring back from your touch (should not be soft or squishy)
Make sure the gills are clean and bright red. When the fish ages the gills will go dull, brown & slimy. (if you see this discard the fish)
Cooking Salmon en Croute Temperatures
Salmon can be cooked at many different temperatures, as long as the salmon has been prepared in such a way. This includes either flash freezing or freezing for a longer period of time. This way you will kill any potential parasites. If you plan on cooking you're salmon below well done, be sure to talk to the fish monger or check on the packet.

The cooking times below are all estimations. The time it will take will depend on the thickness of the salmon and the consistent heat of the oven. Be sure to check the temperature of the salmon at the start of each scheduled time.

Medium Rare
44-51c 10-15 minutes (when inserting a metal skewer this will be warm to touch)

Medium/medium well
51-60c – 15-20 minutes (when inserting a metal skewer this will be slightly hot to touch)

Well Done
60c – 20-25 minutes (When inserting a metal skewer this will be hot to touch
What to Serve Salmon en Croute with…
Salmon en croute goes well with so many things. I like to serve mine with a type of carbohydrate, vegetables and sauce. This way you get a full meal experience. Here are a few ideas of what goes well with salmon en croute.
Carbohydrate – New potatoes, mashed potatoes or try southern mash.
Vegetables – Green vegetables like (Asparagus, Pak choi, Green Beans or Tenderstem), mint peas or freshly pickled cucumber.
Sauce – Beurre blanc, hollandaise or béarnaise .
More Recipes You May Like…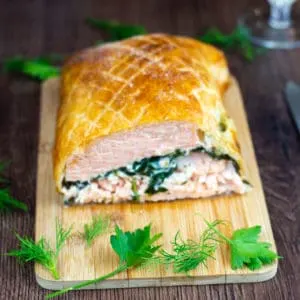 Salmon en Croute
Salmon en Croute is the perfect lunch / dinner for any special occasion.
Equipment
Sauté Pan

Baking Tray

Mixing Bowl

Serrated Knife
Ingredients
1

side of

Salmon

appromixity 900g, skinned & boned

250

g

Puff Pastry

1

Egg

beaten
Cream Cheese Mixture
1

knob

Butter

2

Shallots

diced

2

Garlic

minced

100

g

Baby Spinach

100

g

Cream Cheese

1

bunch

Dill

sliced

1

bunch

Parsley

sliced

½

Lemon

juice & zest

Sea Salt
Instructions
Filling
In a medium sauté pan over medium heat sauté shallots for 4-5 minutes, until softened. Add garlic and continue to sauté for an additional minute. Add the spinach, a pinch of salt and then wilt the spinach.

Drain off any excess liquid and add the mixture to a medium size mixing bowl. Add cream cheese, dill, parsley, lemon zest & lemon juice. Mix then place in the fridge to cool.
Salmon
Preheat the oven at 200c and line a baking tray with baking paper.

Double check the salmon for any bones, if you find any remove them with tweezers. Keeping the salmon boned side up, cut the salmon in half.

Neatly spread the cream cheese mixture over one of the salmon fillets avoiding about 1cm from each edge. Now place the other salmon fillet on top in the opposite direction, so that both ends are of even thickness.

If there is any cream cheese leaking out of the sides, scrape it off and discard. Place the salmon to the side.
Pastry
Lightly flour a surface and roll out the pastry into a rectangle that is large enough to enclose the salmon and with a thickness of around 2-3mm.

Place the salmon in the middle, season with salt. Brush the edges of the pastry with egg wash.

Fold over the width side of the pastry on top of the salmon and lightly press down the edges. Brush the top edges of the pastry and fold them over. Press down gently on all the edges to seal the pastry. Gently flip the salmon over onto the baking tray.

With the back of your knife lightly score the pastry with a cross-hatch pattern. Lightly brush the pastry with the beaten egg.
Cooking
Bake the salmon en croute for 15-20 minutes, until the pastry is golden brown and crisp. Test the salmon is cooked by either inserting a metal skewer & checking if it's hot or by using a probe (check the notes for more details)

Sprinkle with a little sea salt & rest for a few minutes. Cut into portions using a serrated knife and serve with your chosen sides.
Nutrition
Calories:
829
kcal
Carbohydrates:
35
g
Protein:
54
g
Fat:
52
g
Saturated Fat:
16
g
Trans Fat:
1
g
Cholesterol:
203
mg
Sodium:
418
mg
Potassium:
1478
mg
Fiber:
3
g
Sugar:
3
g
Vitamin A:
4185
IU
Vitamin C:
35
mg
Calcium:
121
mg
Iron:
6
mg