These 10 Vegan JUST egg recipes are perfect for your vegan diet plan. Try some of your favourite classics made eggless, like French Toast and Pancakes. Most of these recipes are superbly healthy and veggie-packed, and some take just 10 minutes to complete.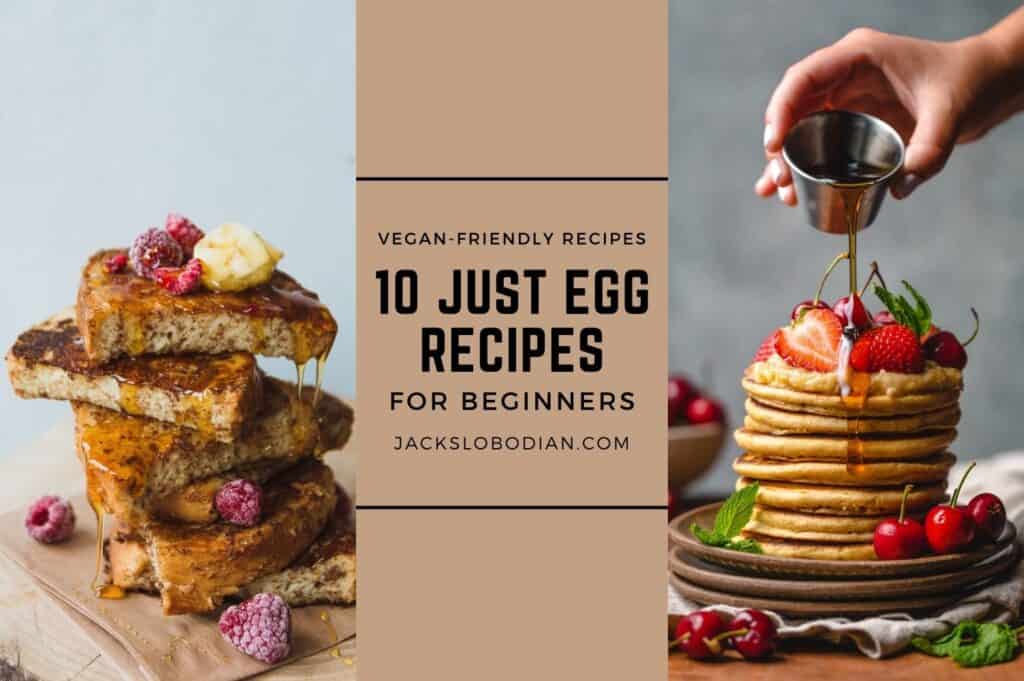 Frequently Asked Questions
What is in JUST egg?
JUST egg is a vegan egg replacement that is made by using plant-based proteins. The main ingredient is Mung bean, and it's flavoured partly with onion, carrot, and turmeric, which helps give it that mixed egg-like glow.
How many tbsp's of JUST egg is equivalent to an egg?
Approximately three tablespoons of JUST egg is equivalent to one chicken egg.
What is the nutrition of JUST egg compared to chicken eggs?
The nutrition is close. The calories, protein, carbohydrates and fat only vary between 1 gram and seven calories. The only noticeable difference is that a large chicken egg contains 1.6 grams more saturated fat, and JUST egg is cholesterol-free.
Tips & Tricks
How to store JUST Egg
JUST egg needs to be kept in a refrigerator. Once you have poured the JUST egg, place the lid back on and place it baJUST egg needs to be kept in a refrigerator. Once you have poured the JUST egg, place the lid back on and place it back in the fridge; this way, it won't come out of the safe temperature zone whilst you're cooking, making it last longer.
How long does JUST Egg last once open
Once opened, the refrigerated shelf-life is four days, so once you open a bottle, it's best to have a couple of recipes on hand for the next couple of days.
10 Delicious Vegan JUST Egg Recipes
This delicious French Toast is made with an aromatic spiced eggless custard with vanilla and cinnamon. It's a tasty vegan take on a French classic and something that's perfect for a sweet vegan breakfast.
Most people think quiche is off the menu when you're following a vegan diet, but that's not the case. Lots of vegan pastries are available in major supermarkets now. Try your pastry skills by making your pie crust, or buy it from the shop.
This roasted vegetable frittata is a great way to incorporate a ton of vegetables into your diet. It contains six different vegetables and is high in protein and fibre. It's perfect for adding to your keto vegan breakfast diet.
If you were a fan of scrambled eggs and just turned vegan, you don't have to exclude them from your diet. This eggless scrambled egg recipe is a great replacement, except this one is packed with veggies! It only takes 18 minutes to make and adds two types of vegetables into your meal.
Try this tasty take on an eggless omelette; it takes 5 minutes and uses plenty of fresh flavours. It's ideally for a super quick high protein vegan breakfast.
These eggless crepes are the closest thing you can get to traditional french crepes. They only take a couple of minutes to prep and cook. Try them with sugar and lemon for a sweet, fresh and tangy breakfast or dessert.
For an easy 2-ingredient crepe recipe, try these delicious vegan crepes!
These eggless muffins are a healthy, high-protein snack or breakfast. They only require 5 minutes of preparation and are keto-friendly, containing just 3 grams of carbs each.
Put that waffle maker in use with these tasty Belgium style vegan waffles. They only use a handful of ingredients and can be pre-made for later.
Who knew you could make Hollandaise without animal products? Luckily with these JUST Egg's, you don't need to miss out on tasty Eggs Florentine.
Here's another veggie-packed, healthy recipe on our list. This JUST egg kale and mushroom quiche use seasonal ingredients, giving you delicious, wholesome flavours. It even has a vegan, gluten-free pastry base!