Try this delicious rich and creamy crème brûlée. It's surprisingly simple to make and uses just 4 ingredients. It's perfect to make ahead of time for an impressive and luxurious dessert.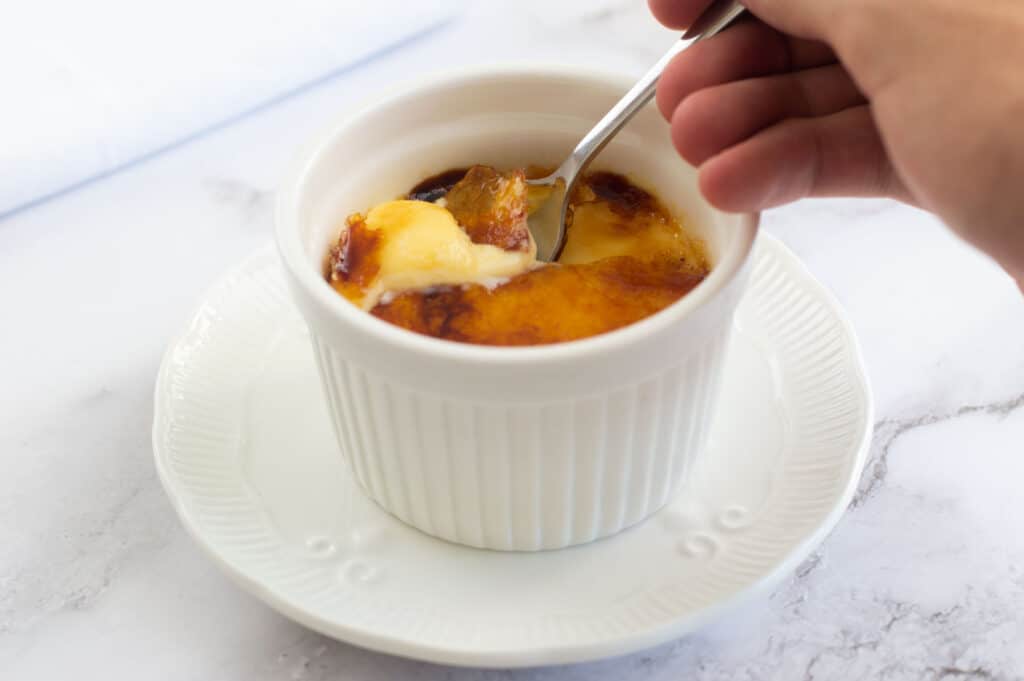 This Crème brûlée recipe is made at its most simplest. Below I tell you how you can add to this recipe and take it to the next level.
Using Vanilla Pods
My favourite way to make creme brûlée is to use vanilla pods. They add a more authentic flavour. However a lot of people won't notice the flavour difference between vanilla pods and extract so i wouldn't say its a necessity.
They are very expensive which is why I don't use them a lot for home cooking. If you want to use a vanilla pod this recipe will cost about 3 times more. It is the proper way so its definitely worth a try at least once. Then you can judge the difference and decide if it's worth it.
Vanilla Pod Method (swap step 2 for this)
Use a small pairing knife to butter fly the vanilla pod (lightly cut into vanilla pod lengthways but not all the way). Place the blade of your knife at the top of the vanilla pod and scrape down the bottom (this will scrape out the seeds).
Add the vanilla pod, vanilla seeds, cream & sugar to a medium sauce pan. Bring to a very light simmer. Turn off the heat, place a lid on the pan and leave to cool and infuse for 30 minutes. Sieve the mixture and dispose of the vanilla pod.
Using Trimoline
Trimoline is another ingredient we use in top quality restaurants. It's an inverted sugar syrup that adds texture and sweetness to your recipe. Most people don't stock trimoline but for some reason you do! Heres an even better recipe for you.
Because tramline adds sweetness and thickens your recipe you will have to adjust the other ingredients you use along side it.
Ingredients
500ml Cream 33%
4 Large Egg yolks
40g Sugar
20g Tramline
1tsp Vanilla extract or 1 Vanilla pod
Add the tramline into the cream with the sugar and vanilla. Then bring to a light simmer and then continue to follow the other recipe steps.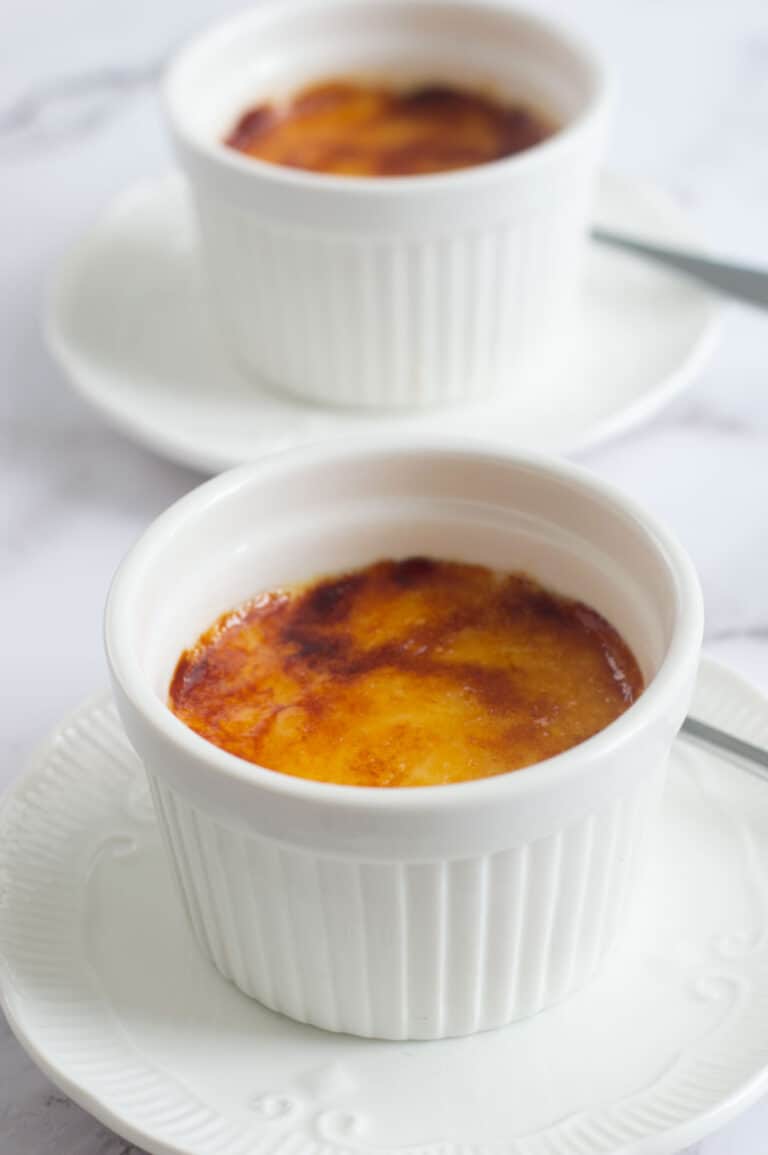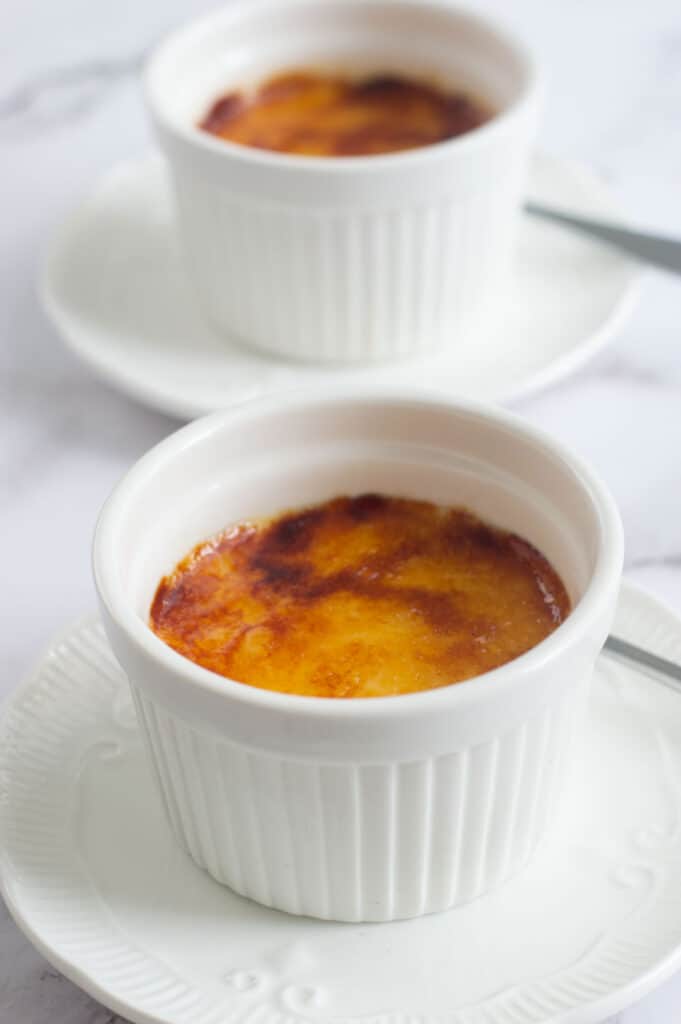 Best Way To Brûlée Your Crème
This answer is quite simple and has been the same for many years. It's the kitchen torch. You can very quickly and easily caramelise the sugar without heating up the crème brûlée.
But everyone doesn't have a kitchen torch. So here's an alternative best way. The oven grill. You need to make sure your grill is smoking hot before adding you're crème brûlée's under. This way you will avoid splitting the custard and heating up the crème brûlée too much.
Method
Heat up your oven grill to 250'c.
Place your crème brûlée onto a flat tray. Lightly dust with sugar. Place under the top shelf of the grill. Grill until caramelised.
Leave to cool for 3-4 minutes. Serve.
More Recipes You May Like
Crème brûlée's rich, creamy texture and caramelized surface make it a classic favorite. If you're a fan of French cuisine, why not also learn how to make French Onion Soup, a hearty delight for the senses? Or delve into the delightful world of French Crepes, a versatile treat perfect for breakfast or dessert.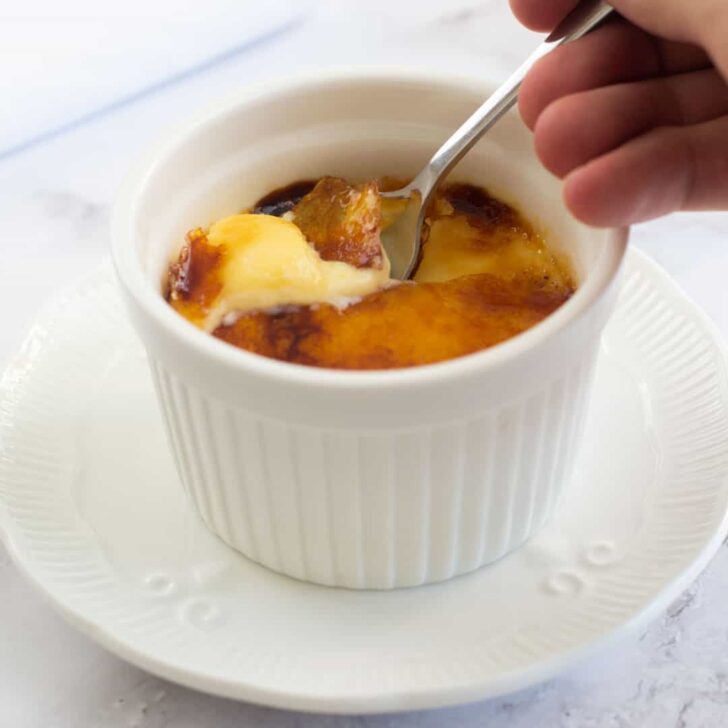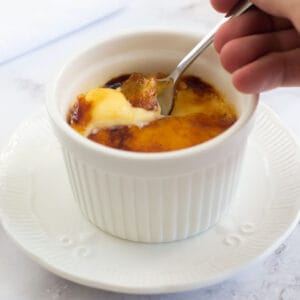 Crème brûlée
Try this delicious rich and creamy crème brûlée. It's surprisingly simple to make and uses just 4 ingredients. It's perfect to make ahead of time for an impressive and luxurious dessert.
Equipment
Medium Saucepan

Large mixing bowl

Deep baking tray

5 Ramekins (all the same size)
Ingredients
500

ml

Cream

33%

4

Large

Egg yolks

60

g

Sugar

plus extra for caramelizing

1

tsp

Vanilla Extract
Instructions
In a medium saucepan heat the cream, sugar and vanilla to a very light simmer, whilst occasionally mixing occasionally. Turn off the heat and leave to cool.

Add 4 egg yolks into a mixing bowl and whisk together.

Lightly mix in the mixture. If there is any foam, skim it off with a tablespoon.

Until the mixture looks like this.

Add the mixture to the ramekins and place them in a deep baking tray. Add hot water into the baking tray (the water should be the same height as the crème brûlée mixture)

Cover the baking tray and bake for 45-50 minutes.

Once cooked the crème brûlées will have a slight wobble (they will thicken after they are chilled). Take out of the water and place on the side for 10 minutes. Then wrap and refrigerate for at least 2 hours.

Evenly sprinkle 1 tsp of sugar over each crème brûlée. Then use a kitchen torch or oven grill to caramelise them. Serve and enjoy.
Nutrition
Calories:
438
kcal
Carbohydrates:
15
g
Protein:
4
g
Fat:
41
g
Saturated Fat:
24
g
Cholesterol:
285
mg
Sodium:
45
mg
Potassium:
91
mg
Sugar:
12
g
Vitamin A:
1666
IU
Vitamin C:
1
mg
Calcium:
83
mg
Iron:
1
mg