These resources for bloggers include my favourite tools and resources. This list includes information and resources every blogger should be using. Including my favourite web hosting company, SEO tools and editing software.
• Why Picking The Right Web Host Is So Important
• My First Web Host
• My Current Web Host
• Content Management System aka WordPress
• Free Emailing Software
• Photography & Graphic Editing Software
• Keyword Research Tool
Disclaimer: Please note that some of the links below are affiliate links and I will earn a commission if you purchase through those links. I use all of the resources listed below and recommend them because they are companies that I have found helpful and trustworthy. Please let me know if you have any questions about anything listed below! This list will be constantly evolving as new plugins and services are released and updated.
Why Web Hosting is So Important
I wanted to include some information about this topic in my resources for bloggers post as this will be the foundation of your website. A web host is a company that will be hosting your website. They are responsible for downtime (your website being offline), bandwidth (affects the load time) and security.
There are thousands of web hosting companies out there. It can take a lot of time going through each company to see if they are reliable or not. In my opinion, 99.9% of the free web hosting plans aren't good for bloggers. Here are a few reasons why.
Disadvantages of Free Web Hosting
1 – Adverts
One of the biggest trade off's for free web hosting are adverts. These web hosting companies need to make money somehow. Displaying adverts is the best way for them to do this. Any profits from visitors viewing or clicking on an advert will go directly to your web hosting company.
2 – Self Branding
Adverts aren't the only thing they add to your website. All free web hosting companies I have seen have added self-branding. This is either a pop-up or a widget with their branding that follows the viewer as they scroll through your website.
This may also be included in your URL for example yourdomain,theircompanyname.com. This creates a long and unpleasant domain name that can be hard for viewers to remember.
3 – Limited Bandwidth
Bandwidth is the amount of data the web host gives you. It's especially important for websites that use media elements like audio, video or lots of images.
The busier your website is the more bandwidth it will use. Once you start running out of bandwidth your website will load slower and poorly. This can lead to frustrated viewers leaving your website.
4 – Downtime
Downtime is the amount of time your website is offline. Every host will have a certain amount of downtime. Downtime could be due to maintenance or a technical issue.
Even know all web hosting companies will have certain periods of downtime. This is more of a problem that occurs with free web hosting companies. Most paid respectable web hosting companies have a 99.9% uptime.
5 – Limited Pages / Paid Features
A lot of free web hosting companies have strict limits for features for example the number of pages you can create. The only way to bypass this is by paying. So if you are going to pay for more pages you might as well pay for all the other benefits.
6 – Lack of Customer Support
For people who are new to creating websites, customer support can be very crucial. Nearly all respectable paid web hosting companies have 24/7 live support. This support tends to be very helpful. So if you do have a problem you can access support in minutes.
With free web hosting, you shouldn't expect too much help. This support tends to be quite basic and limited. I mean you need to be realistic when it's free. Most supports will be via email or forums and will rarely have any live support.
Conclusion
If you ever plan on making money through your website, having over 1000 monthly viewers, ranking well on Google or need a professional-looking website. A paid web host is the way to go.
If you are looking for a less professional website, that is used more like a landing page or just for a bit of fun. You can get away with free web hosting.
My First Web Hosting Company – $
Bluehost was my first web hosting company. They are perfect for starting websites on a budget. They offer your 1st-year domain for free, 24/7 live support and a 30-day money-back guarantee if you are unsatisfied.
Bluehost Background
They are an American Hosting company and are in the top 20 largest web hosting companies worldwide. They host way over 2 million domains and operate out of Orem in Utah.
Conclusion
For me, it made a lot of sense to start with Bluehost. I would avoid all the spammy adverts and branding, get full control of my website and a free 1st-year domain. All for the same price of a cup of coffee per month.
I used the basic plan without any extra packages. Most of these extra packages you can get free after you have created your website.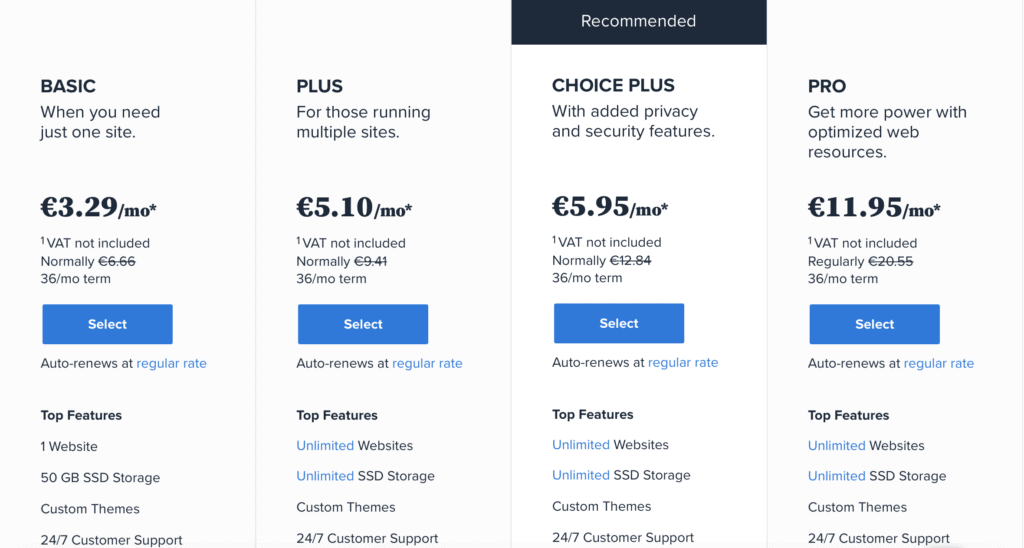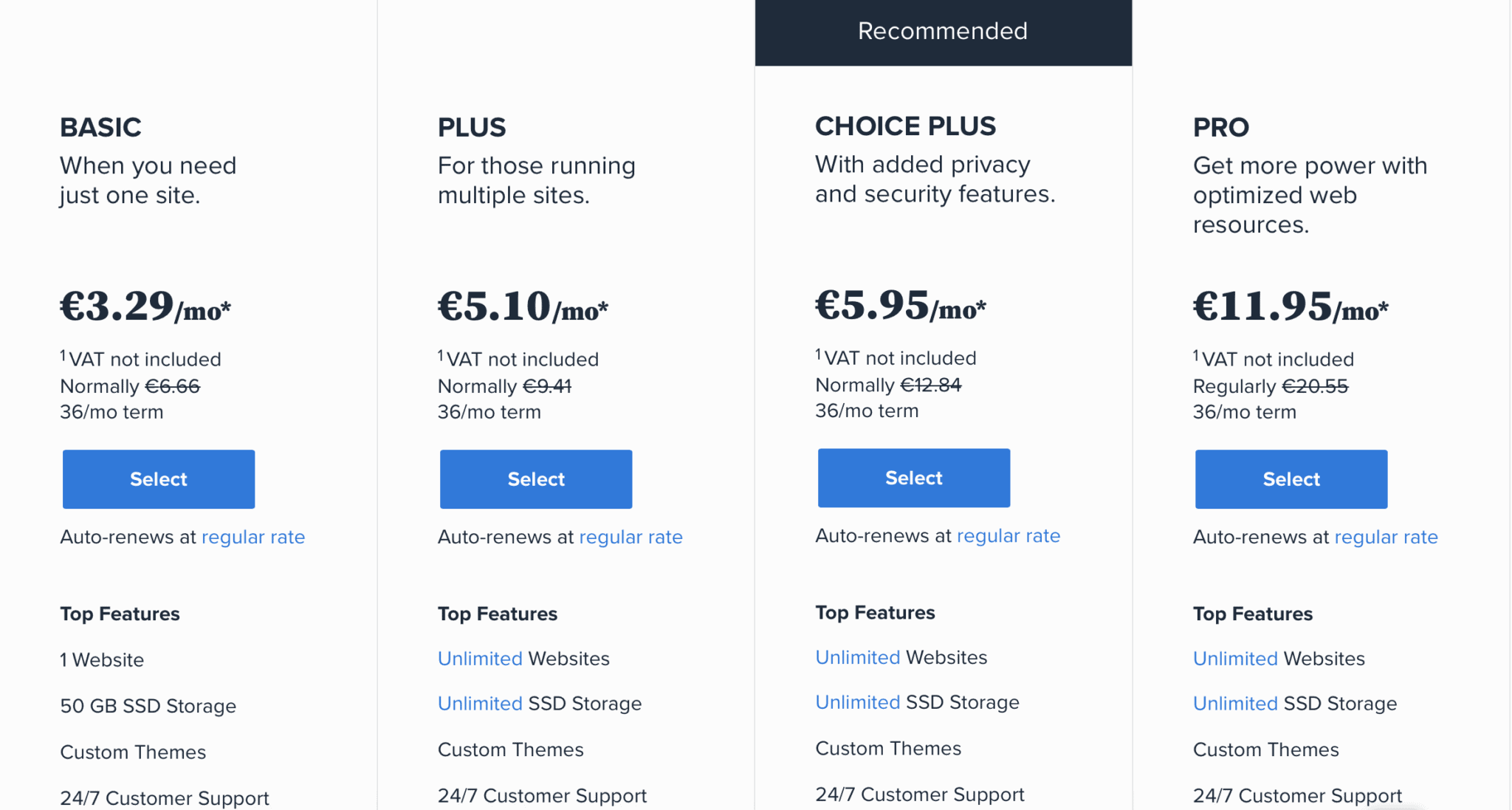 I have a good relationship with Bluehost and if you view their website through one of my links you will find similarly discounted prices like the ones above. This is on all their monthly plans.
What type of websites is the Bluehost basic plan good for?
• Websites getting under 50,000 visitors
• Websites without or have a low income
Basic Plan Benefits
• 1st year domain included in the monthly plans
• 24/7 live customer support.
• Free SSL
• Very Affordable
My Current Web Hosting Company – $$
BigScoots is my current web host company. They are more of a premium web host company that is ideal for medium to large-sized bloggers.
My website now operates on a private server meaning it can handle a lot more visitors. It also includes BigScoots 'Fully Managed' service which provides a lot of extra help. This could be on third party software, plugins and backups etc.
This plan comes at more of an expense than the Bluehost basic plan. This is why I recommend it for websites gaining at least 10,000 monthly visitors or websites that have bigger budgets.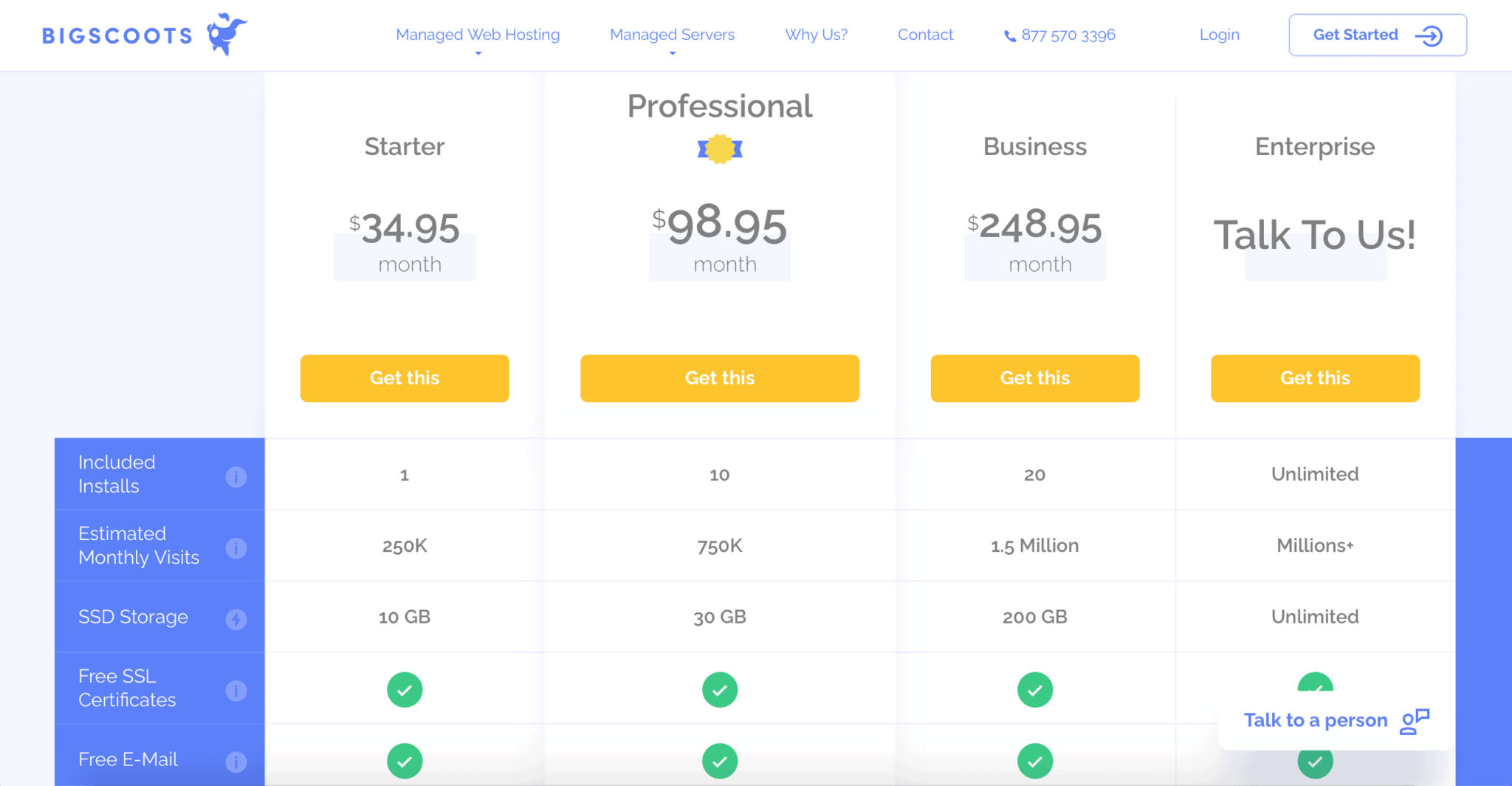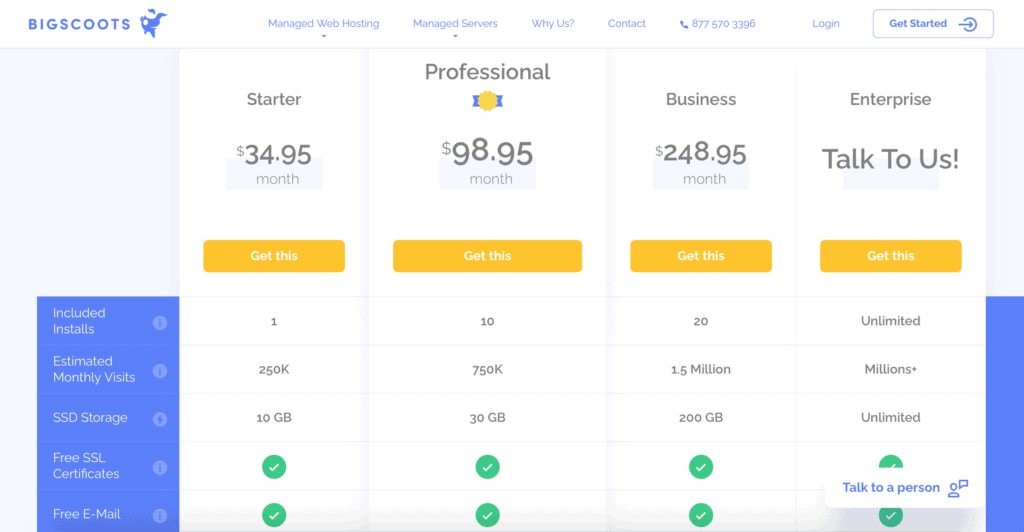 What type of websites is the Big Scoots Managed Web Hosting Starter Plan good for?
• Websites getting under 250,000 monthly viewer
• Websites that have a budget or make an income
BigScoots Benefits
• Fully managed web hosting
• Private severs
• Super hands on support
• Free website email included
• Triple checked migration (when moving from one host to another)
Conclusion
BigScoots offers a wider range of benefits than your standard paid web host and more hands-on support but this comes with a premium price. So I wouldn't worry about starting your blog here when it's brand new. Rather moving it here once it gets an income or at least 10,000 monthly viewers.
Content Management System
WordPress.org – This is free open-source software with an easy to use layout with powerful features. This gives you will unlimited flexibility whilst building your website.
WordPress.org also offer a range of free and premium WordPress Themes. Themes give you a gigantic head start on building your website. They give you easy to use built-in customisations like the menu bars and featured slider.
Each WordPress Theme has different customisations and is built differently. Make sure the theme has all the main features you want. Other features can also be added later down the line. I recommend only looking for themes with 4 stars and above
• Small learning curve but still perfect for no tech genius's
• Allows unlimited flexibility
• Built in WordPress themes
• Completely free (just requires a web host)
Bluehost offers one-click integration with WordPress.org. You can find their very affordable plans and simple instructions on their top menu bar labelled 'WordPress'.
Free Emailing Software
Mailchimp is my email marketing software. If you have seen the pop up or embedded 'recipe newsletter' on the side bar that has been made by Mailchimp. They offer a range of other features like landing pages, detailed analytics and weekly growth reports.
The best thing is they allow you to make a free account for up to 2000 subscribers.
• Free for up to 2000 subscribers
• Powerful marketing features
• Free landing page
Photography & Graphic Editing Software
Adobe Photoshop is a graphic editor for windows or mac. This is where I edit and compress all the photos for this website. It has in-depth editing features that can cover up blemishes, enhance bad lighting or colour correct photos.
There are other cheaper alternatives out there but in my opinion, there are none as powerful and in-depth as Adobe Photoshop.
• Photo editing
• Creating digital art
• Graphic design
• Making Gifs
Keyword Research Tool
Keysearch.co is a keyword research & Seo tool. It allows you to analyse keywords, phrases and websites.
Once you click research on your keyword it will analyse it using google API. This gives you one of the most accurate results out there. It will then show you a ton of information about that keyword, including…
• Monthly Searches
• Difficulty to rank
• The google page 1 ranked webpages/website
It will then give you information about the webpages on page 1 of google for the keyword. This includes…
• Page authority
• Backlinks
• The amount of keywords linked to that webpage
• Search traffic of the webpage
• The domain authority of the website
• Search traffic for the website
On top of this, you can analyse your and your competitor's websites. You can track their organic keywords and analyse their website for Seo. If you are looking to bring traffic through google and optimise your Seo I highly recommend this tool!
• Uses google API for accurate results (most other key search softwares don't)
• Analyse your website and your competitors
• Find highly searched monthly keywords
20% Discount Code: KSDISC