After over 8 years of being a chef in the restaurant industry, I was surprised by the number of "ready-made recipes" being used.
At first, being a young aspiring chef, I was way against it, even in my home cooking. But that was more of my desire to learn rather than save time.
After becoming a 60+ hour a week working parent, I'm much more comfortable taking these shortcuts, like buying ready-made teriyaki sauce.
And if saving time in your cooking is a priority for you, then this saves you a ton of time!
Just so you know, when I say "ready-made recipes," I'm referring to ready-made food products used in a recipe like a teriyaki sauce, pesto, or hollandaise sauce and not ready-made meals like spaghetti bolognese.
I know you probably think using ready-made recipes is a bit of a no-brainer, but there are a lot of good and bad-quality ready-made recipes to avoid. And if you like good food, you'll probably want to stay away from some.
My goal is to share with you the ones that are good and the ones to avoid. Then hopefully, I can save you a bad meal or two.
Store-Bought Recipes That Are Good or Bad
The biggest thing for any ready-made recipe to be good is the ingredients and preparation behind the recipe. This means brands are crucial.
I'll speak in general because there are always good and bad brands. But in general, items like hollandaise sauce, just tend to be terrible for most brands (every brand I tried). Products like teriyaki sauce, have been great (most brands I tried).
So take this list as an in-general approach.
Good for Most Brands
Asian Sauces: Teriyaki Sauce, Hoisin Sauce, Pad Thai Sauce, Sweet Chili Sauce
Mayo and Mayo-Based Sauces: Ceasar Dressing, Ranch Dressing, Garlic Dressing
Pestos: Basil, Sun-Dried Tomato
Stocks: Chicken Stock, Beef Stock, Vegetable Stock
Chilli Pastes: Chipotle, Harissa, Gochujang
Caramel and Toffee Sauce
BBQ Sauce
Fish Pastes: Anchovy Paste, Shrimp Paste
Seasonings: Garam Masala, Fajita seasoning, Cajun Seasoning
Extracts: Vanilla Extract, Peppermint Extract
Canned Beans: Black Beans, Kidney Beans, Cannellini Beans
Jams: Strawberry, apricot, rosehip
Borderline and Heavily Dependent on the Brand:
Jarred Sauces: Tomato Sauce, Bechamel Sauce,
Buffalo Sauce
Fresh Ravioli, Tortellinis and Gnocchi
Salsa's
Bad for Most Brands
Egg-Based Sauces: Hollandaise and Bearnaise Sauce
Dried Packaged Sauces: Demi-Glace, Red Wine Jus, Stroganoff
Carbonara Sauce: That's if you eat traditional-style carbonara
Cheese Sauce
Canned Vegetables
Generic Yellow Curry Powder
Aromas: Vanilla Aroma, Caramel Aroma
14 Recipes Using Store-Bought Ready Made Products
Here are a couple of recipes that use ready-made food products on the good list. If you're also interested in the types of restaurants that use store-bought recipes, check the bottom of the post.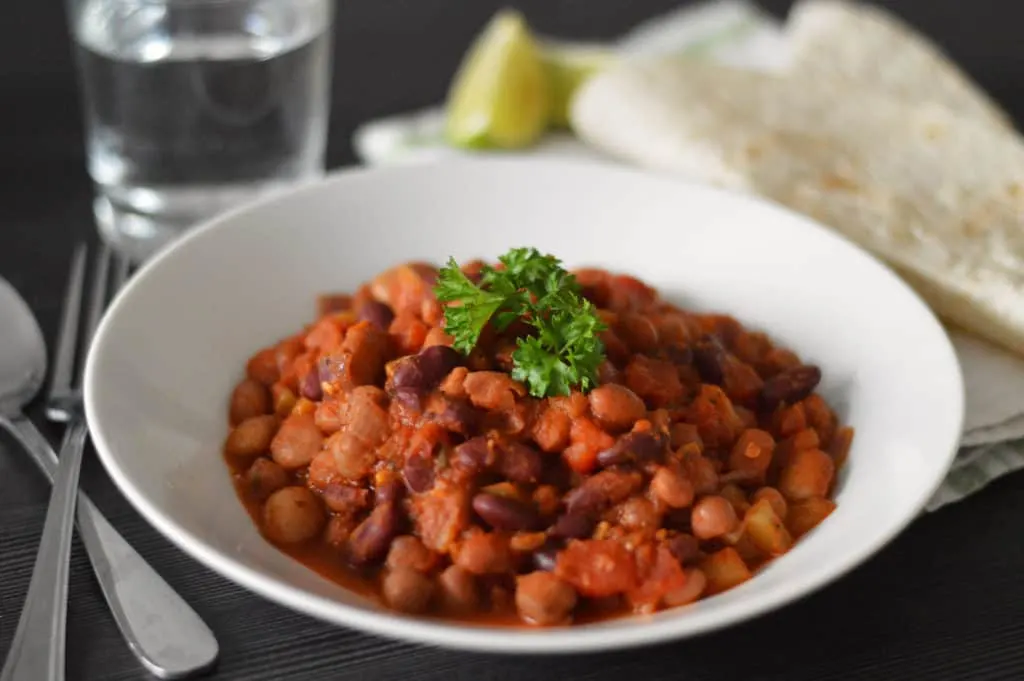 One-pot mixed bean chilli that's super easy to make, healthy and delicious. It uses aromatic Mexican spices that give it a smokey, rich flavour. This bean chilli is packed with vitamins, complex carbohydrates, protein and fibre.
Store Bought Ingredient: Chipotle Paste, Canned Mixed Beans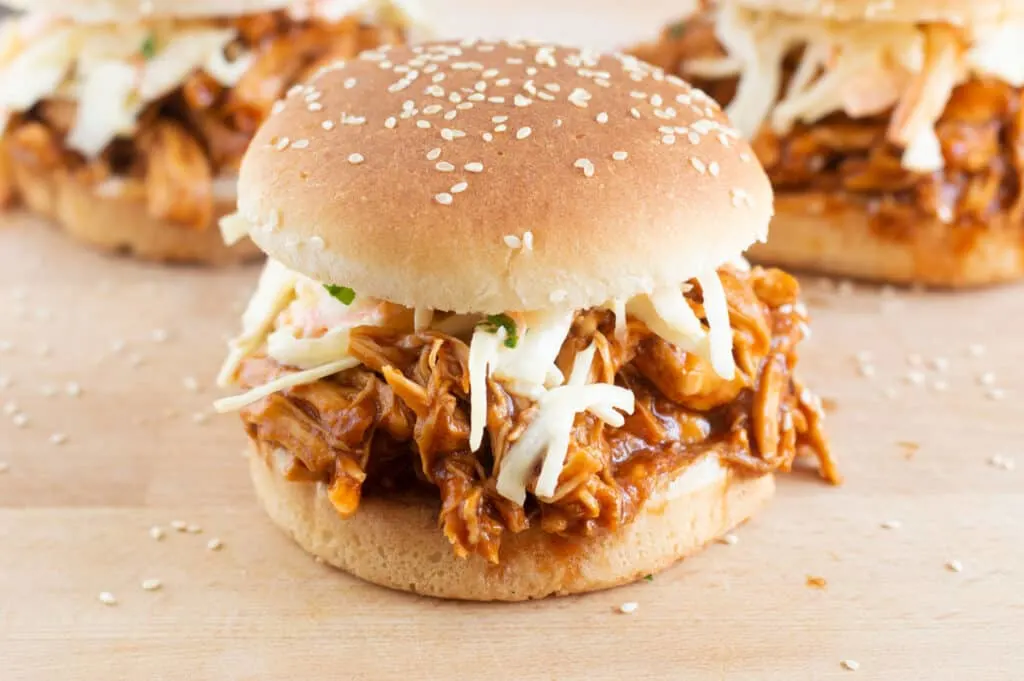 This tender Crockpot Garlic BBQ Chicken recipe is delicious and perfect for those lazy days. It takes less than 5 minutes to prep and uses 3 ingredients, simply set it and forget it. Try it with your favourite smokey BBQ sauce brand with a soft bun and coleslaw for an easy indoor bbq meal.
Store Bought Ingredient: BBQ Sauce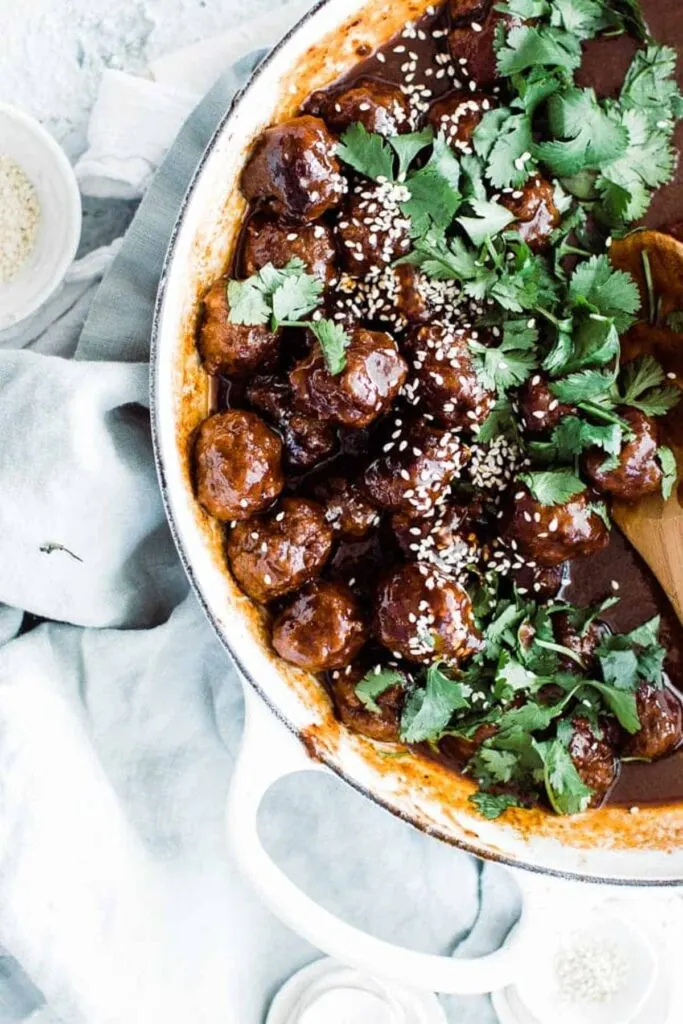 These easy sweet and sour meatballs can be made as an appetizer or main course for dinner, with store-bought meatballs, or homemade. No matter which way you make them they are delicious and fool-proof!
Store Bought Ingredient: Sweet Chili Sauce, Red Currant Jelly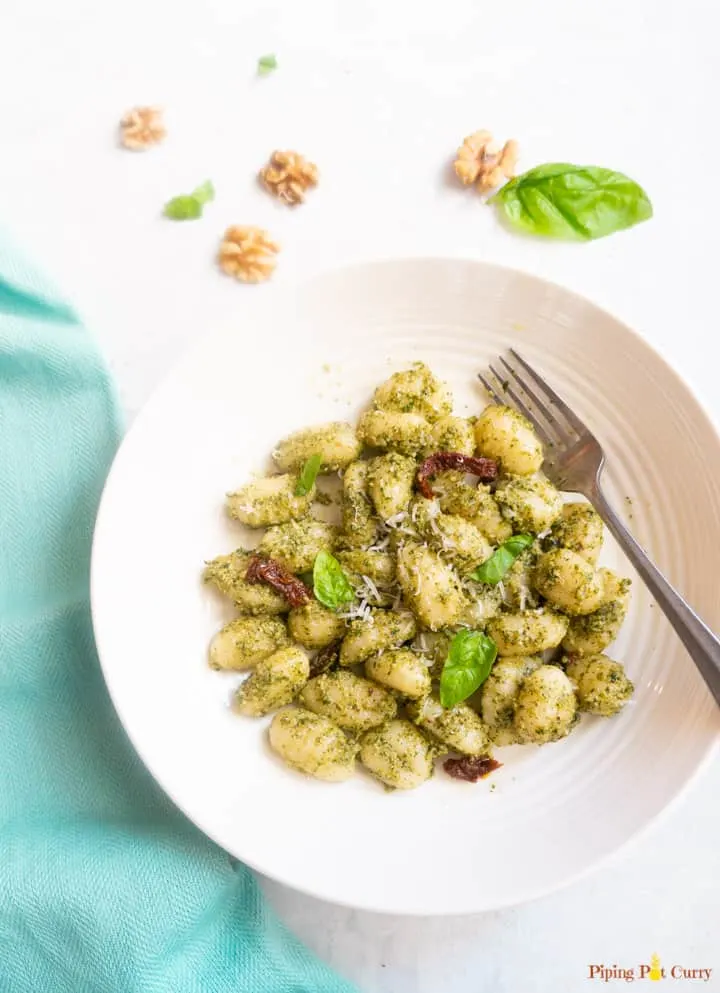 A quick and yummy meal, Gnocchi with Pesto Sauce. This can be prepared in less than 20 minutes for a delicious satisfying dinner for those busy weeknights.
Store Bought Ingredient: Gnocchi, Basil Pesto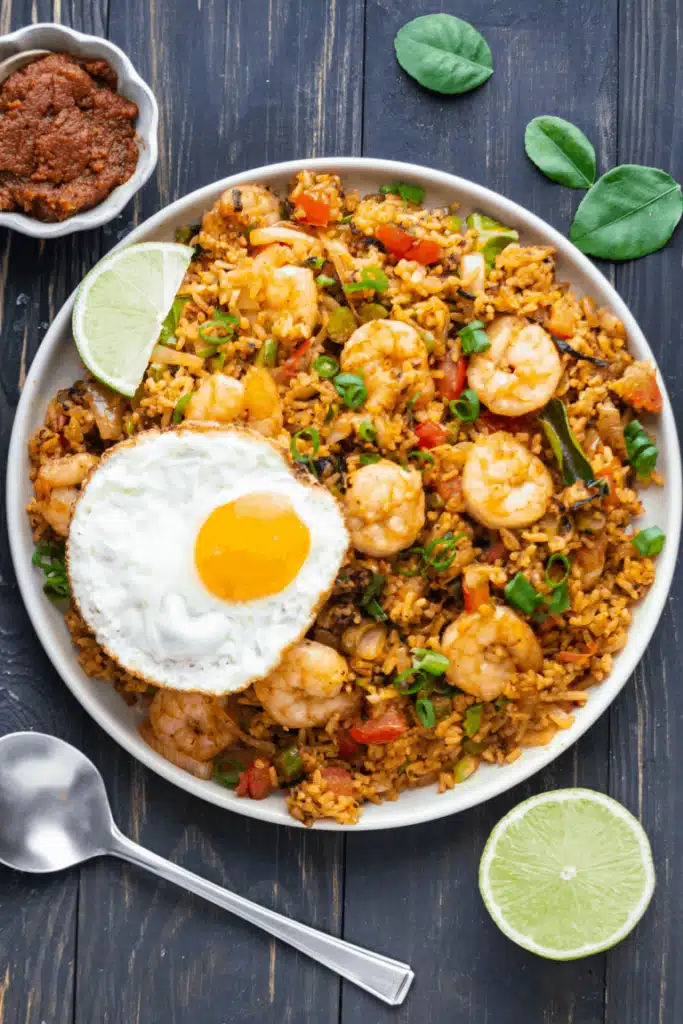 Thai Tom Yum Fried Rice is an instant crowd pleaser! Our homemade version is wonderfully simple because it uses store-bought paste packed with flavor. The protein can be easily substituted, which is perfect for simple weeknight dinners or upgraded for fancy weekend parties!
Store Bought Ingredient: Tom Yum Paste, Chicken Bouillon Powder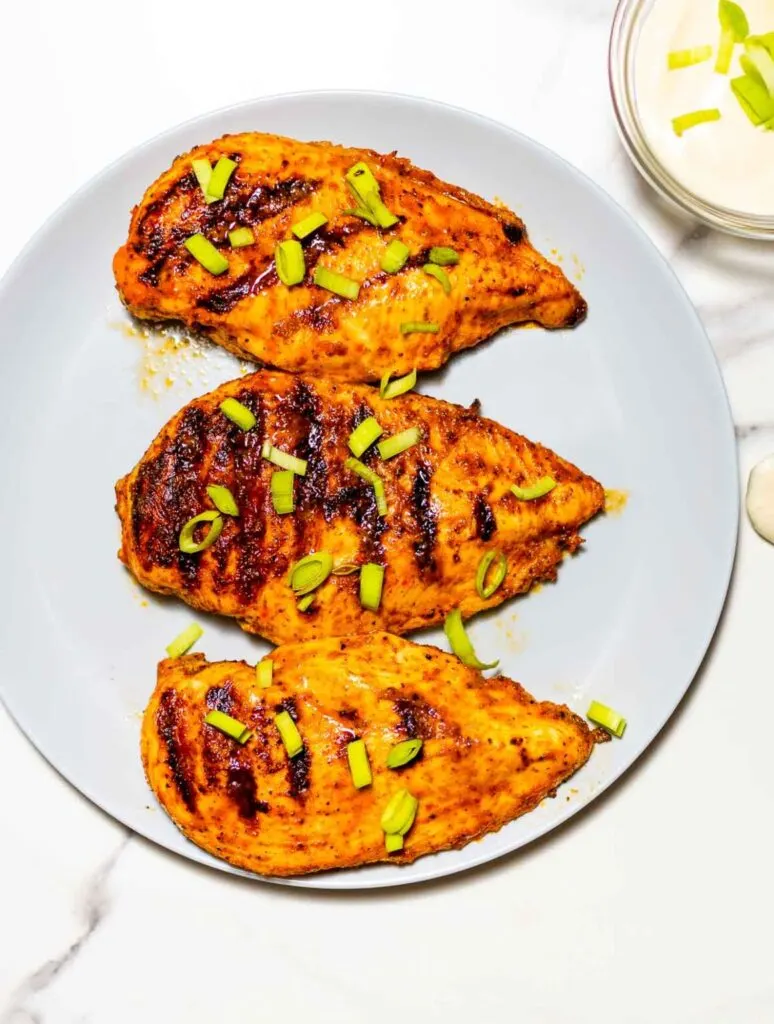 This Grilled Buffalo Chicken has all the flavor of your favorite chicken wings and is ideal for cooking outside or on a stovetop grill pan. You're going to adore this simple and adaptable chicken meal.
Store Bought Ingredient: Buffalo Sauce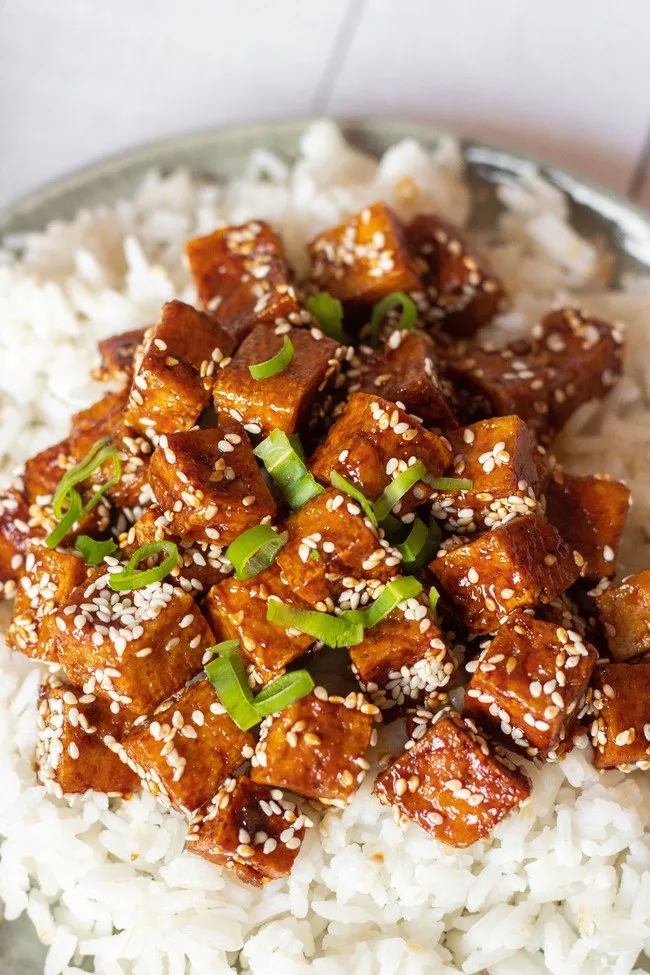 This vegan Garlic Teriyaki Tofu is perfect for beginners! You will find step-by-step instructions in the article for this easy Japanese weeknight dinner recipe!
Store Bought Ingredient: Teriyaki Sauce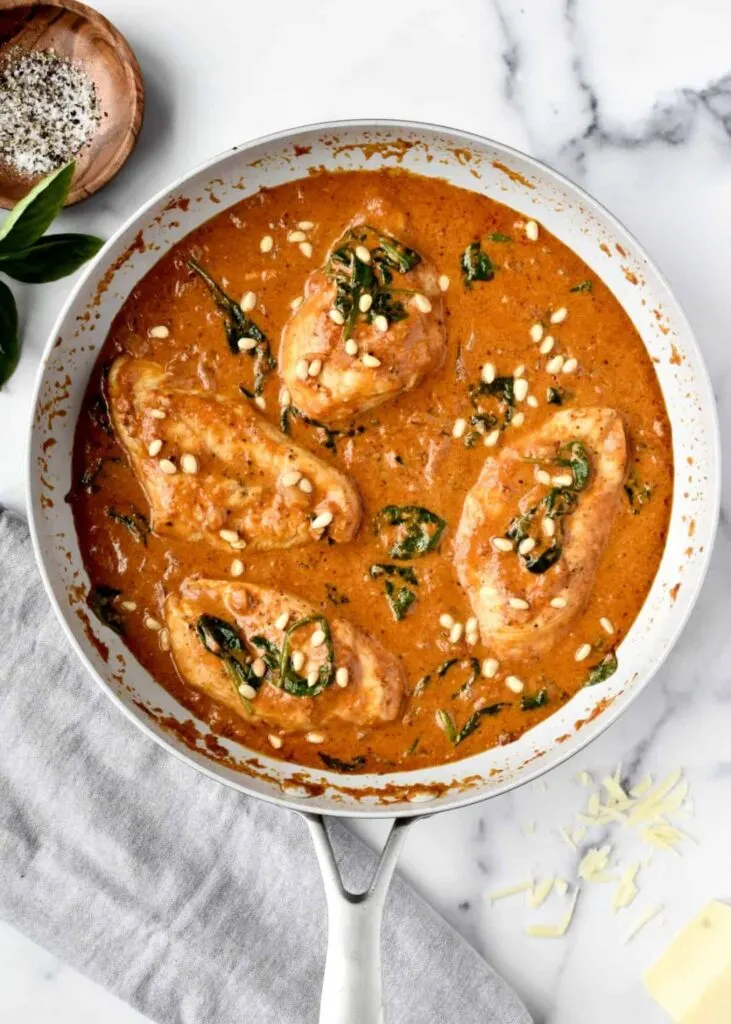 Creamy sun dried tomato pesto chicken is a crowd-pleasing main dish, ready in 30 minutes or less. My whole family asked for seconds, and I bet yours will too!
Store Bought Ingredient: Sun Dried Tomato Pesto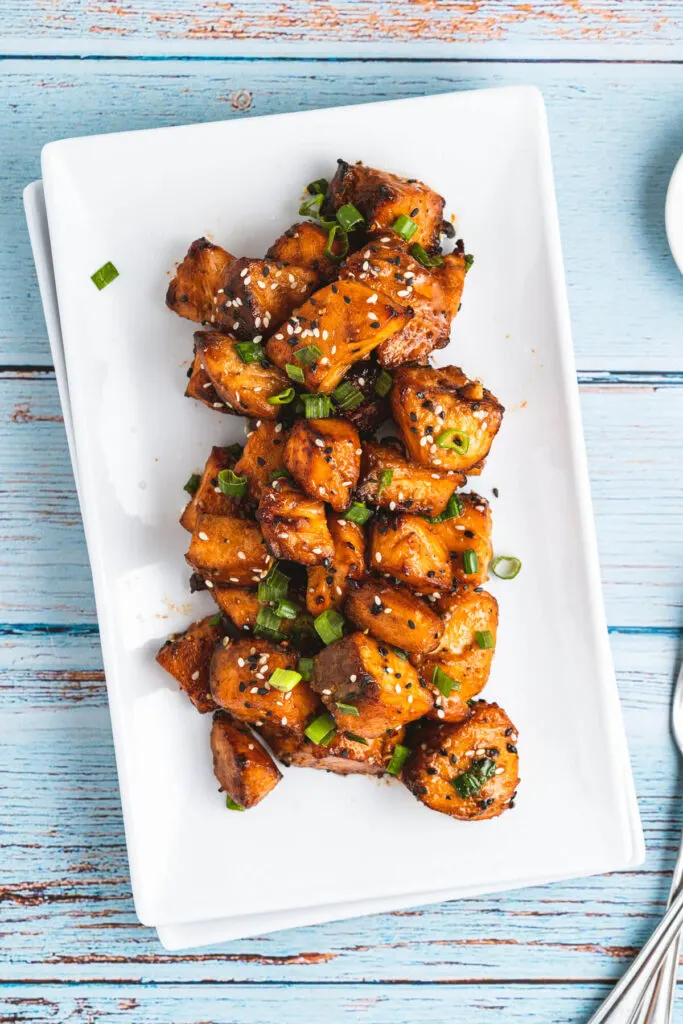 Try this fool proof method for cooking perfectly succulent salmon every time. Teriyaki glazed Air Fryer Salmon Bites stay juicy and tender on the inside as they cook in the air fryer. Coated in a tasty teriyaki glaze, they make a great snack, appetizer, or easy weeknight dinner that's ready in under ten minutes.
Store Bought Ingredient: Teriyaki Sauce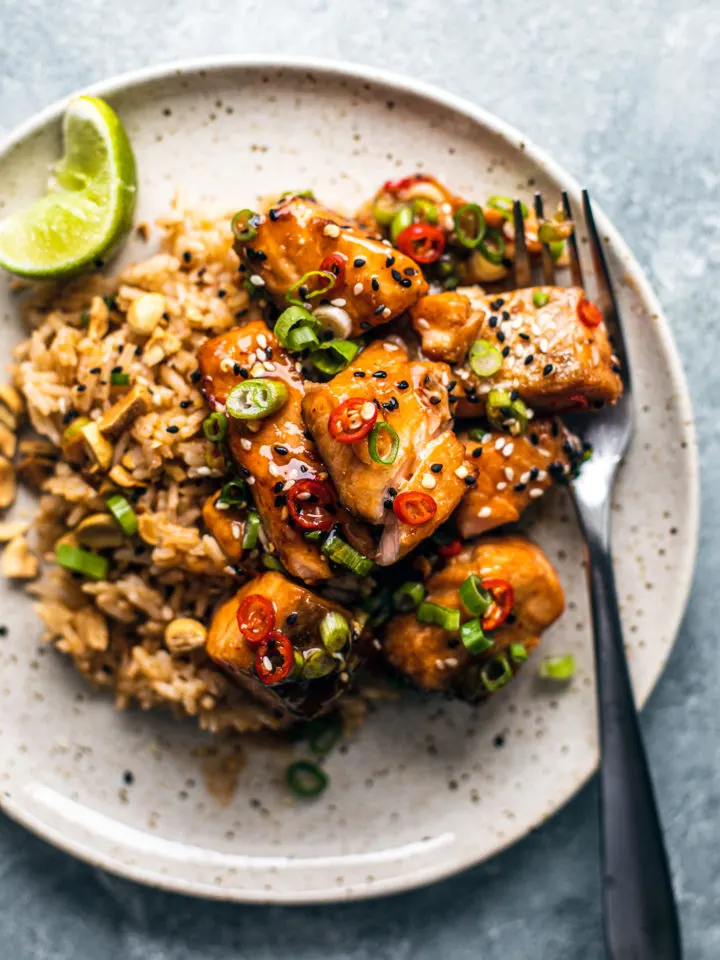 These sweet, spicy, and savory Thai Sweet Chili Air Fryer Salmon Bites are incredibly addicting—and they're ready in less than 30 minutes!
Store Bought Ingredient: Sweet Chili Sauce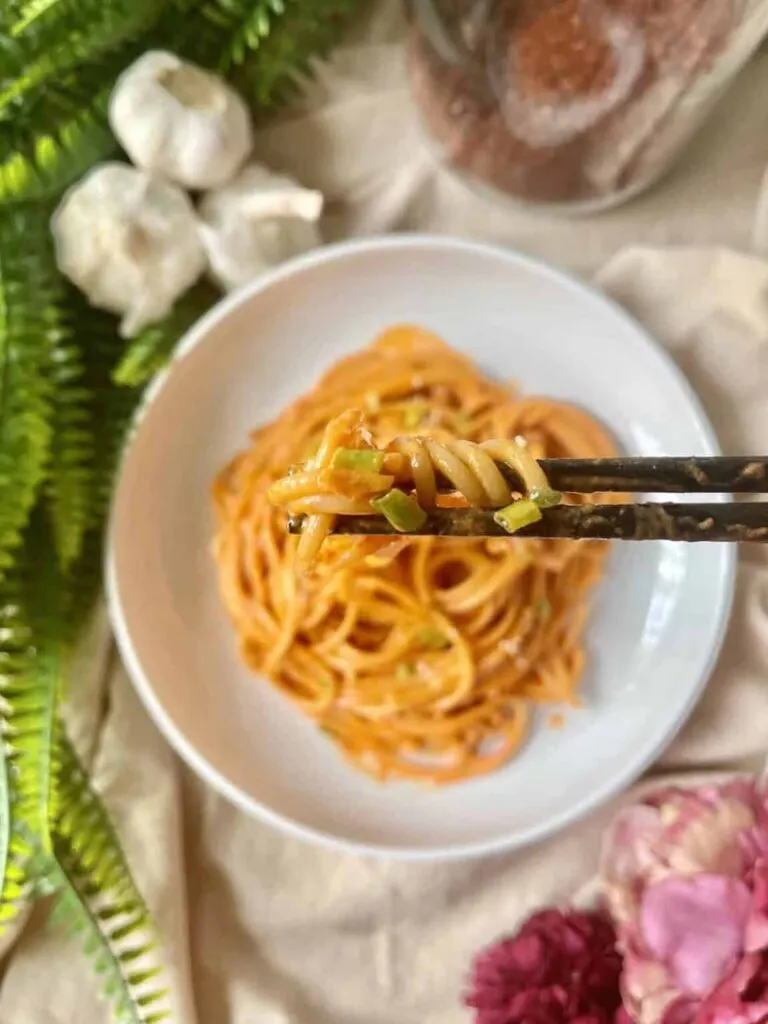 A plate of savory and deliciously creamy gochujang pasta with a thick and umami sauce soooo good you'll want to slurp it up like a soup!
Store Bought Ingredient: Gochujang Paste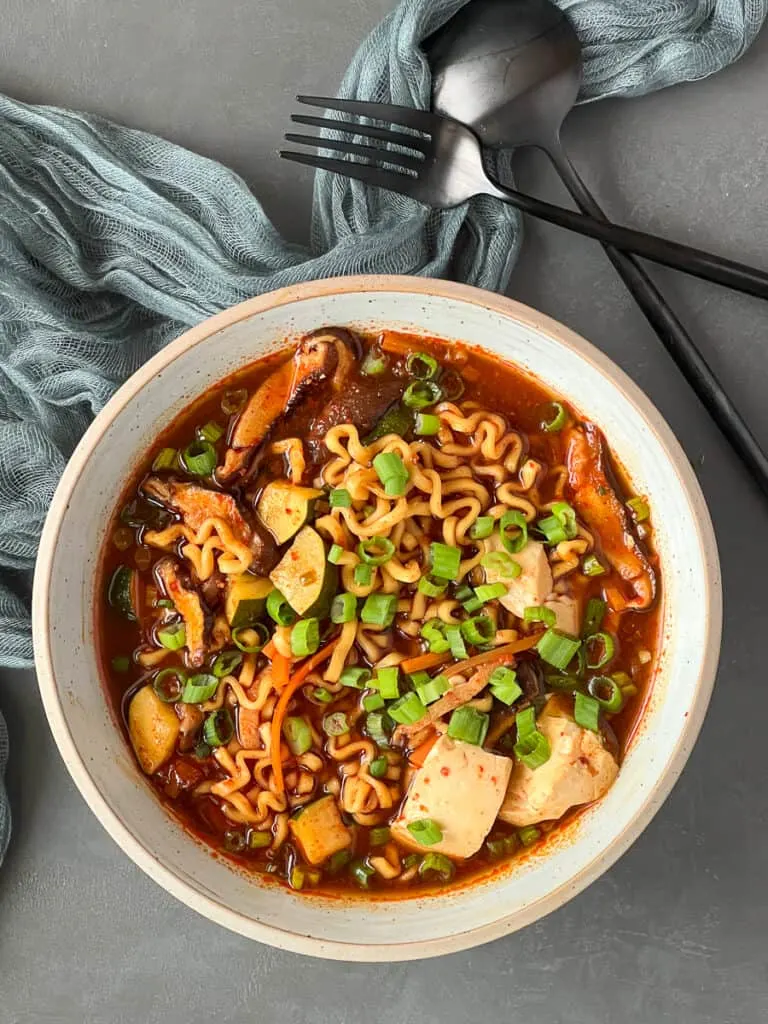 Easy to make Korean Ramen noodle soup with all healthy plant-based ingredients. It's a perfect balance of umami sweet, tangy and spicy flavors. The broth is the tastiest part of this dish, so get ready to slurp!
Store Bought Ingredient: Gochugang Paste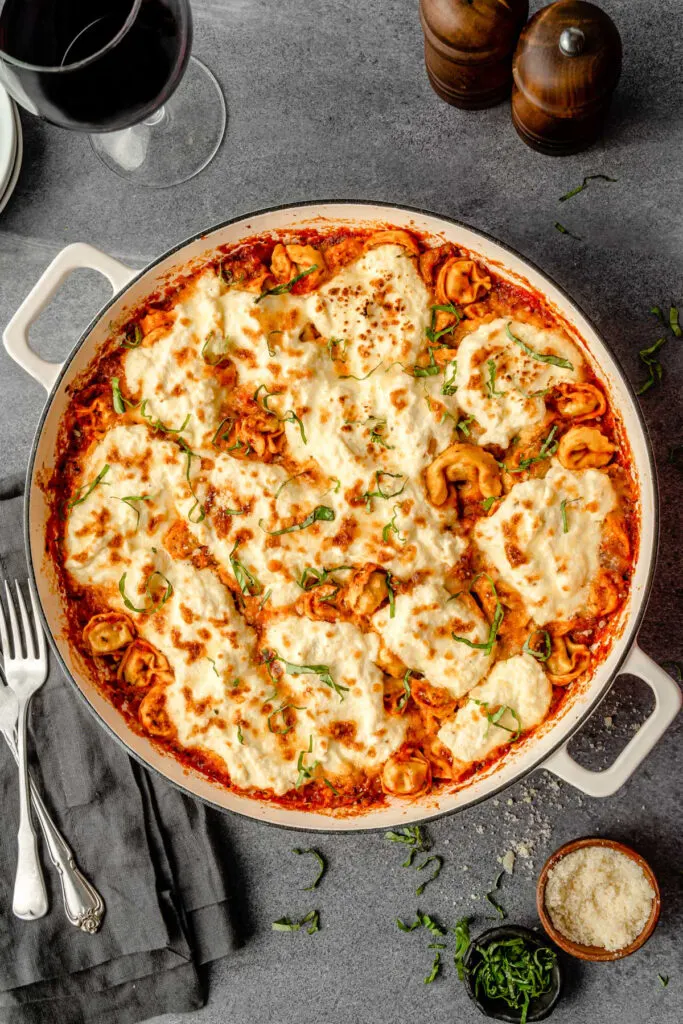 This cheesy Tortellini and Sausage bake is comfort food at its best! Delicious tortellini pasta, crumbled Italian sausage, and marinara sauce is topped with a layer of creamy ricotta. It's a 30-minute crowd pleaser that's also perfect for a busy weeknight
Store Bought Ingredient: Tortellini, Marinara Sauce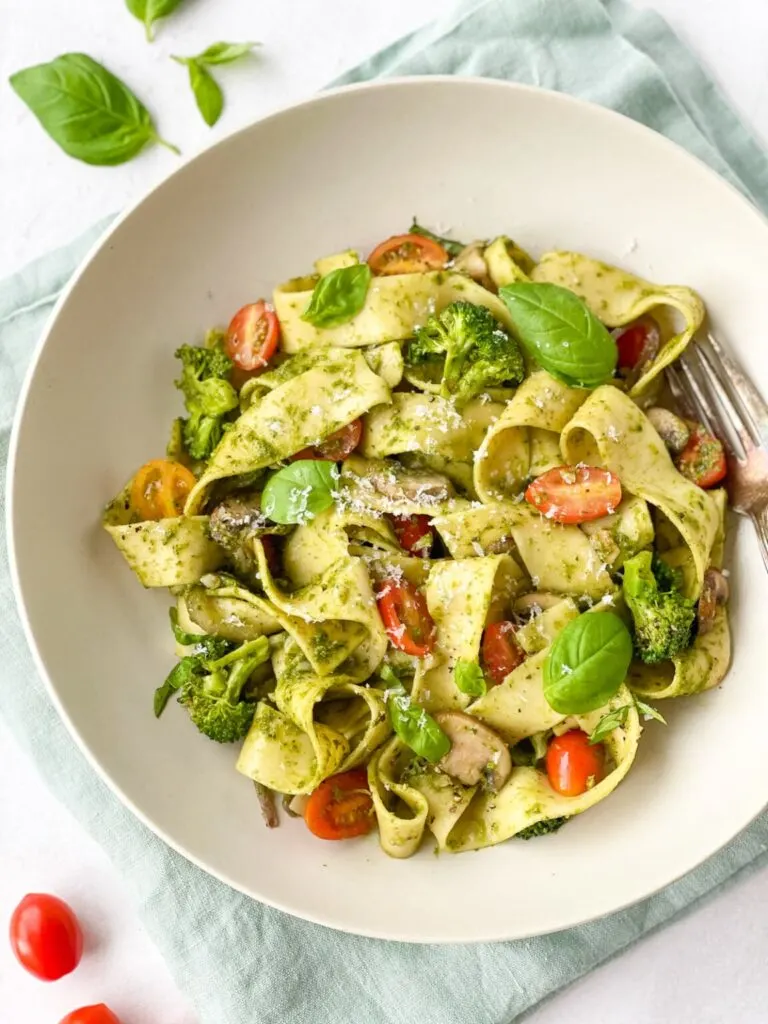 This Pappardelle pesto pasta is quick and simple to put together. Because of the thick pappardelle noodles and flavorful pesto, you get a restaurant-quality meal at home in under 30 minutes. The veggies provide the finished dish with plenty of nutrition, color and texture.
Store Bought Ingredient: Basil Pesto
Types of restaurants that used ready-made products
I've been a chef in 4 different countries and freelanced as a chef for over 6 months… It's safe to say I've worked in ALOT of restaurants.
Here's my insider knowledge of how much ready-made recipes different types of restaurants use.
Here's the breakdown:
The more corporate a restaurant business is (chain restaurants), the more ready-made recipes they tend to use.
The higher-end a restaurant in (fine-dining restaurants), the fewer ready-made recipes they tend to use.
Big-chained restaurants often deal with food companies to produce and deliver their unique recipes. For example, a big bbq chain will make a deal with a food company to make their bbq recipe, so they don't need to make it in-house. This saves them labor and ingredient costs, as the ingredients are bought in huge bulk.
Small independent restaurants tend to buy generic brands, and many will use the same "bbq sauce" as their competitors. This is why local independent restaurants that serve things like bbq chicken wings sometimes taste similar.
Fine dining restaurants will tend to make their own "bbq sauce" and tweak it towards how they want their final dish to be. For example if the bbq sauce is being served with pork or beef the bbq sauce will be made differently.
Final Thoughts
I hope you learned something, found something insightful, or found a delicious recipe to bookmark for the future. Let me know if you tried a recipe on the list and loved it.
I will update the list of good and bad products and recipes periodically as I come across new brands.
If you have a store-bought recipe you want an opinion on, just comment that below, and I will get back to you.