Mac and cheese was probably my favourite childhood dinner. It's crazy to think I still have fond memories of it so many years later. Here I am going to share with you, near of enough the exact recipes I loved for so many years.
The only difference is we will be making the béchamel sauce as I am a believer in cooking in house when possible (this way you avoid all the preservatives that are used to keep food lasting longer).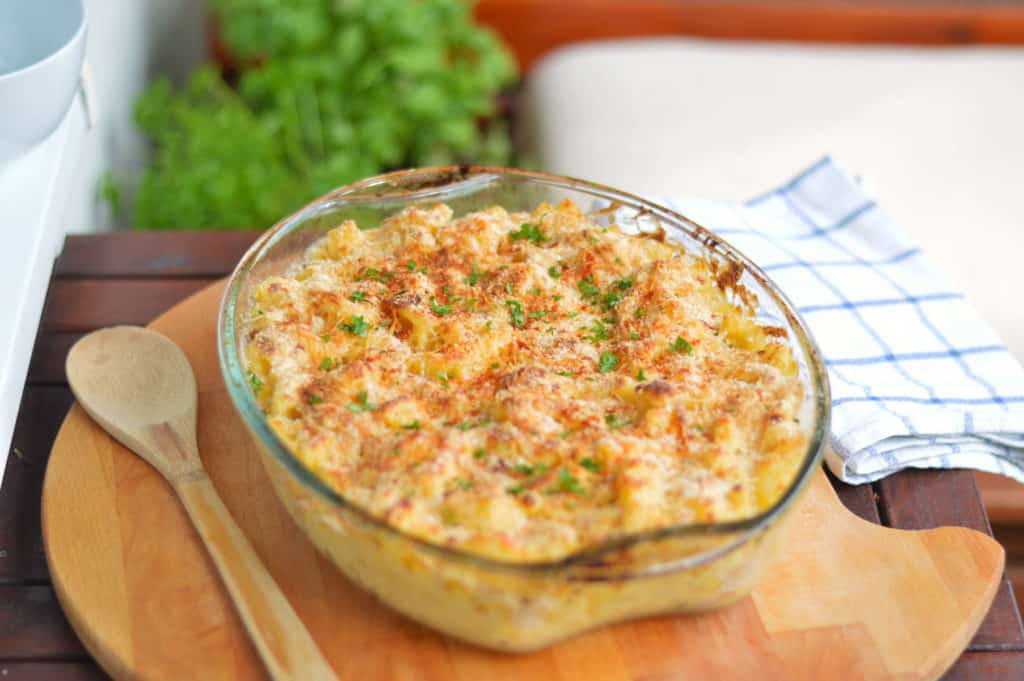 This mac and cheese recipe is highly adaptable. You can make it taste completely different more than a hundred different ways. Even when keeping the method the same.
Below in this recipe guide I am going to share with you ways and ideas on how to be creative with your mac and cheese. I will also share with you some of my tasty combinations.
Where did mac and cheese originate?
Mac and cheese originates from the United Kingdom, with a recipe dating back to the 14th century that featured pasta, cheese & butter. This developed in the 17th century to what we know now as mac and cheese. The recipe included macaroni mixed with, a cheese sauce made from a béchamel and cheddar, then baked in the oven with parmesan cheese.
Creating your own cheese sauce
When it comes to cheese sauces you can make them taste delicious and unique in thousands of different ways. There are literally competitions with cash prizes for the best cheese sauces.
When creating a sauce its all about taste, balance & texture. Below I have created a ratio guide for mix and matching your cheese for your cheese sauce. This will help give you a rough estimation and let you be more creative & confident to create your own mac and cheese recipes.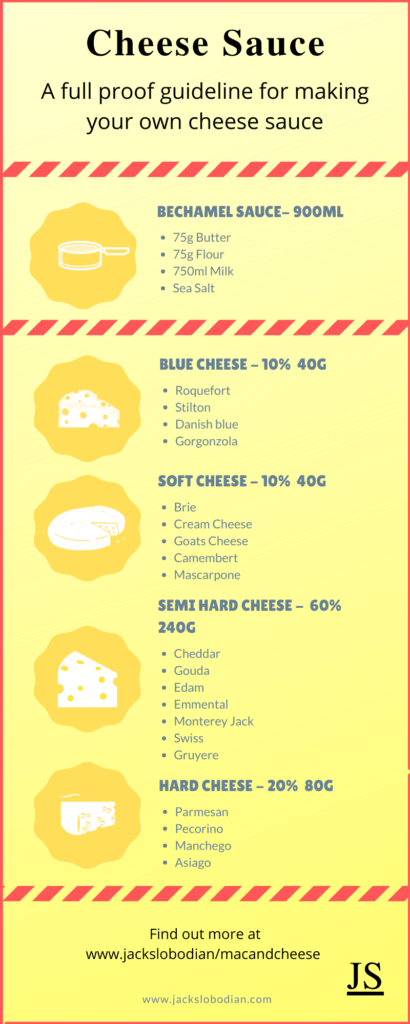 The rule of thumb
If you take out a type of cheese distribute the quantity evenly across the ones you are using left.
Example
If you are not using a soft & hard cheese, you would use 25% blue & 75% semi hard cheese.
Adding your own seasonings
Some people underestimate the importance of using the right seasoning. This is a crucial step to enhance your recipe and take it to the next level.
Below is a seasoning guideline. This will give you some seasoning ideas and an idea of how much to add. When it comes to seasoning its all about your taste preference. I recommend adding 50%-75% of the quantities, then taste and adjust accordingly.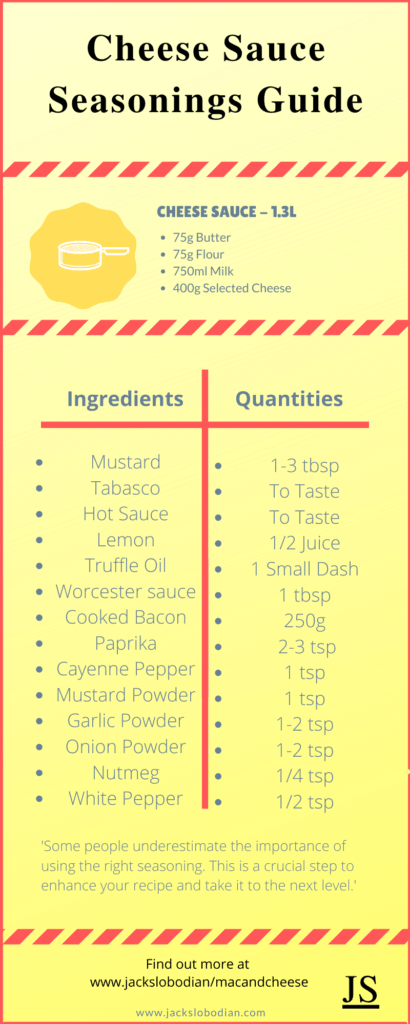 Mustard – The amount of mustard you use will greatly depend on the type of mustard. Dijon mustard would generally be around 2-3 tbsp, and a stronger mustard like english would be around 1tbsp.
Tabasco – There are many different flavours, my favourite for cheese sauce is chipotle. If you have any recommendations comment at the bottom!
Hot Sauce – Make sure to use a high quality one! My favourites for mac and cheese are chipotle hot sauces and smokey jalapeño sauces.
Lemon – Many people are probably wondering why lemon is on the list. It sounds a bit unusual for some. Lemon is a secret ingredient. The acidity in the lemon helps cut through the fat which enhances the overall flavour.
Truffle Oil – Truffle oil should be used sparingly. It's so powerful that it can easily overpower and ruin any dish. Add a small dash, mix, taste and adjust accordingly. I recommend a good quality white truffle oil like this.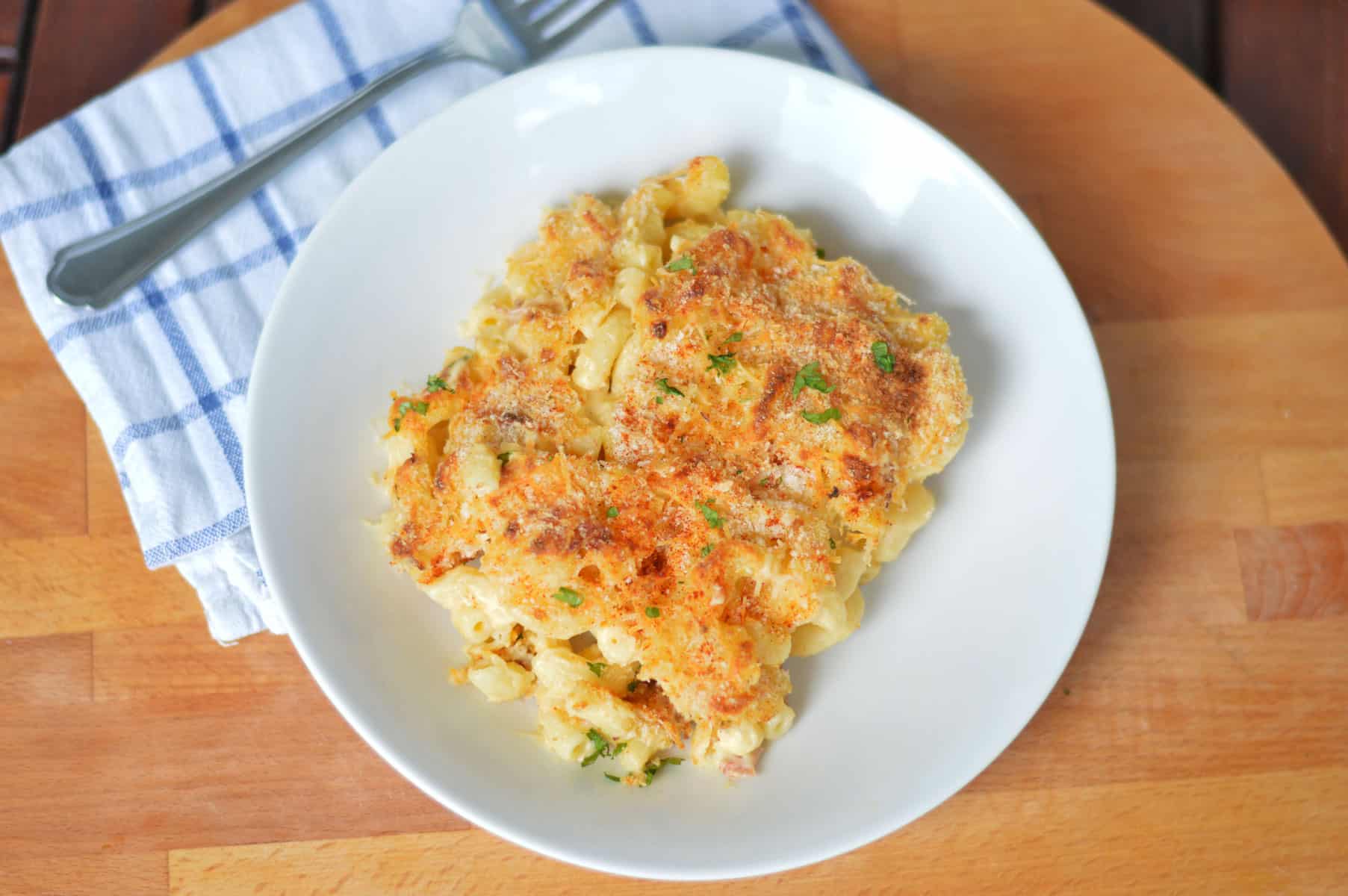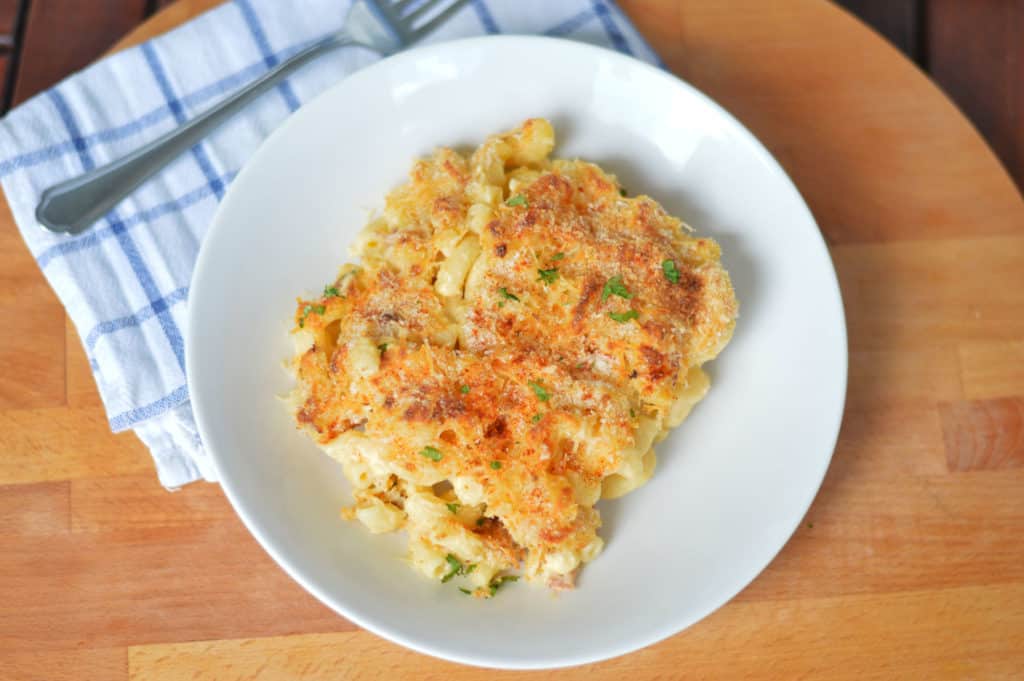 You don't need to bake it
Mac and cheese doesn't need to be baked, half the time it is more delicious non baked. It all depends on the recipe and your preference. If you don't want to bake your mac and cheese skip just step 4. This will also save you 30 minutes.
Tasty mac and cheese combinations
Baked Mac and Cheese
Roquefort, plain cream cheese, cheddar, manchego, dijon mustard, onion powder & cooked bacon
Gryue, mature cheddar, mustard powder, paprika, garlic powder, white pepper & cooked bacon – served with sriracha
Goats cheese, gouda, cooked bacon, chipotle sauce, paprika, freshly grated nutmeg & white pepper
Non Baked Mac and Cheese
Cheddar, parmesan, mascarpone & white truffle oil
Mature cheddar, monterey jack, mature gruyere, chipotle tabasco & smoked paprika
Blue cheese, mascarpone, mild gouda, lemon & white pepper
More Recipes You May Like…
If you like this mac and cheese recipe, why not try this smoked mac and cheese or tuna mac and cheese. They're both delicious! And did you know you can even make crock pot mac and cheese!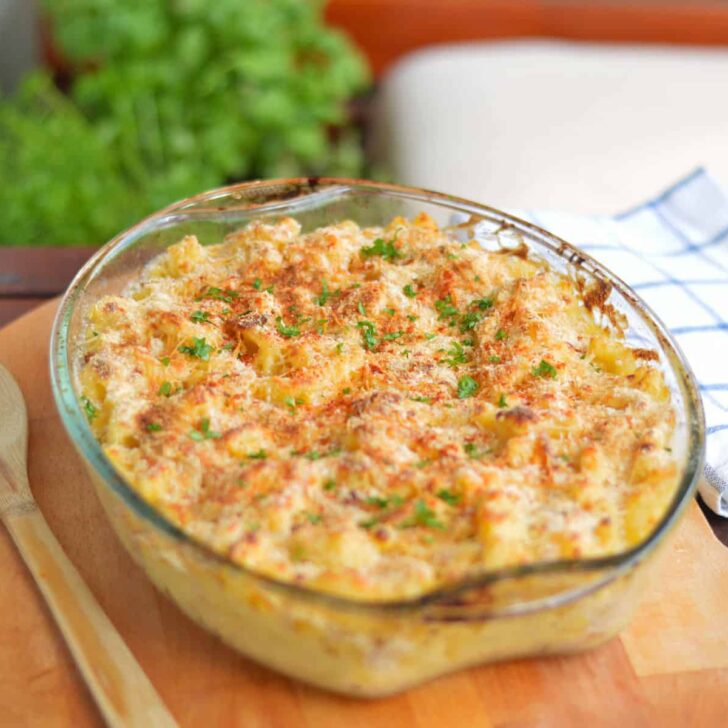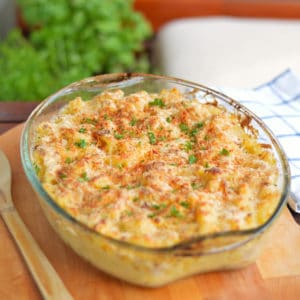 Mac and Cheese
This homemade Mac and Cheese is the perfect quick & easy comfort food for any lunch or dinner.
Equipment
2 Large Pots

Ovenproof Dish (If baking)
Ingredients
500

g

Macaroni

100

g

Breadcrumbs

preferable panko
Cheese Sauce
75

g

Butter

75

g

Plain flour

750

ml

Whole milk

400

g

Mature cheddar

grated

20

g

Dijon mustard

½

tbsp

Paprika

White pepper

Sea salt
Instructions
Bring a pot of generously salted water to the boil. Cook the macaroni until al dente. Drain the pasta and run it under cold water until cool, set to the side for later. Preheat the oven to 200c.

Melt the butter in a large pot over medium heat. Add the flour and mix to make the roux, cook for 2-3 minutes mixing slowly but constantly, making sure there are no lumps. Add 1 quarter of the milk and whisk rigorously, once the sauce begins to thicken whisk in a little more milk. Keep doing this until you have incorporated all the milk. Gently bring the béchamel sauce to boil, whilst slowly stirring. When it starts to bubble, turn the heat down to very low.

Gently stir in 4/5th of cheese, adding a little at a time. Once the sauce is smooth, stir in the mustard & paprika. Taste and season with salt & white pepper. Add the macaroni and mix.

Transfer to an ovenproof dish, sprinkle a layer of cheese then a layer of breadcrumbs on top and bake for 30 minutes or until the top is golden brown.

Serve fresh from the dish/pot.
Notes
Pick & choice your favourite cheese to add to this replace
Try baking sliced tomatoes on top of the breadcrumbs
Try serving with sriracha or sweet chilli sauce.
Nutrition
Calories:
1028
kcal
Carbohydrates:
109
g
Protein:
42
g
Fat:
46
g
Saturated Fat:
28
g
Polyunsaturated Fat:
1
g
Monounsaturated Fat:
7
g
Trans Fat:
1
g
Cholesterol:
131
mg
Sodium:
850
mg
Potassium:
567
mg
Fiber:
5
g
Sugar:
12
g
Vitamin A:
890
IU
Vitamin C:
1
mg
Calcium:
535
mg
Iron:
3
mg