Struggling to gain weight? These weight gainer smoothies and shakes are a great way to add healthy calories to your diet. Every smoothie contains fruit and is high in protein, healthy fats and electrolytes.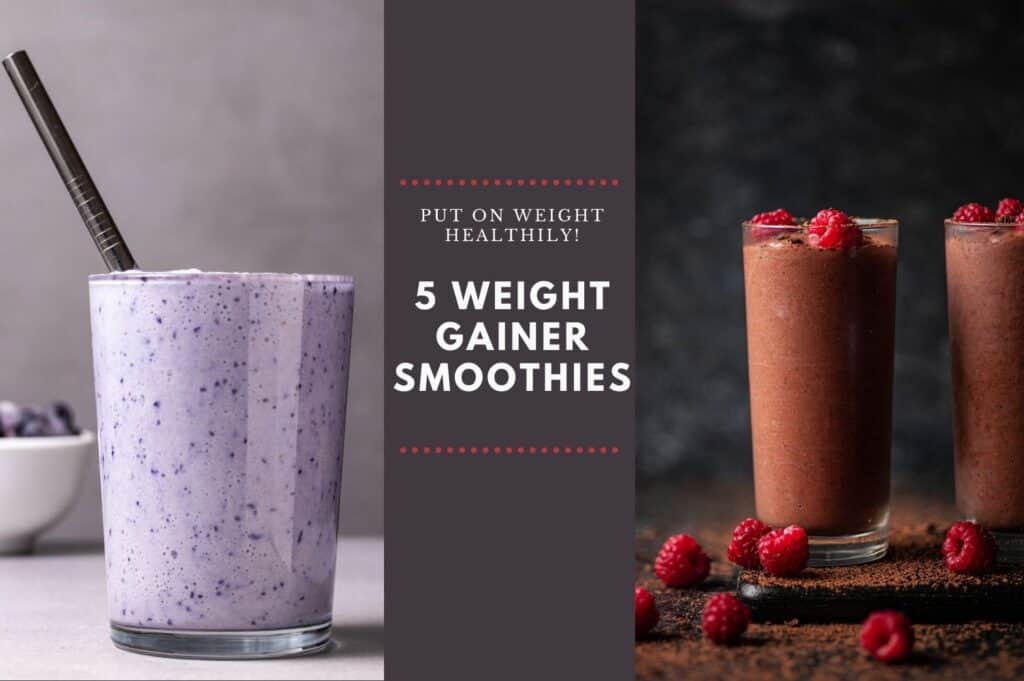 How to gain weight
The most important thing to gaining weight is creating a calorie surplus, meaning you eat more calories than your body consumes.
If you want to increase your weight slowly aim for 300-500 calories more then you burn each day. This should roughly translate to 0.7-1 pounds gained per week.
If you want to increase your weight fast, aim for 700-1000 calories more then you burn each day. This should roughly translate to 1.7-2 pounds gained per week.
To find out your daily maintenance calorie intake try this calorie calculator. This will give you a rough estimation of your maintenance level.
Note: Make sure to exercise regularly when on a weight gain diet to avoid putting on lots of fat.
Gaining weight healthily
When gaining weight it's important to do it healthy. This means eating a good diet and exercising regularly.
Try eating less process foods, high saturated fats and refined sugar. These are all linked to health issues when eaten out of moderation.
It's important to eat good sources of protein, complex carbohydrates, healthy fats, vitamins and minerals. These will help boast and maintain your energy levels, recover from exercise faster and help maintain good blood pressure levels.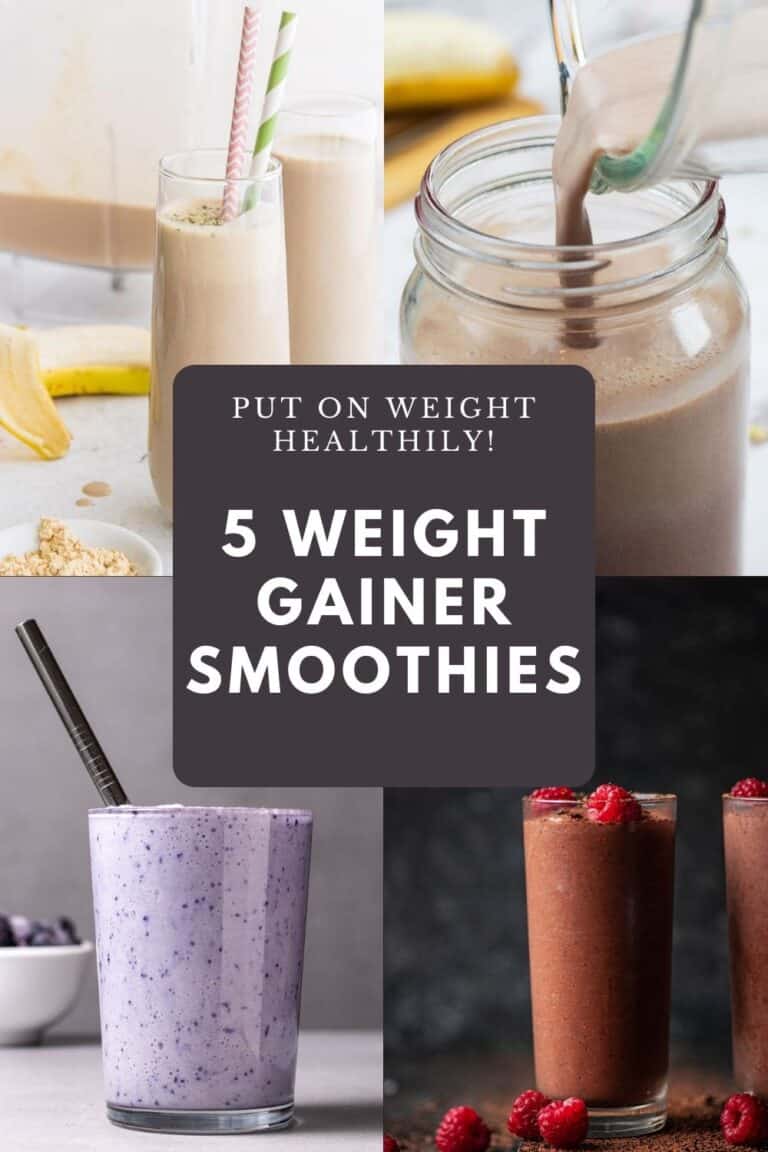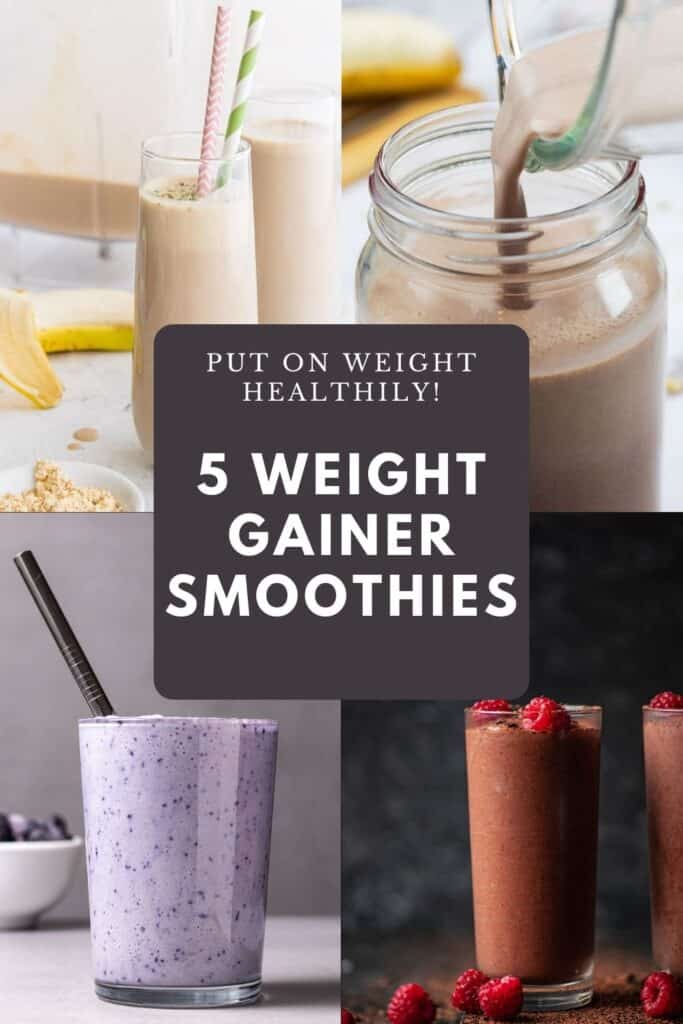 The best time to have weight gain smoothies
The best time to have these weight gainer smoothies are between breakfast and lunch or lunch and dinner. You want to add these smoothies as a 4th or 5th meal to your diet. This will help give you a healthy calorie surplus.
They are also great after a workout! As they have lots of protein, which is essential for rebuilding muscle. Each smoothie has a good source of electrolytes which are very important to replenish after high intensity workouts.
5 Healthy Weight Gainer Smoothies
This weight gainer shake is perfect for people looking to gain weight healthily and fast! It's a high-calorie shake packed with protein, good carbs, healthy fats, vitamins and minerals.
Calories: 684kcal – Protein: 39g
This high calorie fruit smoothie is calorie dense and extremely nutritious. It's perfect for a nutritious breakfast, a post-exercise shake, or an energizing snack.
Calories: 663kcal – Protein: 29g
This raspberry & chocolate shake is packed with seed-based protein like chia, flax, and hemp. Creamy with the addition of nut butter and frozen bananas.
Calories: 598kcal – Protein: 21g
This peanut butter coffee smoothie is an easy, delicious coffee protein smoothie with a kick of caffeine.
Calories: 515kcal – Protein: 26g
This Orange Mango Smoothie is the perfect cold, creamy and refreshing. It tastes like an orange creamsicle smoothie, and is full of carbohydrates, protein and electrolytes.
Calories: 436kcal – Protein: 27g
This easy Vegan Blueberry Smoothie is rich, creamy, and full of antioxidants!
Calories: 402kcal – Protein: 14.5g
This weight-gainer protein shake is one of the best ways to quickly gain weight. You can drink this shake between meals or even a post-workout protein shake.
Calories: 710kcal – Protein: 36g