Most traditional cookie recipes contain either butter or milk. This puts them off limits for many people with allergies or diet preferences. Luckily now days with the influx of tasty non dairy substitutes we are able to create a ton of delicious dairy free cookie recipes.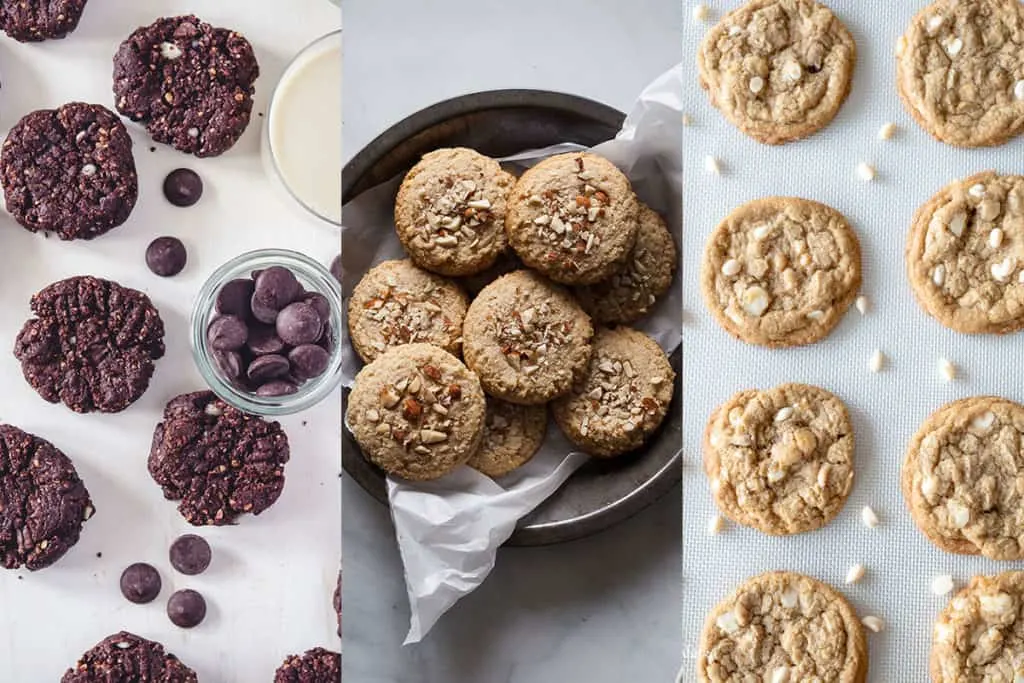 Prepare to see a creative spin on the traditional classic chocolate chip cookies and some brand new ideas like cardamon and tangerine. Right lets get to it. Heres my list of my favourite delicious dairy free cookie recipes.
17 Delicious Dairy Free Cookie Recipes
These delicious vegan oatmeal chocolate chip cookies are so easy to make! They only use one bowl, and you can make a batch in just 25 minutes!
These vegan double chocolate cookies have a rich and brownie-like texture thanks to nut butter and hazelnut flour. They're also naturally free from gluten, grains, oil and refined sugar.
hese melt-in-your-mouth vegan gluten-free maple almond cookies are made from a base of organic oat and almond flour and use Canadian maple syrup to add sweetness.
Here we have the classic chocolate chips cookies. I mean you don't get much better then soft baked cookies straight from the oven, right?
Are you ready for a chocolate overload? These double chocolate chunk brownie cookies are the best of both worlds. They have the soft cakiness, slight chew and fudginess of both freshly baked brownies and warm gooey chocolate chip cookies.
Yes thats right, dairy free white chocolate. These cookies give you the best non dairy white chocolate experience you can get. They are crisp on the outside and soft on the inside. They're pretty much for whole package.
Here is a cookie combination you probably haven't tried but definitely need too! These cardamon and tangerine spiced cookies are the perfect flavour combination for the winter festive season. Using no refine sugars, buckwheat, coconut sugar and maple. You are pretty much going to get that full Christmas cookie experience.
Looking for healthy cookies? If so this recipe is for you. This recipe has complex carbs, a good amount of protein and healthy fats. It uses that delicious flavour combination of banana, peanut butter and chocolate. They are very ideal for when you need that quick breakfast, or even just a healthy snack.
Here we have our second type of breakfast cookie.These cookies are lightly spiced with ginger and cinnamon with a fresh kick of blueberries and lemon. They also contain complex carbs, a good amount of protein and healthy fats. Making these cookies another great choice for a quick breakfast or healthy snack.
These sun butter cookies are a healthy, simple and delicious. They use only 4 ingredients and take just 23 minutes to make. I mean what are you waiting for?
These are just like your classic cookies, but with no oil, no eggs, no butter and no refined sugar… Making these a bunch healthier. They are sweeten with coconut sugar and made with a mix of almond flour and oats. Soft on the inside and crunchy on the outside. A pretty good cookie choice if you ask me.
These are simple, classic styled peanut butter cookies, using zero flour. They are soft and chewy. Use just 7 ingredients and are loaded with protein & heathy fats.
Are you a fan of the chili and chocolate combination? If so these are the perfect cookies for you. They use zero flour and mix things up with a range of none traditional ingredients like chickpeas & tahini.
These almond butter cookies are a nice nutty twist on basic cookies. They are soft & chewy, perfect for kids.They freeze well, so you can make a big batch and save the rest for later.
If you love banana bread like me, you will love these cookies. A banana bread – chocolate chip cookie hybrid. These make for delicious snacks or even a quick breakfast.
These salted chocolate chip cookies provide the satisfying sensation of sweet & salty. They have a little twist of apple sauce in them with a hint of vanilla. You will be eating these straight out of the oven!
These vegan peanut butter cookies are soft, chewy, easy, and have only 4 ingredients! There are no eggs in these old fashioned peanut butter cookies.