This chicken rogan josh is a delicious adaptation of the authentic Kashmir rogan josh, using more accessible ingredients and made in half the time. This chicken rogan josh still packs that big punch of spiced flavours and takes just 1 hour to make.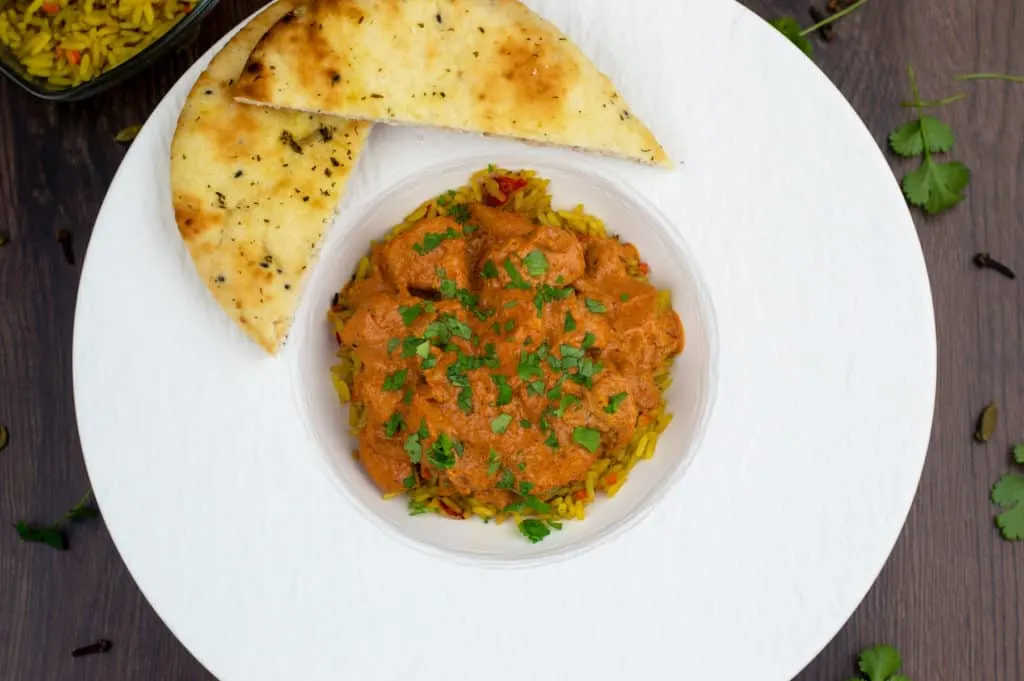 Origin
Rogan Josh is a North Indian curry from the region of Kashmir. Traditionally served with lamb or goat, with the addition of alkanet flower or root and Kashmiri chillies. Brought there by the Mughals with the influence of Persian cuisine, it has become a staple dish in Kashmiri cuisine.
The Ingredients
Ghee
Ghee is a type of clarified butter that is used in ancient Indian cuisine. It's made by cooking clarified butter for longer during the separation process which caramelises the milk solids, this results in a nutty caramelised flavour. It has a higher smoke point than butter which makes it ideal for sautéing.
Kashmiri Chillies
Kashmiri chillies are mild & vibrant chilli with strong red hues. They are used in Indian cuisine not to add heat to the dish but to add flavour and their vibrant colour. They are somewhat similar to paprika.
Cinnamon
Cinnamon is a spice that is from the inner bark off 'cinnamon' trees like Cinnamomum verum which is native to sir Lanka. This spice is now highly available and used throughout most of the world. It has a very strong flavour so it is normally used in small quantities.
Alkanet Flower/Root
Alkanet root is a herb that belongs to the borage family. The alkanet plant has a bright blue flower and a black and dark red root. It is commonly used as a source of red dye and is popular in Indian cuisine to add colour to the recipe. The alkanet flower & root is not approved for food colouring in the European Union due to potential side effects of the plant. This is why I have avoided this ingredient in the recipe.
Health Benefits
Ginger
Gingerol in Ginger which is a relative of Capsaicin has powerful anti-inflammatory and antioxidant effects. It used for a variety of natural medicines and is believed to ease the effects of nausea, reduce muscle soreness and improve digestion.
Garlic
Is another vegetable that has been used in food medicine for thousands of years. It has been referred to as 'Russian penicillin' due to its antibacterial properties.
Chillies
Capsaicin in chilli is linked to increased metabolism by burning fats, pain relief and reducing insulin spikes for diabetes.
More Recipes You May Like…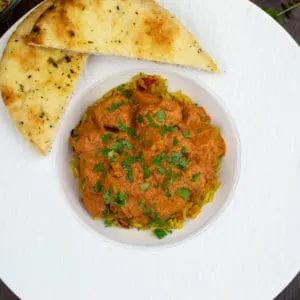 Chicken Rogan Josh
Try this Kashmir spiced chicken rogan josh . Its rich, tender and surpisingly easy to make. Its much tastier and healthier then your local takeaway.
Equipment
Large Pot

Mixing Bowl

Fine Sieve
Ingredients
2

Large Knobs

Ghee

or 2 tbsp of oil

1

Onion

diced

3

Garlic

minced

1

tsp

Ginger

minced

3

Chicken Breast

cut into chunks

300

g

Yoghurt

125

ml

Water

1

tbsp

Kashmiri Chilli Powder

or paprika

1

tsp

Chilli Powder

or cayenne pepper

Fresh Coriander

for garnish

Sea salt
Spices (tied in a spice bag)
1

Cinnamon Stick

5

Cloves

6

Black or Green Cardamom

2

Bay leafs
Instructions
In a medium mixing bowl add yoghurt. Next, sift the Kashmiri & chilli powder into the mixing bowl and whisk into it has incorporated, and place to the side for later.

Heat the ghee in a large pot over medium heat. Add the onions & sauté until brown, this should take around 5 minutes. Add garlic & ginger then continue to sauté for 30 seconds. Turn up the heat to medium-high, add the chicken & season with salt. Cook for 3-4 minutes until the chicken has been seared. Now add the water & deglaze the pan (scraping any brown bits from the bottom of the pan).

Add the yoghurt, mix then add the spices. Bring the mixture to a light simmer (too much heat will curdle the youghurt) then add a lid and turn down the heat too low. Simmer for 30 minutes (stirring every so often). Take off the lid and reduce to your desired consistency. Take out the spices and check for seasoning, adding salt if needed.

Serve fresh from the pot with a sprinkle of coriander & a side of rice & naan bread.
Nutrition
Calories:
224
kcal
Carbohydrates:
8
g
Protein:
23
g
Fat:
11
g
Saturated Fat:
6
g
Cholesterol:
85
mg
Sodium:
155
mg
Potassium:
530
mg
Fiber:
1
g
Sugar:
5
g
Vitamin A:
254
IU
Vitamin C:
4
mg
Calcium:
119
mg
Iron:
1
mg