This chicken rogan josh is a delicious adaptation of the authentic Kashmir rogan josh, using more accessible ingredients and made in half the time.
This chicken rogan josh still packs that big punch of spiced flavors and takes just 1 hour to make.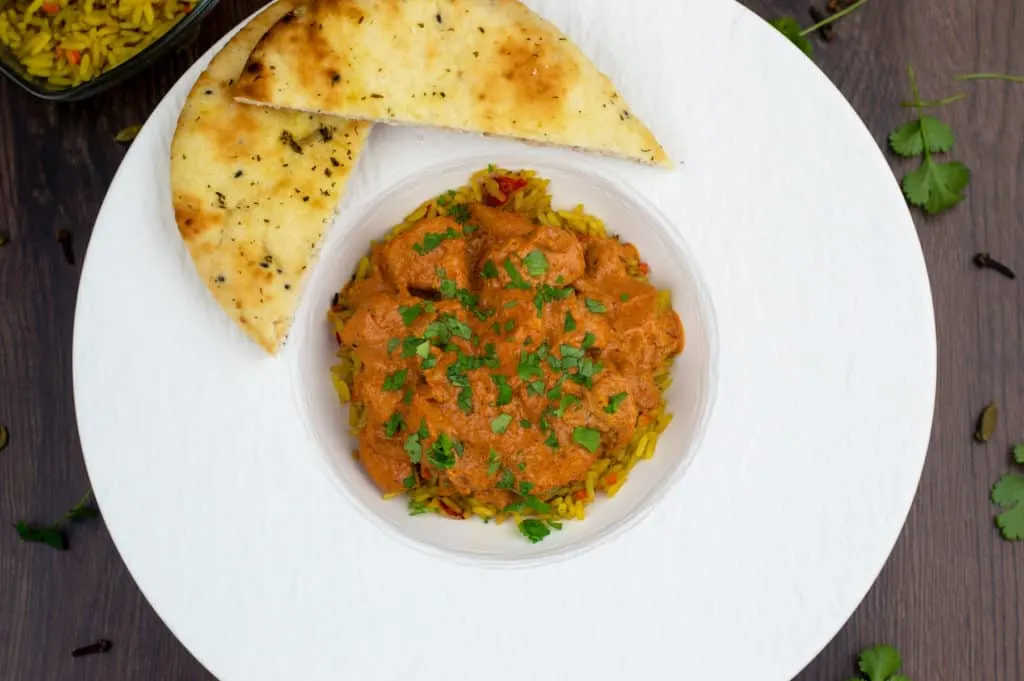 A Brief History of Rogan Josh
Rogan Josh originates from the Kashmir region in northern India, known for its fragrant spices and hearty meals.
This dish was originally prepared with lamb and was a staple in the royal kitchen of the Mughal emperors.
Today, it has been adapted in various forms, with the chicken version gaining popularity due to its lightness and quick cooking time.
Ingredients
Here's a closer look at each ingredient used in our chicken rogan josh recipe.
Ghee: A cornerstone of Indian cuisine, ghee is clarified butter that imparts a rich, nuanced flavor to the dishes it graces. If ghee is inaccessible, substitute it with 2 tablespoons of standard cooking oil.
Onion, Garlic, and Ginger: This trio forms the aromatic base for countless Indian dishes. The onions provide sweetness, while the garlic and ginger infuse the dish with pungent, spicy undertones.
Chicken Breasts: Skinless and boneless chicken breasts are our protein of choice for this recipe. They're lean, cook quickly, and soak up the flavors well. But if you prefer, you can also use skinless and boneless chicken thighs.
Kashmiri Chili Powder: Notable for its brilliant red hue and mild heat, this spice is key to the vibrant character of Chicken Rogan Josh. Should it be unavailable, paprika makes an excellent stand-in.
Chili Powder: If the intensity of cayenne pepper isn't to your preference, a softer heat can be achieved with standard chili powder.
Yogurt: The key to a smooth, tangy sauce is plain, unflavored yogurt. Ensure to select one without added sugars or flavors.
Water: The addition of water serves a dual purpose. It helps deglaze the pot, releasing the flavorful browned bits, and it also helps prevent the yogurt from splitting when cooking, ensuring a creamy, smooth sauce.
Spice Bag: This muslin pouch holds the cinnamon stick, cloves, black or green cardamom pods, and bay leaves, allowing their flavors to infuse the dish without remaining as whole spices in the final dish.
Fresh Cilantro: A sprinkle of fresh cilantro adds a bright, citrusy contrast to the dish's rich flavors, as well as a vibrant visual appeal.
What About Alkanet Flower/Root?
In traditional Indian culinary practices, Alkanet flower or root is often used to give Rogan Josh its signature red hue. Belonging to the borage family, the alkanet plant sports a bright blue flower, with a root that is a distinct dark red or black color.
This root has been employed for centuries as a natural source of red dye, adding a vibrant touch to a variety of dishes.
However, despite its historic usage, alkanet flower and root have not been approved for use in food coloring within the European Union due to concerns surrounding potential side effects.
Therefore, in an effort to ensure our recipe is compliant and safe for all, I have chosen to omit this ingredient.
Tips From the Chef
Maintain a Low Heat: One of the secrets to achieving the signature creaminess of Rogan Josh lies in managing the heat level. When it's time to incorporate the yogurt into your pot, make sure the heat is kept on the lower side. Yogurt can split and curdle if exposed to high heat, which could compromise the texture of your dish. So, remember, slow and steady does it!
The Spice Bag or Freestyle: While a spice bag is a neat and convenient way to infuse your dish with the complex warmth of Indian spices, feel free to add the spices directly into the pot if you don't have one on hand. Just remember to pick out the whole spices before serving to avoid any surprise crunches!
Tailor the Heat: Chicken Rogan Josh is known for its semi-spicy character, but you can easily adjust the heat level to your preference. Stick with regular chili powder for milder heat, or go with cayenne pepper if you love a strong, spicy kick.
Fresh Garnish is Key: My last tip is not to skip over the fresh cilantro. Add it before serving for a fresh contrast of flavors.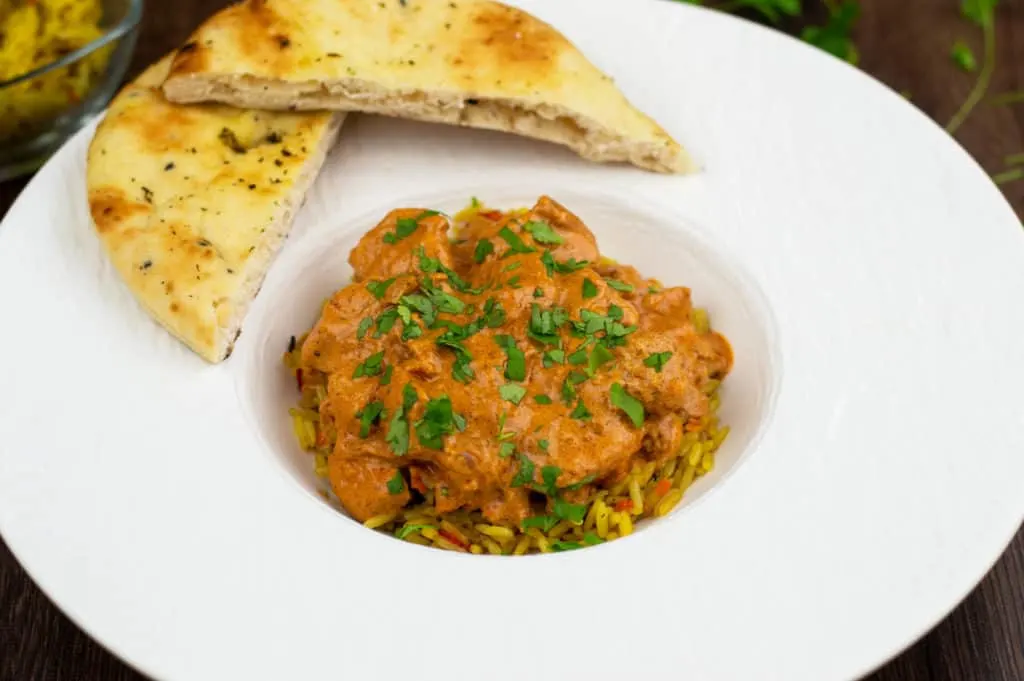 Storage and Leftovers
Chicken rogan josh tastes even better the next day so it's great for leftovers and meal prep. Store it in an airtight container in the refrigerator for up to 3-4 days.
When it's time to reheat, you can transfer it to a microwave-safe dish, cover, and microwave it until thoroughly heated.
One thing to keep in mind though – due to the yogurt in the sauce, freezing this dish isn't the best idea as it can cause the sauce to separate when thawed.
FAQs
What should I serve with Chicken Rogan Josh?
You can serve Chicken Rogan Josh with your typical Indian curry side dishes like basmati rice, naan bread and flatbread.
I don't have a spice bag, can I still make this recipe?
Absolutely, a spice bag is primarily used for convenience, as it allows for easy removal of the spices after they've infused their flavors into the dish. If you don't have one, you can add the spices directly into the pot.

They'll still infuse their flavors and make the dish just as delicious. Just be sure to remember to remove them before serving.
More Recipes You May Like…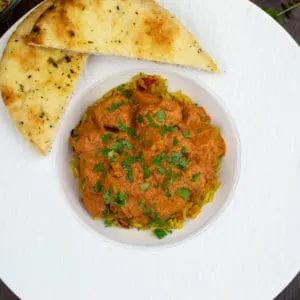 Chicken Rogan Josh
Try this Kashmir spiced chicken rogan josh . Its rich, tender and surpisingly easy to make. Its much tastier and healthier then your local takeaway.
Equipment
Large Pot

Mixing Bowl

Fine Sieve
Ingredients
2

Large Knobs

Ghee

or 2 tbsp of oil

1

Onion

diced

3

cloves

Garlic

minced

1

tsp

Ginger

minced

3

Chicken Breast

cut into chunks

300

g

Yoghurt

125

ml

Water

1

tbsp

Kashmiri Chilli Powder

or paprika

1

tsp

Chilli Powder

or cayenne pepper

Fresh Coriander

for garnish

Sea salt
Spices (enclosed in a spice bag)
1

Cinnamon Stick

5

Cloves

6

Black or Green Cardamom Pods

2

Bay Leaves
Instructions
In a medium-sized bowl, combine the yogurt, Kashmiri chili powder, and regular chili powder. Set this mixture aside for later.

Heat the ghee in a large pot over medium heat. Once hot, add the diced onions and sauté until softened, which should take around 5 minutes. Next, add the minced garlic and ginger, continuing to sauté for another 30 seconds.

Turn the heat up to medium-high, then add the chunks of chicken. Season with salt and sauté for about 3-4 minutes until the chicken is well-seared.

Pour in the water and use it to deglaze the pan, scraping any browned bits from the bottom with a wooden spatula.

Turn down the heat to very low before gently stirring in the spiced yogurt mixture, ensuring it's well-mixed with the chicken and onions. Now, add the spice bag to the pot.

Let the mixture simmer gently with the lid on for about 30 minutes, making sure to stir occasionally. Be careful to keep the heat low, as too much heat can cause the yogurt to split.

After 30 minutes, uncover the pot and remove the spice bag at this point.

Check the taste and adjust the seasoning with more salt, if necessary.

Serve the chicken rogan josh hot, garnished with a sprinkle of fresh cilantro.
Notes
The dish includes a spice bag for easy infusion of flavors. If unavailable, add spices directly to the pot and remove them before serving.
Adjust the heat level to your preference. Regular chili powder gives milder heat, cayenne pepper gives a stronger kick.
The dish can be stored in the refrigerator for up to 3-4 days in an airtight container and tastes even better the next day.
It's not recommended to freeze this dish as the yogurt in the sauce can cause it to separate when thawed.
I like to serve this rogan josh with rice and naan bread.
Nutrition
Calories:
224
kcal
Carbohydrates:
8
g
Protein:
23
g
Fat:
11
g
Saturated Fat:
6
g
Cholesterol:
85
mg
Sodium:
155
mg
Potassium:
530
mg
Fiber:
1
g
Sugar:
5
g
Vitamin A:
254
IU
Vitamin C:
4
mg
Calcium:
119
mg
Iron:
1
mg